So, I was thinking about how Sword is going to deal with Blackbeard. It didn't seem like Prince had any interest in going after Blackbeard at the moment. Then, I thought of what Blackbeard would do in this current situation.
Hachinosu is nearby Egghead Island, and Blackbeard has captured Koby. Blackbeard has access to Laffitte, a hypnotist known for being a sadistic sheriff. Meaning, Blackbeard can easily interrogate Koby to get secrets about the Seraphim. If Blackbeard knows the WG is cloning Warlords, he's not going to just let it happen, that's a MAJOR threat to him. You can tell Mini-Mihawk had BB worried.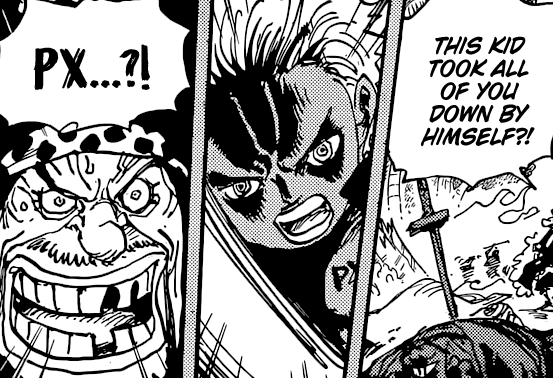 Blackbeard has the most destructive Fruit in the series, the Gura Gura no Mi: once Laffitte interrogates Koby and learns Egghead's layout, Blackbeard can easily invade Egghead and destroy the facilities that produce Seraphim.
However, I think someone else will show up first: Captain Eustass Kid. Out of all the Supernova, no one is more compatible with Vegapunk.
Both love giant robots and technology
Both are "Punks" with Kid literally adding "Punk" to his attack names
Kid's Awakening happened last arc.
I think Kid bit off more than he could chew again, and attacked Blackbeard, only to get smacked and flee to Egghead. I was always pissed Kid and Franky didn't have any interactions, I mean just look at them around the same age:
Maybe Oda was saving Kid and Franky to interact in this arc?!?
Listen, I'm not saying it's going to happen.
But Franky and Kid are totally Vegapunk's kids. This explains why they both love building machinery so much. Franky and Vegapunk both love Cyborgs, clearly. We've wondered about Franky's parents for a long time... welp, here we go. Franky and Kid are both from the South Blue, too. Also... Kid, the Punk. As in, VegaPUNK's Kid? Hmmmmmmmmmmmmmmmmmmmmmmmmmmmmmmmmmmmmmmmmmmmmmmmm
Time for Franky and Kid to defend their father (mother?) from Blackbeard by building a giant robot together.