So far, the arc feels like it's going at a good pace, not too fast, not too slow. I liked that they showed a bit of Harribel vs Yhwach, I think it was good that they didn't show a fight, but the aftermath. It makes Yhwach look like a menace, especially after what he did to Ebern and Ludaas with the whole "Are you a prophet" speech. You can feel like he's the final boss of the series.
I also feel like people should put some respect on Harribel since Yhwach dealt with her himself rather than get someone else to do it.
One thing I didn't like is what they did with the funeral. It felt too short, and I feel like they should've kept the speech about Sasakibe from Byakuya, but that's just me personally.
I love how the Dangai looks, it feels like a dimensional portal than a tunnel that they just walk through.
The star of the episode imo is Quilge. The moment we see him, you get that supreme general vibes. Just sitting there on his chair looking over the prisoners fits really well with his schrift. I can see why he was sent to Hueco Mundo for that.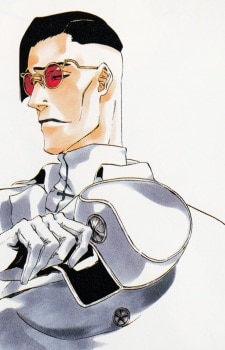 When he was doing his selection, he was just so brutal. When he smacked Loly and Menoly, it was pretty funny lol, they had no chance. He's just walking away while they're getting curbstomped
The Tres Bestias has pretty cool moment before Quilge fodderized them.
I enjoyed the episode overall and I'm excited to see the rest of the arc. It's gonna be so brutal when they get to some of the other fights.
@PrinceKun
@Jaguark101
@Light D Lamperouge
@Dark Admiral
@Playa4321
@RayanOO
@Mr. Reloaded
@ShadyOjiro
@MonsterKaido
@Garp the Fist
@Fuckthis3
@Reborn
@SmokedOut
@IceWitch
@ZenZu
@Warchief Sanji D Goat
@SaitoH
@Shisui
@SkySanji
@Mr.9000
@Don't Mind Me
@AdmiralKoniroryu
@L55
@MonochromeYoru
@NikaInParis
@Surgeon of death
@Kerkovian
@wordy
Last edited: