Brunhilde and Goll have been staple characters for each and every fight thus far throughout the Ragnarok tournament.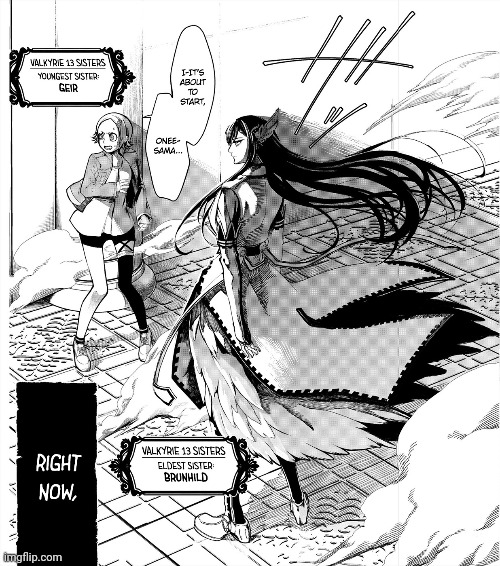 Brunhilde is essentially the protagonist of RoR, what with her being the mastermind behind the Ragnarok tournament, the selection of humanity's strongest fighters and for coming up with a way for humanity to fight on even footing against the God's. She is willing to do whatever it takes to save humanity, even going as far as to defy the God's themselves.
Meanwhile, Goll serves as a foil to her older sister. Despite her timidness, she is often the one individual who openly questions Brunhilde's ruthless and occasionally callous tactics.
So both of these characters are clearly contextually important to the story of Record of Ragnarok.
However, as there are only thirteen Valkyrie sisters and thirteen human fighters, this means that both Brunhilde and Goll are going to end up in the meat grinding action of the Valhalla Arena as weapons of divine destruction.
So this brings up a couple of questions regarding these two rather important characters. The main questions are;
I) Which human fighters will they be paired up with?
II) What form and/or special ability will each sister grant to their wielder?
III) Will these two characters survive their respective matches?
I fully expect Brunhilde and her partner to survive their match but Goll might have a good chance of becoming a tragic death scene to really hit both Brunhilde and the readers right in the feels.
What do you folk think?
Some RoR Gang tags;
@Fleet Admiral Lee Hung
@Light D Lamperouge
@Tris
@Marimo_420
@Zoro D Goat
@yj
@BangMi
@Sadistic Senpai
@The White Crane
@DarkWitch
@Kejon
@Oblivion
@PerfectHie
@Yoru
@Blackbeard