From Character Design to Personality What "In Your Mind" Do you think Vegapunk is Like
In my Opinion I think The Human Silhouette we see of Vegapunk Talking to Caesar and in Kumas Flashback is Actually an Android Being Mechanically Controlled by Dr.Vegapunk Himself
The Real Dr. is Actually a Giant Brain in a Jar Housed in a Room Similar to the One That Secured Oars back in Thriller Bark.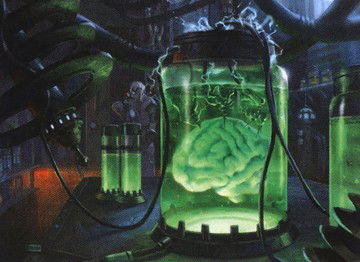 This Massive "Noodle" Could Possibly Belong to an Ancient Giant whos Stunning Intellect was Preserved By the World Government. Similar to How Imu Has a Giant StrawHat in his Possession
If you want to Get Real "Big Brained" Could This Massive Brain Possibly Belong to the Giant Skull in Onigashima
Could you imagine a Giant or Possibly an Oni With an Astronomical IQ That feels Like his Intellect is Wasted amongst his Peers Allying Himself with The WG for New Pastures. Thoughts?