Hiryu kaen / Flying dragon Blaze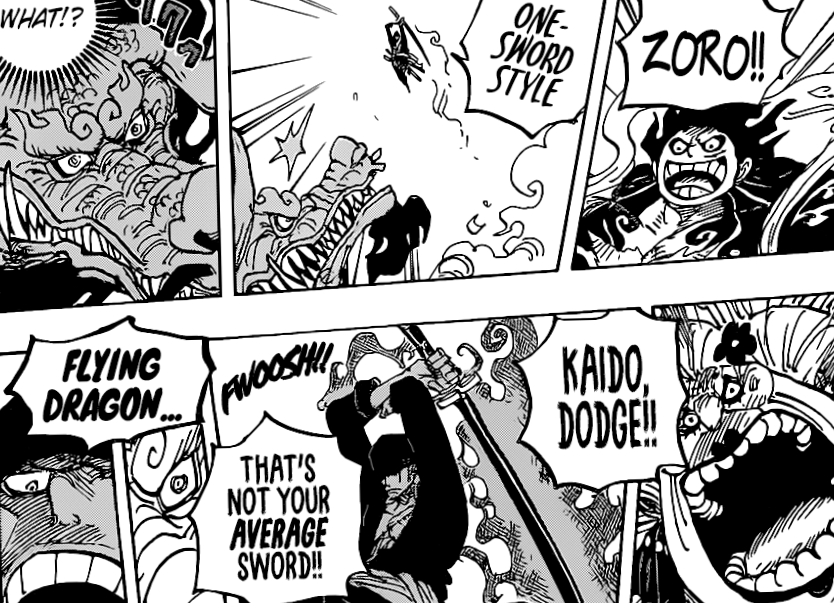 healthy Zoro capable to Kill the kaido since chapter 1002
Zoro's Tatsumaki: no warns for dodge

Dragon twister/Tatsumaki cuts kaido and make him
bleed/scream/Made him
Fall
to the ground
but Bigmom didnt yelled to dodge
Hiryu kaen: 2 yonkos almost shit their pants and scared tf outta of it
Then
hiryu kaen
need to be dodge and also
bigmom
and
kaido
together shit their pants and dodged like a Bitch unlike The Dragon Twister which already can Cuts kaido and make him bleed
Dragon Twister
- Can cut kaido, Make Him Bleed,Scream, Fall to the ground, Forced kaido transforming into the hybrid form
Then what Hiryu kaen can Do that Need to be Dodged Unlike The Dragon twister?
So Hyru kaen can do
beyond level of dragon twister
that scared 2 yonko's and made 2 yonkos dodge like fodders then also one yonko need to Yell to dodge other Yonko
the Dragon twister already Cut kaido, make him bleed, Fall to the ground < What else stronger than cut, Made him Bleed?
yes, slicing his neck
If Bigmom werent There Kaido Already dead by Healthy Zoro
Arc Cant end so soon and this is Missed hit coming in Round 2 - The ZKK shot
When Zoro kill kaido by Hyru kaen, Its saying Healthy Zoro already Yonko level Since chapter 1000
Its Sad that Luffy (MC) and Yamato,Momk 3v1 Extrm diff dragon kaido that Zoro already neg diffed and Capable to Oneshot since chapter 1002,
And There will be never Some as "Healthy Zoro" in Wano, He already nerfed for One more arc
The Mink Medicine Only Regenarte his Body, Not his stamina, Marco can recover himself but cant recover stamina then he got Fucked by base king and now he sleeps lol
and Kings defeat Already written in the Book
its Like:
Zoro/Kaido/Bigmom

vs

King/Luffy/Law,Kid
Healthy Zoro >=< Yonko tier
example how he neg diffed bigmom and can blitzed her while having broken bones
Tell what you think, Isnt it almost a Oneshot?
Last edited: