One of the more interesting aspects of this first invasion is thinking how will Oda handle the Sulong, the Mink's last resort and ultimate technique. If you believe the alliance is destined to fail and suffer tragedy as long Big Mom's forces are unaccounted for, will this really be Sulong's time to shine?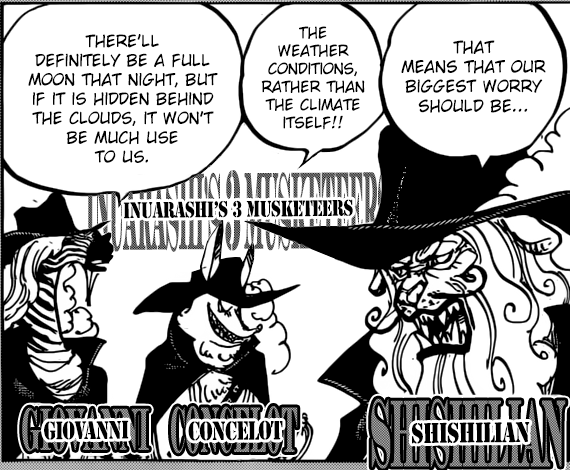 Assuming defeat, things can play out in four different ways:
1)
Sulong defeat.
The full moon is there, they transform, and they get crushed. Massive dehype for the Mink tribe. Very unexpected twist for the readers. The pivotal battle will be Sulong Inuarashi vs Hybrid Jack, genocider of Minks. Without Sulong Neko's help, Inuarashi still loses here but can win round 2.
2)
Bad Weather
. As long as the Minks have not found some way to stabilize the weather, they are at the mercy of the forces of nature and will therefore not be able to unleash their full power this early. It could be a sign that not planning for the weather is part of their failure, or merely that fortune does not favor them on this day. We get a repeat of the battle in Zou.
3)
BM & Kaido have countermeasures
. Smoothie and Daifuku were there to see Carrot transform, they would be able to inform Big Mom or Kaido to block the full moon. Dragon Kaido can create clouds to cover the sky, Big Mom could create new weather homies to serve that function but none as powerful as Zeus. Who knows what abilities other Beast pirates posses to achieve the same ends.
4)
The Minks choose not to transform
. Somebody, a good guy or a grey character, intervenes to stop the Minks. They might tell the Minks this is not the time to reveal their trump card as they have foreseen the alliance's defeat. That they will have their chance later. Thus the Minks make a collective decision to resign themselves to defeat in round 1.
What do you think happens to Sulong in the Fire Festival?