I keep seeing that fandom still doesnt understand what Zoro's
King of Hell
is. They keep mistaking it for ACoC...
It is a state of full haki release, both Armament and Conqueror's, the same thing Kaido noted for Luffy's Awakening.
If you didnt pay attention, Luffy's and Zoro's progression during Wano has been mirrored.
While Luffy trains ID CoA in Udon, Zoro trains with a sword that requires him to release more haki than usual.
We move on to the Onigashima battle where Luffy powers up by coating himself into Conqueror's Haki.
Zoro proceeds to do the same thing during his fight with Lunarian, King the Wildfire.
While Luffy is dead on the rooftop, Zoro also nearly died after encountering Death due to doubled Hakai.
Final power-up, something that came after aCoC is Awakening the Devil fruit for Luffy.
Final power-up, something that came after aCoC coating is applying King of Hell style for Zoro.
So both of them went from training CoA, coating themselves into aCoC to near-death experience and ended with final PUs(G5 & KOH).
What Awakening is for Luffy, King of Hell is the same for Zoro. A power-up more important than mere CoC coating.
The anime has once more foreshadowed the development that came after in the manga, they literally made Oni Giri like in KOH state...
We know from Kaido's words that the title of King is given due to
strength
.
The title of King has been worn only 4 individuals so far - Ryuma, Alber, Rayleigh and Zoro.
If I had to guess, King of Hell is the biggest deal for Zoro since demonic aura Asura.
Asura will always remain Zoro's ultimate ability because it absorbs everything else on top of it.
However, thanks to Kaido's words -
Haki conquers everything
, we know that
full Haki release like KOH
is the biggest deal since Asura.
Thanks to Haki being the biggest multiplicator of damage, a full haki release state like KOH is the most insane PU in post-TS of them all.
That also shows us that Zoro is effectively a character who pours more haki into his attacks in KOH style than anyone else in the world.
Nobody else has shown to be capable of it aside from Zoro just like nobody else is capable of Asura.
While the narrative didnt highlight King of Hell by bringing an ancient Elephant to wank it and then leave, it's important to know this.
We saw that even an Admiral cant put a scratch on
flameless
King who suffered a defeat while KOH DD chops him into pieces.
On top of chopping up a huge magma dragon and Hardening clad sword with the same attack.
The firepower of King of Hell style high-end moves is off the charts.
Meanwhile, the Joyboy Awakening kept doing the same low damaji as it always did...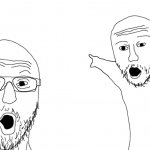 Imagine the number of panties that will be pissed when Zoro stacks
black blades
in
KOH state
while using
9-sword style
?