Acknowledgements
I give all gratitude to my mistresses Sloth and Procrastination. This essay wouldn't be possible if they didn't make me take time away from my actual job.
@Zemlya
has my assistance for sourcing nearly all the non-Yamato panels I used here.
Disclaimer
As usual, I tag a lot of people for my posts. If you want to be removed from my tag lists, let me know. Likewise, if you want to be added.
Introduction
Yamato appears to be the
ONLY
female combatant in One Piece that Oda has properly depicted as formidable. I'm not saying she's the only strong combatant, but she's the only one that Oda has treated with the appropriate dignity and respect due to her station in the powerscaling hierarchy.
Note that the above statement is exclusive to the high and top tiers. There are mid tier female combatants that were handled with proper respect (Monet comes to mind, Ulti as well). However, looking at the high and top tiers, Yamato is (for now) the only female combatant that I think Oda has treated with dignity. Perhaps Hancock might be another, but I consider the jury to still be out for her (I'm waiting to see how she handles the the Marines that went her after her).
Extreme Gender Disparity
To demonstrate the extreme disparity in treatment female combatants have been given relative to their male counterparts, I would like to compare two groups of characters with members that are on roughly the same level:
The Rocks Duo (Top Tiers)
The Sweet Commanders (High Tiers)
Kaido and Linlin
Comparable Ability
Kaido and Linlin are on the same level.
A fight between them ended in a stalemate:
Linlin was described as a second Kaido:
She is capable of Haoshoku enhanced attacks: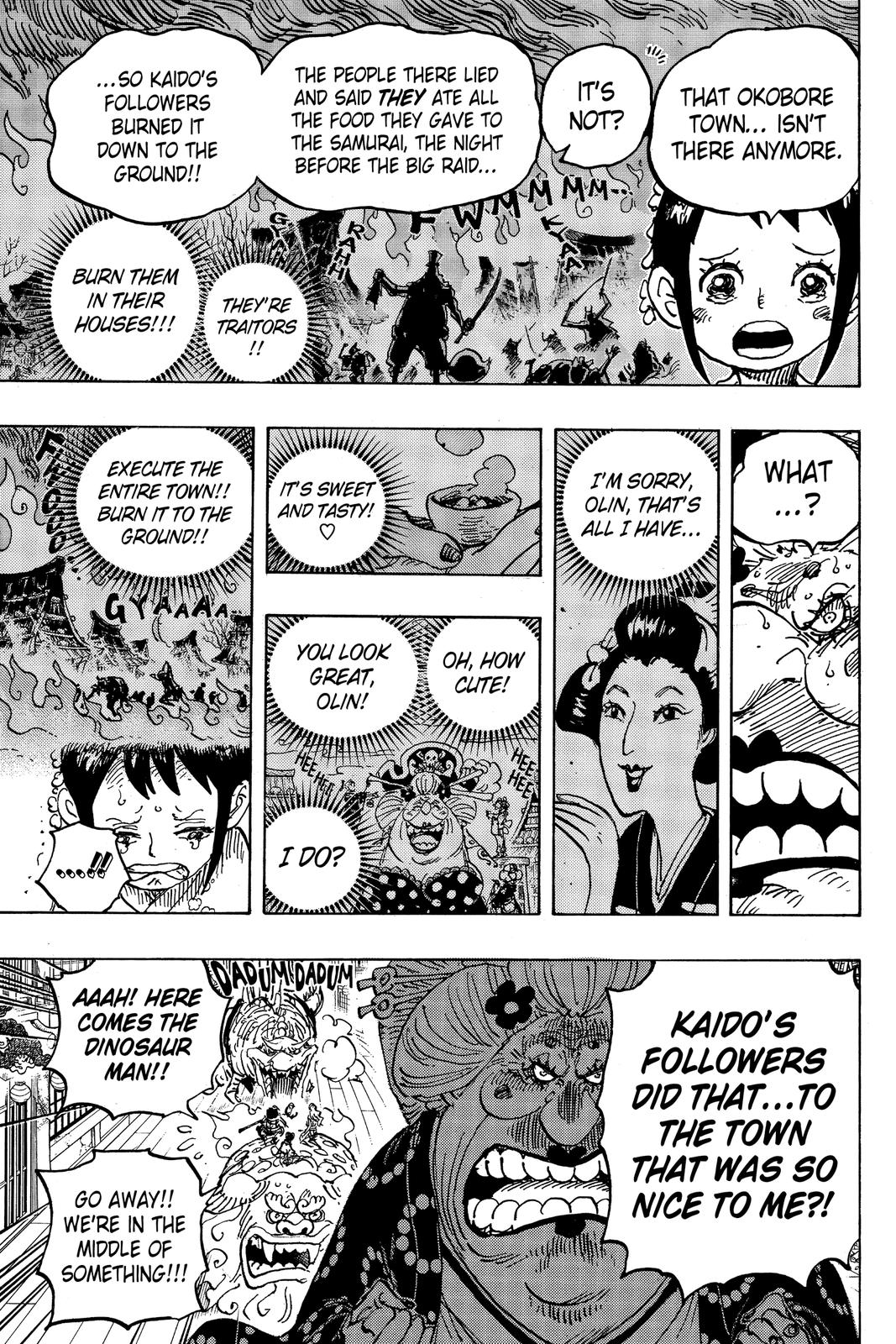 An ability that Kaido is said is exclusive to "a handful of the very strongest":
Kaido's Treatment
Oda has properly respected Kaido's status as an Emperor. In his encounters with characters below his level, he was portrayed as an unstoppable monster.
He oneshot Post WCI Luffy without making any use of his Devil Fruit ability:
He straight-up low diffed a team of high tiers once he became serious (once again without making any use of his Devil Fruit ability):
The above examples make it clear just how formidable Kaido is as an Emperor. The difference in ability between him and High Tiers is made clear. We feel his threat — Oda doesn't just tell us that Kaido is strong, he
shows
it.
Linlin's Treatment
Linlin has had a good performance against High Tiers before. An example that comes to mind is how she molested Queen:
But it's kind of the only example and it really pales compared to how much she's been clowned on by mid and low tiers.
Nami struck her down (using Linlin's own weapon against her):
Brook blitzed and disarmed her:
Chopper blocked her attack:
This is the same Brook and Chopper that were negged by Perospero for fuck's sake:
She spent a significant segment of her arc screaming in madness:
King quite casually dunked on her:
And caused her to lose her memories:
Not one to let King one-up him, Queen also dunked on her:
And it appears like he may have cracked her skull?
Franky (and Brook) treated her like roadkill:
Jimbe and Robin threw her out like hot trash:
Here's a beautiful collage of
L
in
l
in's many Ls:
Oda would
never
— and I mean never — have treated Kaido like this. It's fucking insane just how much he disrespects and clowns Linlin. There's no excuse because she's too strong or anything. Her clowning did not end in WCI and continues even in Wano. Kaido was never once clowned on by high tiers, let alone by mid tiers.
Looking at the disparity in treatment between Kaido and Linlin, I can't help but conclude that Oda simply does not respect female combatants.
The Sweet Commanders
The Sweet Commanders are all High Tiers. Based on their bounties, Katakuri is the strongest and Cracker is the weakest, with Smoothie somewhere in between. However, this is not a fact that you would be able to tell from her performance and presence during the Whole Cake Island Arc.
Smoothie's Treatment
Let alone her fellow Commanders, Smoothie was less of a threat than mere veterans like Oven and Daifuku (people she has a bounty more than
THREE
times greater).
Smoothie has no notable accomplishments, no presence to speak of, and her threat value was next to nonexistent. As one of the Commanders of the Big Mom Pirates, she was ineffectual at best and grossly incompetent at worst.
To the best of my knowledge, Smoothie's most threatening moment on panel was when she sent a flying slash at the Thousand Sunny:
Alas, that attack was easily dodged, and ultimately accomplished nothing. And this may well be Smoothie's
best
moment. She has many worse moments.
She was stopped by a fucking door:
She was reduced to helplessly screaming for people far weaker than her to do something, as if unable to rise to the occasion herself:
I have to wonder what the Marines were thinking when they assigned her bounty. Oda told us that Smoothie is strong through her bounty, but he certainly never
showed
it.
Cracker's Treatment
Cracker's very introduction established how formidable he was as a
threat
. He was introduced as being dispatched to deal with the man who defeated Doflamingo:
This is a really strong introduction and hypes Cracker as a combatant more formidable than Doflamingo. Whether you agree that Cracker is above Doffy or not (I don't) Oda still chose to essentially use
Donquixote Doflamingo
— by far the most formidable antagonist Luffy had bested to date — as a hype tool for Cracker.
When he actually sees combat, Cracker lives up to his hype.
He molests G2/G3 Luffy:
He thereafter engages Boundman head-on in CQC and succeeds in hurting him (the first character to do so):
Bear in mind that Cracker is supposed to be
weaker
than Smoothie.
Katakuri's Treatment
The Dawgtooth needs no one to hype him up, his performance more than speaks up for itself.
At the Tea Party, he was introduced as the greatest threat — superior portrayal to even Linlin — and it's a designation that he more than lived up to:
He went on to engage — and prevail against — multiple high tiers at once:
One could contrast this with how Linlin — someone considerably stronger than Katakuri — has been clowned on by mid and low tiers.
Linlin and Smoothie's treatment when compared to their male counterparts honestly disgusts me. It's an extreme disparity in their treatments as combatants based on their gender, and this kind of pervasive sexism is one of my main complaints with One Piece; not only are there exceptionally few strong women, what "strong" women exist are some combination of clowns, memes, hilariously incompetent, and some of the biggest losers in the series.
Yamato
Thank God for Yamato. Yamato is the lone female combatant in the upper echelons (high and top tier) that Oda has treated with dignity and respect. She's
formidable
, and Oda doesn't need to tell us that because he's shown it quite clearly.
She debuts by oneshotting a Tobi Roppo:
Note that this is a perfect mirror of how Kaido took down Luffy.
The only other character that has taken out a Tobi Roppo with one attack was Linlin, and even then she did it with one of her strongest techniques (and to a less durable version of Ulti):
She casually stalemates a pissed off Luffy:
This was while she had no intention of harming him and so didn't even attempt to fight back, only seeking to get him to hear her out:
She
forces
Luffy to give up and listen to her:
She casually fends of a Tobi Roppo while chatting with Luffy and daydreaming about Momonosuke being her son:
She withstands a relentless barrage of cannon fire while decimating Sasaki's Armoured Division
and
protecting Momonosuke and Shinobu:
She terrified Sasaki just at the hint that she might transform:
She oneshots a Number:
In her flashback, Ace said she was too strong not to be a captain:
Ace was unable to overcome her for the duration of the fight:
And note that all of her above feats have been performed without the use of her Devil Fruit.
Conclusions
Since her introduction, Yamato has been racking up an unending streak of Ws. Leaving aside her female counterparts, Oda hasn't depicted most male combatants with the same respect.
Her fight with Luffy in particular stands out. The only other people that have so casually handled G2/G3 Luffy have been Doffy, Cracker and Jack (all solid high tiers). However, the Luffy Yamato fought is considerably stronger than the Luffy either of them fought, as this was Luffy after his Udon training. Compared to his WCI version, Post Udon Luffy had:
Much stronger observation haki: Future Sight
Much stronger armament haki: barrier armament and penetration armament
Significantly higher base stats: Udon training in the Karouseki handcuffs
Yet this same Luffy was treated by Yamato like a petulant child.
The hype Oda has given Yamato is through the Roof, and he has consistently delivered and followed through on that hype with unblemished portrayal.
I know several people are sceptical of Yamato's standing as a combatant given Oda's horrendous track record with female fighters, but Oda has had ample opportunity to undermine Yamato as a fighter, and has instead done the opposite at every turn. As such, this is one occasion where I trust Oda to deliver.
Last edited: