Good, then you know it's bs.

Denjiro came in from nowhere and saved Hiyori by killing Orochi in an instant.

He then hugged her.
I don't really get how that's stopping her from just stopping the hugs and walking up to burning Orochi?
btw, this is the last scene we saw them and we see it's foreshadowing for this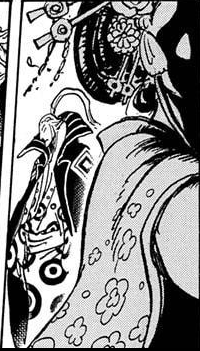 Here in this manufactured flashback, Orochi is still alive (albeit burning) when Denjiro and Hiyori are standing there and Hiyori supposedly says the words.
I don't see the problem of Orochi's head being alive for short while to speak