My dear fellow fiction connoisseurs, have you ever desired a place where one could converse with other like minded individuals regarding the objective quality of various works of fiction? :smithnie:
If one's answer to the above question is "no" then one should simply move along.
If however, one's answer to the above question is "indeed" then I welcome you, dear reader, to Owl's Fiction Evaluation Club or O.F.E.C. for short.
The intention of this here humble club is to be a general meeting place where all those who enjoy to discuss and review fiction in detail can come together to evaluate numerous works of fiction.
Whether it be books, manga, films, comics or video games, all works of fiction are welcome to be discussed within this club (bar pornography/hentai obviously).
Now, I believe some established ground rules are in order to help streamline discussion, ensure quality reviews and to promote friendly, good natured banter. :kizabat:
Codes of Conduct.
I) Avoid one liner or low effort posts. This is a place to discuss fiction, not to make an opinionated single sentence statement. The internet already has Reddit for that. Lel.
II) No pornographic content. That is not to say that one cannot discuss any work of fiction that has nudity/sex in it (e.g. Titanic) but if the content in question is clearly intended to be erotic material then no. Lol.
III) No religious texts. It would not be the first time that I have heard someone refer to a Bible or the likes as "the greatest work of fiction ever created". Works of fiction that explore the themes of religion/faith or portray characters/factions that are zealous (e.g. the Covenant from Halo) are fine but I do not want to see a debate on whether God is real or not. This is not the place for that.
IV) While discussing whether the power scaling for a series is logical or not is fine, I do not want to see matchup battles being discussed. We have the Battle Dome for that.
V) I ask that everyone be as objective as they can. Obviously an objective opinion is still an opinion at the end of the day but one should always strive to be fair and unbiased in one's assessment of a work of fiction in order for folk in general to get the most out of a review post.
I would also say that for those who desire to discuss One Piece that they should go to the Oda Critics Club, which is specifically for discussing One Piece.
For those of you who simply seek to read and enjoy quality fiction without necessarily going to the expense of discussing it, simply think of this club as a place where online weebs go out of their way to find quality fiction gems from a sea of entertainment dirt so that you do not have to.
For those of you wondering what reviews should look like then here are a couple of examples (regarding Bleach) that I made in the Meme Repository thread that ultimately led to the idea of creating this haven in the first place.
I was originally going to share my thoughts on this with my Tyrant brethren on Discord but I thought "Screw it, this is worthy of a post".
Well, I am now on Chapter 184 of Bleach and I have finished the Soul Society Arc (aka Bleach's supposed best arc) in it's entirety.
Honestly, Bleach has to be one of the most boring mangas that I have ever read and one of the greatest contributors to that problem is it's setting.
Besides the High School shenanigans with Japanese teenagers in a world exactly like ours (bar the presence of supernatural abominations and superhumans), Bleach is set in the
Soul Society
, the base of operations from which the
Soul Reapers
operate from.
The
Soul Society
is split between the
Rukongai
, where the souls of deceased mortals stay for an undetermined amount of time (one soul confirmed that he had been there for over two centuries) and the
Seireitei
, where the
Soul Reapers
themselves reside.
In short, it is the afterlife. The only afterlife. Every single soul that ever existed passes through the Soul Society.
Now one would think that the afterlife would be a fairly exciting setting. A holy place of reverence that should bring those who behold such a wondrous supernatural spectacle to their knees in awe of it's beauty and wonder, right?
Wrong.
Bleach's afterlife is exactly and I mean
exactly
like Earth in every single way imaginable.
Poverty? Check. Nobles? Check. Conflict over resources? Check. Folk living in buildings? Check. Death (yes, you can die in the fecking afterlife)? Check. The need to eat (but apparently only for those who possess
spirit energy
)? Check. Illness (yes, the afterlife has that too... somehow)? Check. Animals (I guess they have souls)? Check.
The afterlife even has Cabbage White Butterflies. That is right, major agricultural crop pests that haunt the average farmer, inhabit the God damn afterlife. As a horticulturist, that reveal personally insulted me.
The thing is, even if one decided to work within these limitations that the afterlife must resemble our world, there was still potential to make this setting interesting.
After all, this is a place where all souls come through from all of human history.
Imagine the potential for cultural combinations? This is a place where Romans can meet Vikings, Aztecs can meet Mongols, Visigoths can meet Ancient Egyptians, Huns can meets Spartans etc. etc. One could see Egyptian pyramids next to Gothic cathedrals, oriental palaces next to Roman colosseums, modern buildings next to ancient architecture or even attempts to combine cultures. After all, there should be a lot of architects with literally all of eternity to spend on projects.
Imagine the potential for historical figures? Aristotle can have a chat with Karl Marx, Einstein can share his findings with Galileo, Ghandi can converse with Martin Luther King etc.
Or even how ordinary folk react? After all, atheists will be most surprised at the fact that an afterlife even exists while those of faith might be confused and even potentially disappointed over their situation that their faith that they dedicated their entire life to was a bit off the mark.
Well curb your imagination my dear reader cause according to the whims of Titty Kubo, all of the afterlife is one giant, feudal Japanese shanty town with a nice white wall palace in the middle and everyone in existence is Japanese.
This is not even getting into the inconsistent nature of the place.
Soul Reapers have to maintain an equal number of souls between the Soul Society and the Living World. If the balance is upset, the universe collapses.

Even an imbalance as small as a single bloke killing a couple dozen ghosts can threaten the entire universe.

Despite this, souls can kill each other as they please in the Rukongai without the Soul Reapers batting an eyelid.

Bleach has it's own equivalent of Hell, where the Hollow by the name of Shrieker went to.

The Rukongai is divided into four sections (North, East, South and West) which in turn are divided into eighty sections where District 1 is safest and District 80 is a poverty stricken war zone where evil sods fight and kill each other regularly.... Despite the fact that there is a literal Hell to dump evil fecks into.
In short, Bleach is cripplingly disappointing in it's setting and it makes it that much harder to read this damn series. Especially when it takes about 50 Chapters for the plot to even start and another 20 Chapters after that to get to the utterly boring Bleach afterlife.
This is not the only issue I have with this manga but damn is it the one that makes this series a damn slog to get through.
Well my fellow manga connoisseurs, I have finished Chapter 423 and thus I have also finished the second arc of Bleach, also known as the
Arrancar Arc.
Mother of manga what an absolute mess.
Before we even get into the meat of this manga, I want to say that I originally calculated this arc to be around 240 Chapters long but then I remembered that I actually forgot to take into account that Chapter 315 is split like this.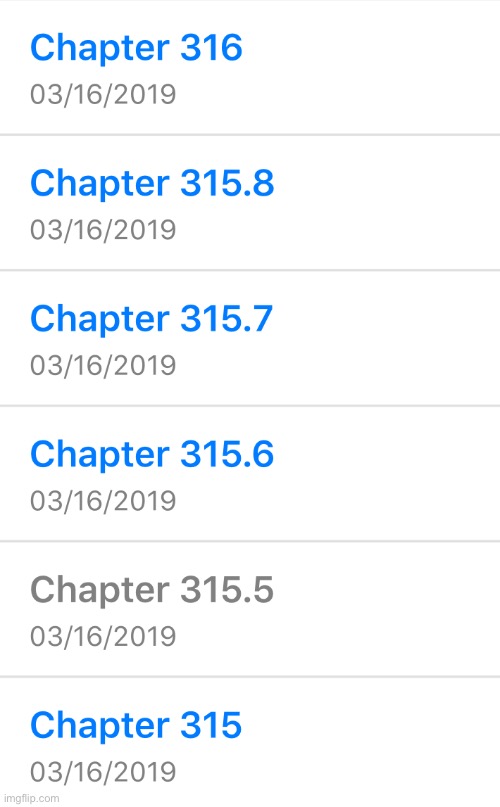 Each of those .5/6/7/8 Chapters has multiple Chapters within it, so conservatively, we are looking at a single arc that is about 250-260 Chapters long.
That is some rather insane pacing.
"Ah but Owl, you feathery fecker, perhaps Titty Kubo could not skip anything and
had
to make the arc as long as it was?" some sassenach could potentially say.
Well I say that that is some nonsense talking considering that 1/2 of the Arrancar Arc's plot is just a back to back, copy and paste, exact replica repeat of the Soul Society Arc's plot format.
Shall we look at some examples?
To clarify, everything left of the / is from the Soul Society Arc and everything right of the / is from the Arrancar Arc.
Now let us get started. :smithnie:
I) The plot of the Arc begins when two mean arse sassenachs in Byakuya and Renji/Ulquiorra and Yammy (the latter two's first appearance in the story smacks hard of Vegeta and Nappa's landing on Earth) start to feck shite up.
II) One of the sassenachs is a quiet, collected individual in Byakuya/Ulquiorra while the other is a boisterous loudmouth in Renji/Yammy.
III) Sassenach Renji/Yammy starts going after Ichigo's friends while Byakuya/Ulquiorra sits in the background. Ichigo's friends in Rukia and Uryu/Chad, Orihime and Tatsuki fail miserably to protect themselves.
IV) Ichigo saves his useless friends in Rukia and Uryu/Chad, Orihime and Tatsuki at the last second.
V) Ichigo fights loudmouth sassenach Renji/Yammy and surprises them before getting his shit kicked.
VI) Serious sassenach Byakuya/Ulquiorra promptly informs Ichigo of how pathetic he is before they leave, making Ichigo feel inadequate because words hurt.
VII) Urahara saves Ichigo's tenderised bacon before he can die. Admittedly the timing is different but it is still Urahara saving Ichigo from the exact same situation.
VIII) Ichigo's lady friend in Rukia/Orihime is captured by mister serious in Byakuya/Ulquiorra.
IX) Training montage. Ichigo admittedly goes somewhere different but his friends train with Mr Urahara in both arcs.
X) The eternally useful Urahara knows exactly how to open the Stargate or whatever to the Soul Society/Hueco Mundo.
XI) Ichigo's friends come to assist Ichigo in his would be suicide mission against the Soul Society/Hueco Mundo.
XII) Ichigo arrives in a boring arse world and must travel to the white walled fancy palace of Seireitei/Las Noches (which I keep thinking of in my head as Lost Nachos).
XIII) Three locals in Kukaku, Ganju and Yamada/Nel, Pesche and Dondochakko assist Ichigo and co. They help them get to the whitewashed palace of Seireitei/Las Nochas.
XIV) One of the locals in Yamada/Nel has healing abilities. How conveniently useful.
XV) A character assisting Ichigo in Yoruichi/Nel transforms into a waifu bait warrior.
XVI) An antagonist in Kenpachi/Grimmjow goes out to seek Ichigo just so they can fight him.
XVII) An antagonist in Kenpachi/Grimmjow captures Orihime, goes looking for Ichigo and ends up giving him assistance.
XVIII) The first notable minor antagonist that Ichigo fights in Ikkaku/Dordoni, goes on to give Ichigo some immediate minor assistance to Ichigo after he heals them.
XIX) Uryu Ishida fights an insane, sadistic scientist in Kurotsuchi/
Szayelaporro (feck this guy's name).
XX) Insane, sadistic scientist character
in Kurotsuchi/
Szayelaporro prevents their demise by Uryū's hand through fictional science.
XXI) Insane, sadistic scientist character
in Kurotsuchi/
Szayelaporro has complete and utter disregard for their subordinates.
XXII) Chad flexes on weak fools using his muscular arm gains until he meets a big name character in Shunsui/Nnoitra, gets completely cobbled and does nothing of significance for the rest of the arc.
XXIII) Uryū's first fight involves humiliating an opponent by destroying their sankatsu chain or whatever it is called (he basically chops off their spiritual nads and makes them spiritually impotent for life. Uryū is a dick.).
XXIV) Ichigo fights a battle obsessed sassenach in Kenpachi/Grimmjow (as well as Nnoitra I suppose).
XXV) Orihime helps out members of the enemy faction in Maki Maki/Loly cause she is kind.
XXVI) Ichigo has a second encounter with Mr. Serious Byakuya/Ulquiorra who says "Yeah you improved mate but you still ain't worth shit".
XXVII) Ichigo has his third and final showdown with straight faced sassenach Byakuya/Ulquiorra and wins against Mr. Serious due to his Hollow side taking over and causing him to temporarily go berserk.
XXVIII) Ichigo wins every single one of his fights due to power ups.
XXIV) Ichigo gets power ups through fighting some inner spiritual manifestations of his powers (he fights against Zangetsu and Hollow Ichigo both times).
XXV) A character in Uryū/Ichigo uses a "final" attack that if used causes them to lose all their spiritual powers but the character gets all their powers back anyway by the next arc.
XXVI) Hinamori gets screwed over by Aizen in both arcs.
XXVII) Orihime bitches about how useless she is. In both arcs and just in general.
It is very difficult to enjoy anything within an arc, when half of it is just the same shit on repeat that one has literally just read and the other half is just a loose collection of fights of varying quality ranging from "nice" to "meh" to "oh feck off Kubo".
This, this is only about 1/3 of the major problems I had with this arc but more on that later. This is enough for a single post. Lel.
Tis now time for myself to call upon potentially interested parties.
Now, let there be reviews.