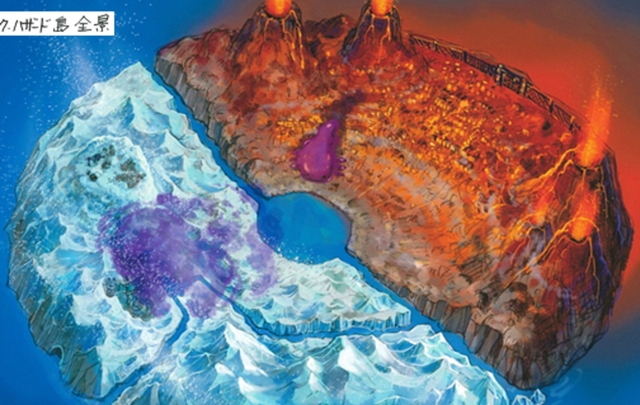 Punk Hazard is an island located in the New World a former Marine base that was destroyed by an unknown incident. The island has two unique sides that are split in half from North to South. Punk Hazard is an island that is not possible to "log". The island is relatively close to Dressrosa, as travel between the two islands can be performed in a short period of time.
East Side
The Eastern side of the island is crippled by volcanic activity. The subsequent heat is enough to burn most ships, causing the dock in this area to be unmanageable. The immediate sea around the area is a mixture of lava and volcanic rock that has cooled enough to be solid. There are warning signs littered around it and the remnants of a destroyed marine base can be seen.
West Side
The Western side of the island is an antithesis to the west completely frozen, with constant snowfall and random freak blizzards. Remnants of discarded science labs can be discovered underneath some of the snow and Icebergs. Every once in awhile one of the many Iceberg mountains drifts off the island causing havoc on the seas. This side of the island has a working dock though if anyone has used it recently is unknown as the island seems abandoned.