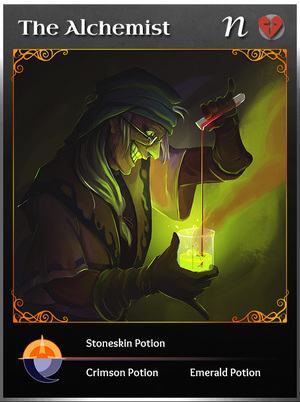 You are the Alchemist! The Alchemist is a Support class that belongs to a

Neutral

faction. [Passive - Coagulate]

You are immune to bleeding. Passive kept on class change.

[Day Active - Stoneskin Potion]

Drink a potion that makes you death immune tonight.

[2-shots]

[Night Active - Crimson Potion]

Use a Heal potion on target player, preventing their death and curing any bleeding. Does not affect unhealable attacks.

You cannot use the Crimson Potion on yourself, only other players. [Night Active - Emerald Potion]

Attack target player with concentrated toxicity. Cannot target the King.

[2-shots]

Wincon: Survive.​