Wano arc isn't fully finished yet but I think there's more than enough for us to discuss. Well I'll start by saying my opinion about the general events of Wano more specifically from chapter 1000 to 1053, then I'll give my final verdict and then I'll ask you some questions.
-The 5 Rooftop and The Youkous (1000-1010)
I liked the performance of the Supernovas against the Yonkous, Oda managed to create a moment for each of the Supernovas to shine against Kaido and Big Mom.
•Zoro and Killer fighting Kaido together.
•Killer attacking Kaido with his Kaama Sonic.
•Slam Gibson by Kidd.
•Zoro cutting off one of Onigashima's skulls with his Hiryuu Kaen.
•Zoro blocking Hakai.
Too much hype.
- "Robin-Chan, Save me" (1005)
I remember the repercussion was Sanji asking Robin for help, many people called it pathetic and weak. I particularly didn't see a problem with it, I believe that Sanji asking Robin for help was a way to generate hype for Robin, because let's be honest, if Sanji didn't have his code of not hitting a women, he would easily kill Black Maria.
- Zoro'Conqueror Haki/Asura (1010)
•I liked that Zoro awakened the CoC. It really makes a lot of sense with the character, after all he's almost as ambitious as Luffy, and it's also nice to know that there's one more Conqueror in the crew.
•However, I liked the return of Asura much more than the CoC. Asura is Zoro's most iconic attack, and it hasn't come back for more than a decade, is it because before Wano, Zoro didn't have any opponents up to the point where he needed to use Asura? Maybe, but anyway, for me, seeing a Pre-TS attack returning was good, and Zoro still scarring Kaido......Amazing.
In short, I liked the treatment Zoro received on the Rooftop,
I just wanted other characters to have that kind of treatment too.
-Kinnemon (Fake) Death (1014)
First I would like to understand, what was the purpose of Kinnemon's fake death scene? did it give more emotion to the Onigashima war? Anyway, it sucked. And maybe the worst was not that Kinnemon didn't die, but the excuse why Kinnemon didn't die. The reason Kinnemon didn't die was because in Punk Hazard, Law didn't glue his parts right, and then when Kaido attacked him, his parts came off...... and then there's a gag where Kinnemon talks to Usopp by the fucking ass.
Really Oda?
-Straw Hats VS Tobiroppos (1014-1022)
I'll briefly talk about what I thought of the Strawhats' fight against the Tobiroppos.
•Jinbei vs WW: I liked the Martial Arts style covered in the fight, Fishman VS Rokushiki Karate. Good Choreography, but could have been bigger if WW didn't talk so much.
Nico Robin vs BM: Surprisingly good, the Gigant Fleur and the Demoniac Fleur, in addition to being very beautiful, were my Top 5 favorite Wano PUs, if they had CoA coating it would have been Perfect.
Franky vs Sasaki: Kind of short and bland. Jinbe and Robin had 2 fighting chapters, while Franky only had 1 chapter, okay, he was fighting Sasaki before, but I think Oda could have made a more elaborate fight for Franky. If I were to summarize Franky Vs Sasaki, it would be like this:
- The Pirate King "Wings" (1022-1035)
I liked the nickname "Wings", it shows how Zoro and Sanji are EQUALLY essential for Luffy to become the Pirate King, SUCK THAT JINBEI AND YAMATO.
Back to the topic, about Zoro and Sanji's fights. •Sanji vs Queen: the fight was....Okay, it wasn't rubbish as some people like to say, but I feel like Oda missed the opportunity to show what Sanji really learned in TS. He could have used Sanji's much-hyped Okama-Kenpo as a resource for excellent choreography and panels, making for a more immersive fight, but Oda preferred the standard. For me the thing that made Sanji vs Queen the most good, was the IJ with Plasm... I mean Blue Flames.
•Zoro vs King: the fight was good but I also felt disappointed, not because of Zoro, but because of King. I thought that King would give more work to the pro, that King would crush Zoro and that Zoro at his limit would beat King, something more like Zoro vs Mr 1, but that's not how it happened.
- Yamato DF/Flashback (1015-1025)
•I really liked the choice of Oda for Yamato's DF, many people theorized that her fruit could be the T-Rex or some other Japanese legend, but the Inu Inu no mi Modelo: Okuchi Makami was the ideal choice. The design of the Hybrid Form, the Zoan form, the ice powers, everything was amazing, probably Oda chose the Dog's fruit to reference the Tale of Momotaro where Yamato would represent the Dog.
•About her Flashback, it was decent, nothing too melancholy or exciting but it worked well for the character, I just missed seeing her training and mastering her fruit, and also more of her relationship with Kaido before Wano.
- Cipher Pol 0 (1028-1043)
The Cp0 in Wano was "Okay". First Lucci says they need to capture Nico Robin, so we thought "Wow will we have Brook vs CP0 agents? will we have Usopp vs CP0 agents(LMFAO)? when in reality CP0 fights Apoo, Drake and Izou generating some good fights "Meh". However, one agent in particular carried CP0 on his back in this arc, MR GOOOOO. The best part of CP0's storyline in Wano was without a doubt Mr Go facing Kaido's blows.
- Sanji Awakening (1028-1033)
Well despite the criticism about the awakening of Sanji's Genes, that Sanji is daddy's boy, that Sora's sacrifice was in vain and etc, I particularly liked it. I found a PU quite interesting and opens up more possibilities than the Raid Suit. I liked the justification that the Raid Suit that activated Sanji's Genes. I liked the narrative line that Genes da Germa generated, showing that Sanji's awakening was not about him losing or not his emotions, but about him overcoming his demons and using his lineage to his favor, becoming, no, the greatest Judge's failure, but the Judge's greatest success (it even gave me chills).
The only problem for me was the conclusion of his fight with Queen, where his eyebrow snaps back into place, like, what does that mean? does that mean it's a mode? did he lose his genes? That got a little shitty for me.
- Kidd and Law Awakening vs Big mom(1030-1040)
I liked the fact that Kidd and Law awakened their fruits more than the awakening itself. If I were to speak briefly, I would say that Kidd and Law's awakening and their fight against Big Mom was a good example of
"wasted potential"
, especially Kidd.
•Kidd was by far the worst thing about the Big Mom fight for the simple reason that Oda didn't give the hype due to him, and....just remembering that fucking Metal Bull gives me nightmares, in others. In other words, Oda didn't know how to use Kidd's FD in an intelligent way.
•On the other hand, Law's awakening was much more interesting, and much more well-crafted to the point of overshadowing Kidd in battle. The Kroom, Anesthesia were very creative and useful attacks against Big Mom, and the R-Room:Silent (which was inspired by the power of the Heart)....Incredible.
•Big Mom performed until Okay in the fight, people complain that she didn't show her awakening, but I think Linlin's Giant transformation was quite satisfying.
- Apoo and X-Drake (1031- 1042)
Well, what can I say about X-Drake? I just didn't like his role in Wano, he was humiliated by CP0 and in the end, in the end he was bleeding next to Hawkins. About Apoo, I thought whatever, he was crushed beautifully by Zoro, allied with Drake, was crushed again by CP0 and in the end had a redemption in a way "Okay". In short, I didn't care about Drake and Apoo's role and I still don't.
- King's Identity Reveal/ Flashback (1035)
I liked the subversion of expectation regarding King's identity. Many theorized that because Oda was a fucking troll King's appearance would be weird or monstrous, but the reality was the opposite. His Flashback was good, it showed King and Kaido's relationship and King's interest in Joyboy added an extra layer to the character.
-Hyori and Orochi (1041-1048)
Problematic. First Orochi had died who knows how many times (I lost count), then Hyori arrives and then takes revenge on him, then we thought "woow, Hyori finally avenged her father and Cla Kozuki", until later it is revealed that Orochi HE HAS NOT DIED YET, breaking all the mood of the scene, and in the end Denjiro arrives and kills him. In short, pretty bad.
- Luffy Joyboy/Nika Devil Fruit(1043-1044)
For me this was one of the bravest choices Oda ever made in OP, he simply changed over 20 years of Luffy and his DF history, but let's share. Luffy being Joyboy makes a lot of sense within the essence of the character, he always sought to be free, he freed all his Nakamas and freed all the people of the islands he visited. About changing his Fruit, I have some reservations like, how was Shanks not aware of this fruit? if the fruit has not awakened for 500 years, have there been other users of this fruit? Well I'm not going to burn my neurons, so I accepted quite brave on the part of Oda
-Luffy Joyboy vs Kaido(1044-1050)
I'll be honest, I really enjoyed this fight. Luffy's wacky, wacky G5 style and his megalomaniacal attacks of getting Giant and getting into Kaido's eyes like a cartoon was a lot of fun. Is it better than Luffy vs Lucci and Luffy vs Kata? No, but overall it was quite satisfying, even more so in the part where Kaido is about to be attacked by Luffy and smiles.
-Kaido Flashback(1049)
As much as I understand that much of Kaido's story is tied to the Rocks and that Oda is still saving Xebec for the future, I found Kaido's Flashback too short and doesn't explain much of the character. Why is Kaido depressed? why does he drink a lot? Your relationship with Yamato before arriving in Wano? those were questions that weren't answered in his flashback, and that's why I consider it one of Wano's flaws, because we've all always wanted to see Kaido's Flashback and when it was finally shown, it was frustrating.
- Kaido and Bing Mom "End"
Funny. Not fun because they fell into Magma, that for me was more or less, it was fun because of the connection that the fans made with the volcano of Magma and Akainu, saying that theoretically Akainu>>Kaido and Big Mom
These OP Fandom is too much funny.
- Momonosuke Adult(1016-1051)
I liked the storyline of Momo becoming an Adult and having to mature for the sake of Wano's country. His look, his speech to the people of Wano Kuni, the phrase that he will be the greatest Shogun of Wano, all of that worked for me, and also that scene where Yamato puts a plate under Momo's head, making Momo look like Oden It was very beautiful.
- Admiral Ryokugyou/Aramaki (1052-1053+)
No words to describe Admiral Greenbull. Great entry, Great Design, awesome powers, showing that "2 YCs>>1 Admiral" is just bullshit. Hope to see more of him in the next chapters.
- New Emperors and Bounties (1053)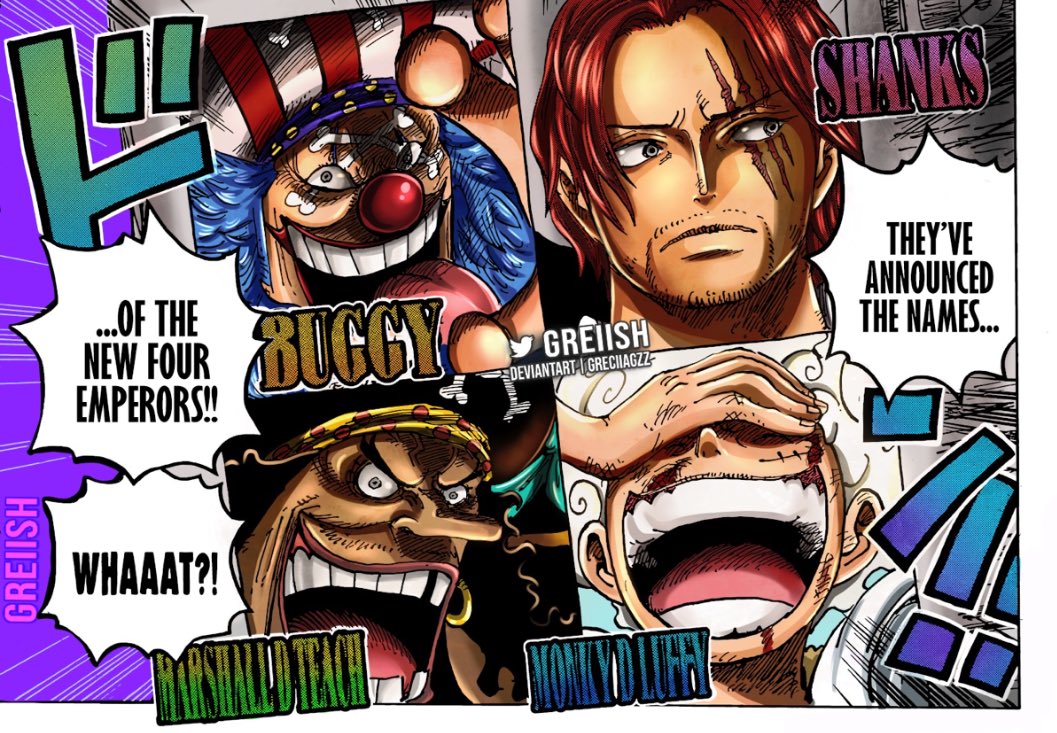 Much more cool and interesing than would be if Kidd or Law.I'm not kidding, Buggy becoming Yonko is very interesting. I don't think Buggy became Yonko out of sheer luck or anything, I really think he did something to get WG named him Yonko, and that's way cooler than it would have been Kidd or Law being the new Yonko.
- (my) Veredict:
7.5/10. I'm not going to lie, I enjoyed Wano and had a lot of fun being the first arc I follow weekly. The subversion of expectation was something very well worked on in this arc.
I still want to see how the conclusion of the arc will be, and if it will improve or worsen Wano.In short, another good One Piece arc.
-Now about you:
(You don't have to answer all these questions but please, at least answer 5.)
•What did you think of Supernovas' Rooftop performance against Yonkous?
•What did you think of Sanji asking Robin for help?
•What did you think of Zoro awakening CoC in Wano?
•What did you think of Kinnemon's fake death?
•What did you think of the Strawhats' fights against the Tobiroppos?
•What did you think of the nickname "Wings" given to Zoro and Sanji and what did you think of their fights against King and Queen?
•What did you think of Yamato's DF choice and her Flashback?
•What did you think of CP0's role in Wano?
•What did you think of Sanji awakening his Germa Genes?
•What did you think of Kidd and Law's Awakening performance and what did you think of their fight against Big Mom?
•What did you think of X-Drake and Apoo's role in Wano?
•What did you think of King's identity reveal and his Flashback?
•What did you think of the Hyori and Orochi plot in the war, and what did you think of Orochi as a villain?
•What did you think of the reveal of Luffy being Joyboy, and what did you think of Luffy's DF change?
•What did you think of Joyboy Luffy's fight against Kaido?
•What did you think of Kaido's Flashback?
•What did you think of the ending of Kaido and Big Mom?
•What do you think of Momo Adult?
•What did you think of Admiral Greenbull's arrival in Wano?
•What did you think of Buggy being Yonko?
- Now, the two most important questions:
•How was it for you to follow the Wano arc weekly?
•What is your current Wano Verdict?
@AL sama
,
@TheAncientCenturion
,
@Bango🍅
,
@Natalija
,
@Pantheos
,
@Gol D. Roger
,
@Finalbeta
,
@Bogard
,
@Light D Lamperouge
,
@Chrono
,
@LANJI CUCKSMOKE
,
@Garp the Fist
,
@RayanOO
,
@Sanji D Goat
,
@Jew D. Boy
,
@KiriNigiri
,
@bennbeckman
,
@Charlotte LinLin
,
@SmokedOut
,
@Fujishiro
,
@TheKnightOfTheSea
,
@Van
,
@Zolo
,
@ShishioIsBack
,
@Orojackson Refugee
,
@comrade
,
@Giggio
,
@solis
,
@uyuu
,
@MonsterKaido
@Monster Luffy
,
@Shasha23
,
@Cinera
,
@Yasheen
,
@Doggo
,
@NAMELESS
,
@Nameless-San
,
@BleakAsh
,
@Herrera95
,
@Crocks
,
@Sasaki Kojirō
,
@lee33
,
@The Strawhats Bible
,
@Roronoa-sama
@roronoa_fan
,
@Peroroncino
,
@Lhululu
,
@RoronoaButters
,
@L55
,
@Nagasaki
,
@GoldDiamond
,
@Extravlad
,
@AdmiralKinyagi
,
@Fleet Admiral Lee Hung
,
@God Tier Sovereignty
,
@Rottkins
,
@Hamlette
,
@Iam25
,
@Gorosei
,
@Albino 👑
,
@style
,
@AkainuTheGrimReaper
,
@Sigran101
,
@Roo
,
@JoSeungHun7335
,
@Monkey D Al
,
@Rootbeer
,
@Animangaboy
,
@thedarkdragon11
,
@Staticshadic
,
@Gaimon The Pirate
,
@Topi Jerami
,
@Adamxero
,
@Tejas
,
@Buusatan94
,
@Monkey D Theories
,
@nik87
,
@ConquistadoR
,
@HA001
,
@Luffy is the mc
,
@Midnight Delight
,
@sanjikun
,
@Ghostly Reflections
,
@Monkey D. Luffy
,
@MarineHQ62
,
@Cross_Marian
,
@OnePiss
,
@Jailer
,
@S.W317
,
@SeaTonnes
,
@Erkan12
,
@The White Crane
,
@pg13
,
@kumae
,
@Fn Lucci
,
@Hanzo hattori
,
@Phoenix D. King
,
@Killer#777
,
@Surgeon of death
,
@Trafalgar_D_Law
,
@centurion
,
@Steven
,
@Echizen_Jo_Ndule
,
@Boiroy
,
@DonWick
,
@BornInAbyss
,
@Kiddoo
,
@Eustass
,
@Usopp Haoshoku Haki
,
@Water1415
,
@Red Admiral
,
@Salah WG
,
@Wildfire Kaios
,
@Swallalala
,
@ArturCantSpeakJapanese
,
@kurwa
,
@mrtsrdr
,
@kenedyfake
,
@K!NG HARA$H!MA
,
@Owl Ki
,
@Wiwi
,
@Weeman
,
@Lor D. Coast
,
@Shisui
,
@IsaziSempi
,
@Franosuke
,
@Kiiro
,
@Tai long
,
@Swordtaker
,
@stealthblack
,
@Gear5PhoenixMan
,
@Zaretball
,
@SkySanji
,
@Mackiss
,
@rerere
,
@Mr. Reloaded
,
@MonsterZoro
,
@WizardKing
,
@Vinsmoke D. Zolo
,
@Wuuuke