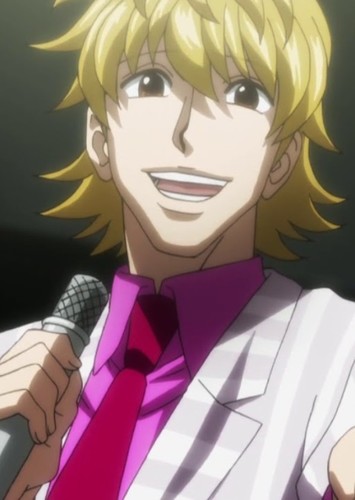 Unlicensed Plague Physician
.
Courtesy of Cinera:
Who is Ryokugyu's Future Opponent?
​
Introduction
Assuming that he will be defeated in future, I'm curious who Ryokugyu's opponent from the Strawhat Pirates will be. As I see it, there are two main options:
Sanji
Yamato
I will cover the cases for them below.
The Case for Sanji
Ryokugyu's short conversation with Issho was
very
interesting:
From the above image, there are two reasons to suspect that Ryokugyu might be an opponent designed for Sanji:
Ryokugyu has been fasting for three years.

Sanji is a cook that will feed anyone.

Ryokugyu might be a womaniser as he will only accept being fed by a pretty woman.

Sanji is also a womaniser, and this similarity is something that Sanji has shared with some other opponents of his:
Beyond the superficial similarities, there are other reasons to suspect that Sanji will defeat Ryokugyu:
Sanji is a member of the Monster Trio.

The Monster Trio seem setup to each defeat an Admiral:

Luffy defeats Sakazuki.
Zoro defeats Borsalino or Issho.
Sanji's potential opponents are Borsalino and Ryokugyu.
If Zoro gets Borsalino as I expect, then Sanji will be left with only Ryokugyu as a potential opponent.

Oda may intend for all the Admirals to be defeated by Strawhats.

This would rule out the following characters from being responsible for an Admiral's defeat:

Sabo
Law (?)
Kidd
Other Supernova
Other allies
Yamato
Ryokugyu's words can also be used to support Yamato as Ryokugyu's opponent:
Ryokugyu says that he'll only permit a "pretty lady" to feed him. One
might
— heavy emphasis on the "might" — interpret this to suggest that he'll be defeated by a pretty lady.
If Ryokugyu is to have a female opponent, Yamato is the
only
potential candidate. No other woman in One Piece meets the necessary criteria of:
Pretty
Strong enough to fight an Admiral.
Yamato gets bonus points for being a Strawhat.
Beyond the tenuous (at best) foreshadowing for Ryokugyu being defeated by a female character, there are a few other reasons to suspect a Yamato vs Ryokugyu battle.
Ryokugyu could be a (Mythical) Zoan user like Yamato.

It seems that the current Admirals have an Admiral of each type:

Logia: Borsalino
Paramecia: Issho
Zoan: Ryokugyu (?)

Oda may intend for the Strawhats — and only the Strawhats — to defeat ALL the Admirals:

There are four Admirals and Yamato would be one of the four strongest Strawhats, so she should defeat one.
If Yamato is to defeat an Admiral, then the most suitable Admiral opponent for her is Ryokugyu:

Both of them are Mythical Zoans.
Ryokugyu will only let a "pretty lady" break his fast.

Yamato appears to be considerably stronger than Sanji.

Yamato is currently facing Hybrid Kaido while Sanji is currently fighting Zoan Queen.
If she remains stronger than Sanji, she should be placed against a more powerful opponent.
Some Thoughts on the Crew Hierarchy
For Sanji and Yamato, what I'm most interested in seeing is if the M3 (and its associated combat hierarchy) remains undisturbed after Yamato joins the crew.
If Yamato is considered a "monster" alongside Luffy and Zoro (either expanding the Monsters to four, or kicking Sanji out of the trio), I'll feel more confident in expecting her to face an Admiral in the Final War.
If instead Sanji remains in the Monster Trio and Yamato is placed clearly below him, I'll soft-lock Ryokugyu as his opponent. I wouldn't expect Yamato to defeat any Admiral.
If Oda separates Luffy as the captain (with Zoro, Yamato and Sanji becoming their own trio as his commanders), I'll expect Luffy to defeat Sakazuki and the other 3 Admirals to be defeated by the Commander Trio.
If Oda separates Luffy and Zoro from Sanji and Yamato, I would endorse Yamato and Sanji teaming up to defeat an Admiral (probably Ryokugyu).
In decreasing order of likelihood, I'd rank them as:
Monster Four
Commander Trio
Original Monster Trio with Yamato falling behind (like Jimbe)
Yamato replaces Sanji in the Monster Trio
Luffy and Zoro form their own duo
I think we're most likely to see Yamato regarded as one of the "Monsters" of the crew (alongside Sanji). However, if only one of them is to be considered a Monster, I think Sanji remaining in the M3 is more likely than Yamato kicking him out.
The plot hasn't developed the way I would expect it to if Luffy and Zoro were to become their own duo. I would have expected that:
They would be the only Strawhats to fight Kaido.
They would be solely (or near solely) responsible for Kaido's defeat.
ZKK
With Yamato fighting Kaido (in a protracted 1 vs 1 at that) and Zoro seemingly denied that opportunity, the Luffy and Zoro duo seems unlikely. Furthermore, Yamato may end up tag-teaming Kaido with Luffy when he returns. I still think ZKK will happen, but even if it does, it wouldn't be sufficient to distinguish Zoro from Yamato. So this is my least likely scenario.
Conclusions
I think Sanji is more likely to be Ryokugyu's opponent than Yamato. There's the possibility that Oda has both of them face him together, but I doubt it. I expect EOS Yamato to be strong enough to take on an Admiral by herself, and if Oda intends for Sanji to remain the #3 Strawhat, he'll also be similarly capable.
Ryokugyu was only barely introduced, and all the speculation right now is on very superficial grounds. As more information is revealed about him, Sanji and Yamato, I'll update accordingly.
I would say that I think Yamato facing Ryokugyu will happen only under two scenarios:
Yamato remains significantly stronger than Sanji even at the Final War.

I think this is unlikely, but the next two arcs will be telling.

Sanji defeats Borsalino instead.

I think this is unlikely:

I believe Borsalino is stronger than Issho.