When people talk about what happened to Wano during the 5 years Oden came back and made a deal with Orochi/Kaido, it's important to note the other Daimyo never had a response to the Wano of this period. Oden was made to act like a buffoon, the other Daimyo were not. The truth is, we don't know if Wano got
better
,
worse
, or the
status quo
was merely maintained for the 5 years the deal was going on.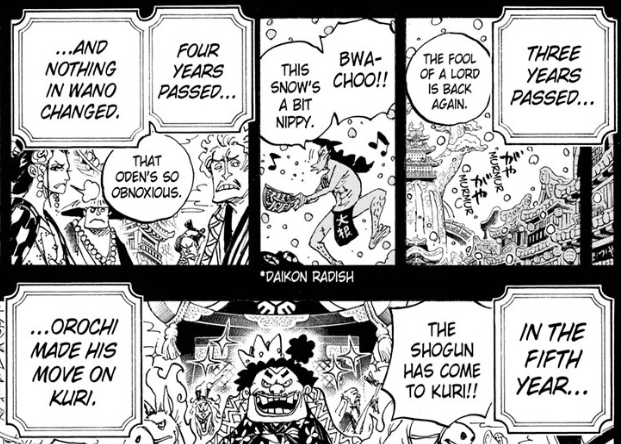 The narration in the chapter says that Moria invading and Oden losing everyone's respect are the only events worth nothing.
- Were any new people executed or sentenced to hard labor in the factories?
- Were any more people hit with blindness arrows?
- Did Orochi build any new factories in these 5 years? Orochi "made his move on Kuri" and that move was to build more factories there. Factories already existed in Kuri when the Roger Pirates arrived. If Orochi was making his move, this would likely break the deal with Oden which presumably stopped the construction of new factories at least in Kuri.
- Kaido and Orochi did not engage war with Wano and start subduing everyone from Daimyos to villages like Amigasa, at least under this deal. This would have definitely been pointed out with horrendous consequences.
- The Hyougoro family was targeted when Orochi and Kaido were finally ready to break the deal.
Oden's retainers, not even Daimyo themselves, resorted to violence against Shogun Orochi over a random innocent family being executed.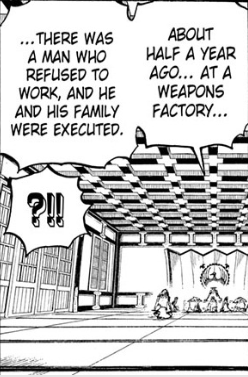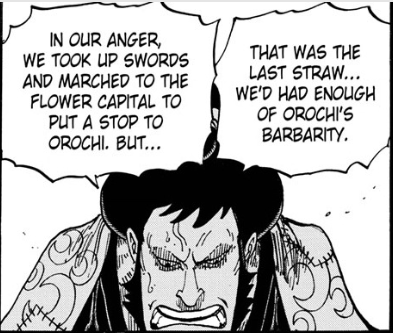 While Oden was absent from Wano, Orochi built factories, sentenced people to hard labor, killed an innocent family, targeted Momo when the Scabbards came after him, and many others things all across Wano. Orochi became a very hated figure people were willing to violently find a solution to.
Are the Daimyos more responsible, better tempered, and willing to allow Orochi's barbarity?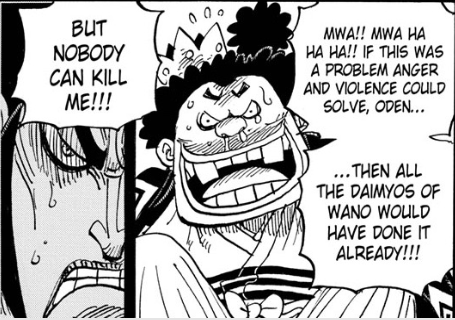 Nope. Orochi himself knows the Daimyos are infuriated and not above overthrowing him with violence. But is that what Orochi thinks or has he seen it first hand before, a Daimyo resorting to violence?
Sometime after Oden died, the Daimyos perished in a war against Orochi and Kaido when they were told to submit. Even if they knew it was hopeless, they put up a fight to the death anyway.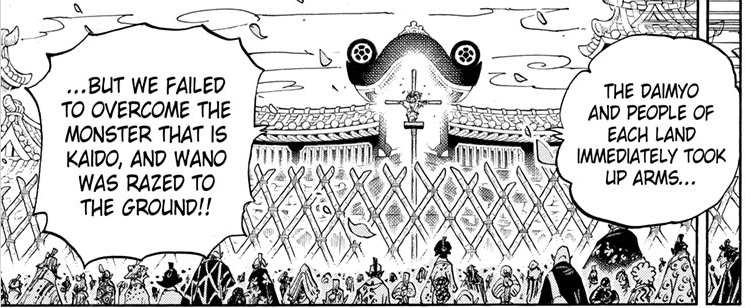 Oden came back to Wano, submitted to Orochi, made a secret deal that included acting like a fool for 5 years in the capital.
If things were so bad during this period,
why didn't the other Daimyo do anything about it
? The Scabbards wouldn't disobey and act against Oden's wishes and target Orochi on their own again. But what if factories kept being built? What if people kept being executed in the factories? What if Kaido and Oden started physically subduing the rest of non-Kuri Wano in war? To our knowledge of the events of those 5 years,
no Daimyo attacked Orochi, no Daimyo was killed or imprisoned in this period.
They couldn't wage war against Orochi if they were all locked behind bars or their region already subdued.
I see two possibilities:
1.
The Daimyos placed their hope in Oden to act first.
Oden became a buffoon and acted like Orochi's dog for 5 years. Except for Yasuie, even the Daimyo lost hope in Oden eventually. As they observed Oden during this period, surely they came to the conclusion they couldn't rely on him to do anything anymore. They should have acted without Oden, just like they waged a hopeless war on Orochi and Kaido after Oden perished.
2.
The secret Oden-Orochi deal pacified the situation in Wano for 5 years.
Orochi did not execute anyone. Orochi temporarily put a halt to building new factories, but it is unlikely he destroyed the old ones. Orochi and Kaido did not force the other Daimyo to submit. Wano did not continue its descent to hell during this period. It's not dreamland, but the Daimyo had no real reason to respond with violence against Orochi like the Scabbards did over some family. The Daimyo allowed temporary holder Orochi to remain in place instead of Oden inhering the Shogun position. Orochi was still very much hated for his past actions which he never apologized for, but for some reason things did not get worse to the relief of the rest of Wano. A Daimyo like Yasuie could happily enjoy Oden's weekly dancing knowing the situation in Wano was not declining and that he and Oden were ignoring the people's plight. That's despite Yasuie not knowing Oden and Orochi arranged a deal, that Oden was indeed acting to the temporary benefit of Wano.
Do you think the Daimyo acted and defied Orochi or held back during these 5 years? What was their reasoning?
Last edited: