Hello community, it's almost time and the next Uefa Champions league will start next week.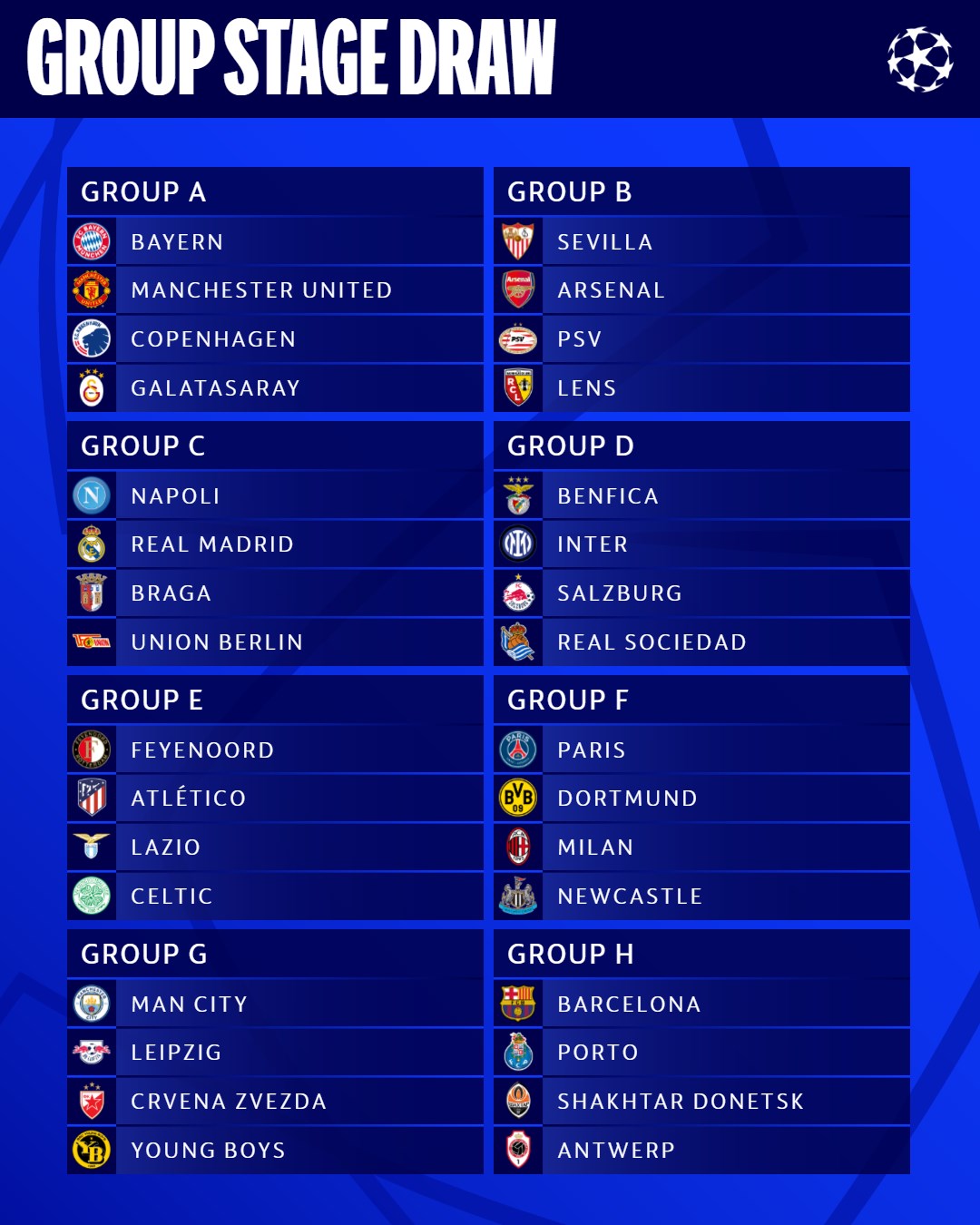 If users remember the FIfa World Cup Qatar bet thread, it will be something similar, so I don't think I need to mention much. I will also explain the rules below.
(PLS DON`T FORGET THE BONUS POINTS!!!)
What I have in mind is that the losers have to change the avatar chosen by the winner for 4 weeks.
While second in the table don't have to change anything, the first placed could maybe get VIP for 2month, the second for one month.
Here the link below to the group:
kicktipp.co.uk/worstgenchampionsleague2324
Rules:
Now coming to Kicktipp, the rules of the game:
"Visibility
Other players' predictions are only
visible after the prediction deadline has run out
.
Prediction mode
Predicting the
exact result
.
The result
"after penalties"
will be applied.
Tied on points
If nothing else has been agreed to, the rankings of several players who are tied in total points are decided by counting the number of wins on matchdays ("Wins").
Prediction Rule: 0 minutes in advance
The prediction period ends 0 minutes before the corresponding fixture.
Points rule: 2 - 4 points
Tendency
Goal Difference
Result
Win
234
Draw
2-4
Points rule: 4 points
Points for each correct answer:
4
You will earn points for each correct prediction. For this rule, the prediction order will not be considered.
Points Rule of Nine
Tendency
Goal Difference
Result
Home win
234
Draw
3-4
Away win
345
General explanation
The rule of nine awards points for a prediction if the tendency was correct. The tendency is correct if the winner has been correctly predicted, or if the result is a draw that has been predicted.
Different amounts of points can be rewarded for a correct prediction. Here we distinguish between tendency, goal difference and result:
You receive the Result points if you have predicted the exact result, e.g. Result = "2-1" - Prediction = "2-1"; Result = "1-1" - prediction = "1-1".
You get the Goal Difference points if you have not predicted the exact result but the goal difference, e.g. Result = "2-1" - prediction = "1-0"; Result = "1-3" - prediction = "0-2". Since the goal difference in case of a draw is always 0, tendency and goal difference can be summarised in such a case.
The tendency score is awarded if the tendency has been correctly predicted, but result and goal difference have not, e.g. Result = "2-1" - prediction = "2-0"; Result = "1-1" - prediction = "0-0"
Additionally, it can be distinguished between home win, draw and away win. Since away wins are rarer, one might choose to award more points for a correct away-win prediction than for a correct home-win one.
Examples for the "Example "Rule of nine""-rule
For the rule "Example "Rule of nine"", the following score results:
Result: "2-1" - Tip: "1-2" -> 0 Points (wrong tendency)
Result: "2-1" - Tip: "1-0" -> 3 Points (Home win goal difference)
Result: "1-1" - Tip: "0-0" -> 3 Points (Draw tendency)
Results: "1-2" - Tip: "1-2" -> 5 Points (Away win result)
Advice Pools mode:
If the pools mode is used for predictions, the values for result and goal difference have no meaning since only the tendency is being predicted.
Tendency
Home win
1
Draw
1
Away win
2
Advice home/away:
Matches played on neutral ground, e.g. in tournaments such as the World or European Cup, no differentiation needs be made between home and away wins. In this case, the points awarded in each case must be of an equal amount. One line in the overview is hidden for purposes of simplification.
That's it from me, I hope and wish that we all treat each other fairly and respectfully, let's all just have fun and enjoy the Champions league 2023/2024.
@TheAncientCenturion
,
@Pantheos
,
@Bogard
Could someone of you guys pls tag the entire forum so people could join our kicktipp round?
Thx alot :)