YALL KNOW WHAT IT IS BOIIIII. Now before I start the thread I'm only at chapter 1003, and from the posts I've read there hasn't been much that has happened with Drake so far, so there isn't really any information I'm missing so far in this thread regarding him.
In parallel to every generation of young pirates blooms a new Marine leader. In parallels Roger/Whitebeard/Shiki/ and such, Sengoku bloomed. In parallel to Shanks/Kaido/Blackbeard/etc Sakazuki bloomed. Now there's a new generation blooming with Luffy/Kid/Law/Zoro/etc and in parallel to these young pirates we have the next generation of marines who're rising in prominence, Smoker, Sentomaru, Hina, and X Drake. And out of these 4 I believe Oda will be making X Drake the fleet admiral after whoever becomes FA after final war, in an epilogue or something.
Comparisons with the previous two Fleet Admirals:
We're gonna start it off with the comparisons to Sakazuki & Sengoku. You see there's a key trait between Sakazuki-Drake-Sengoku that makes them stand out from the rest of their respective generation marines.. and it's cunningness, their usage of strategy. Sengoku during Marineford for example had laid out multiple tactics.. and one of those tactics was carried out by none other than Sakazuki. Where Sakazuki cunningly manipulated Squardo into betraying Whitebeard. Similarly we see Drake relying on being cunning with his infiltration into the Beast pirates & then even allying up with Luffy and co. While the likes of Smoker and such detest working with pirates, Drake has no issue. Similar to Sakazuki & Sengoku who had no issues working with pirates in order to get their goals accomplished (refer to Sakazuki not being in favor of removing the Warlords).
Heck Sengoku & Drake practically have a parent-child like connection with each other.
Their connection with SWORD:
What is the SWORD? It's the Marine HQ's top secret special force unit. Drake. Meaning it's a secret special ops division under the Marine HQ.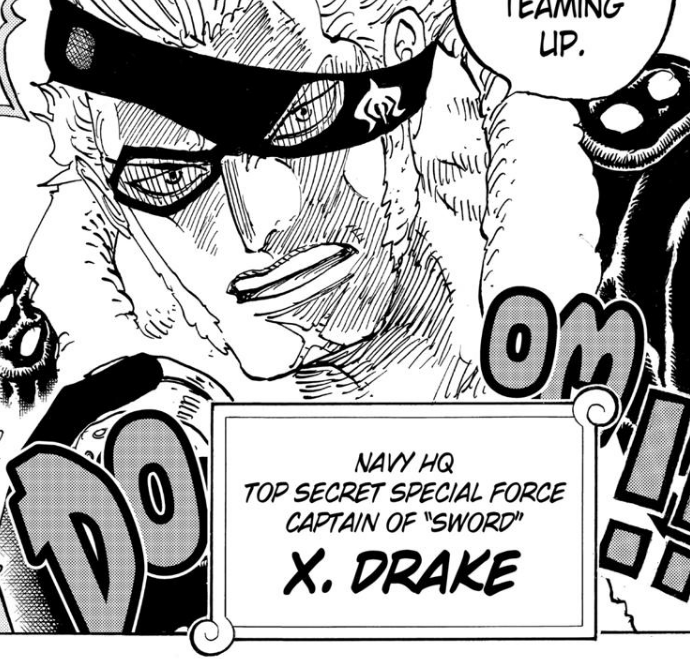 Who knows about the SWORD?
Fleet Admiral, Admirals, likely Tsuru & Garp as well + potential of Chaton & Gion and few other higher up Marines like Brannew. Based on what?
Kizaru does a semi-fuck up of calling Drake a rear admiral, then correcting himself. Then even talking about him being there for some recon work. But then plays it off as Drake being an enemy. A mere set up to reveal Drake's existence in the marines.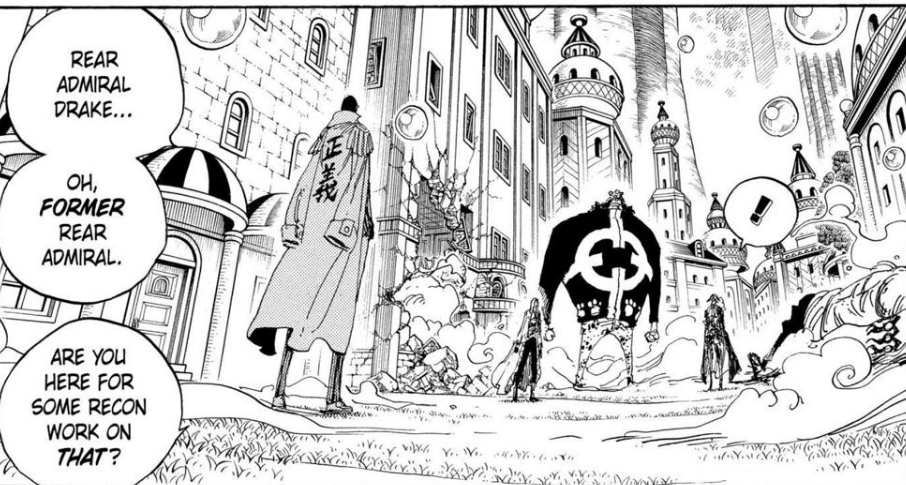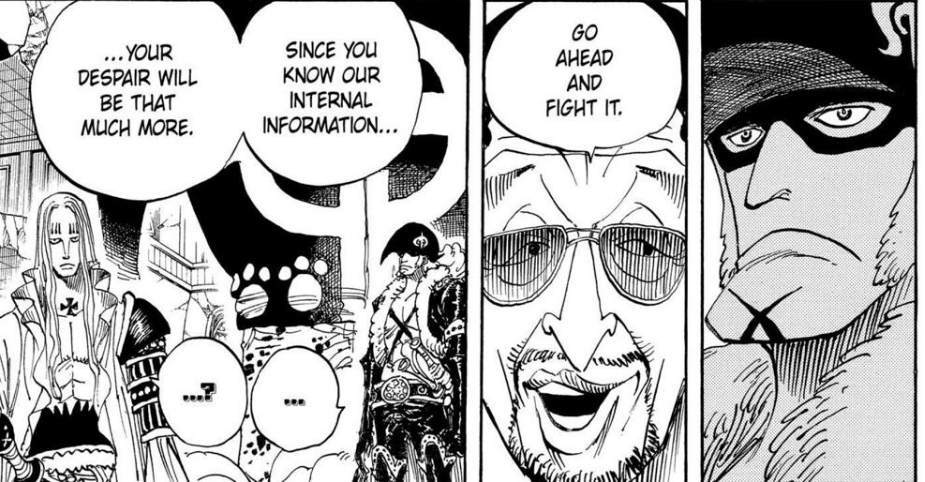 From there we have Drake talking to Koby about Kaido & BM teaming up in chapter 956. Then Brannew in 957 saying they have intel that they're about to team up. Only way they have intel is they have a connection with somebody in Wano. Some fans have purposed that Koby told them that, or Koby told somebody else and that person told them that.. but sadly neither works. Since this is a military organization operating on a worldwide scale not a some children's organization relying on pass it down hearsay. Meaning if they got intel about the two emperors, it needs to be coming from a credible source. They couldn't have gotten it from Koby as that would inquire how somebody like Koby, who is on his way to Amazon Lilly, knows about the events in Wano?? Neither can it come from any other random Marine. We know it wasn't the CP0 since they're trying to keep on the downlow. So where does the information come from? X Drake himself.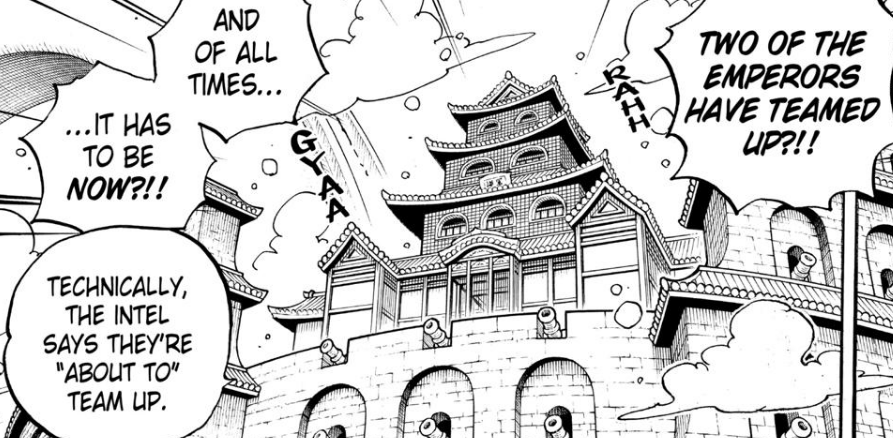 Sakazuki & Sword:
The one and only pic of Sakazuki in the manga that we have of his upperbody with no clothes shows him having a SWORD tattoo that stands out like crazy. His connection with the SWORD can't really get more obvious than that. I'm assuming he was part of the SWORD at some point in time.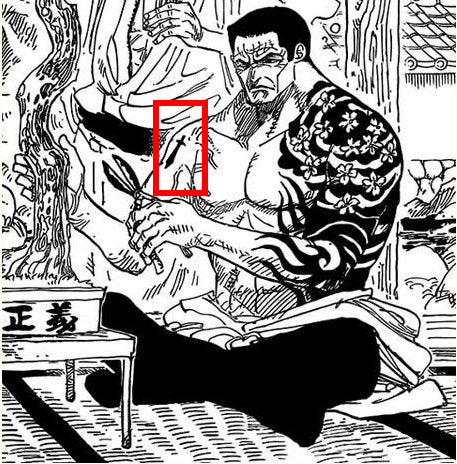 Sengoku & Sword:
Drake is doing the exact same shit that Corozan was doing under Sengoku's orders. Having Marines infiltrate big pirate crews is a Sengoku 101 textbook type of shit lmao. The connection between Sengoku & Sword can't be more clear than that imo. Especially when Drake started this mission under the reign of Sengoku's fleet-admiralship. I'm assuming Sengoku either founded the SWORD, or was once the captain of the Sword himself before becoming admiral.
---
Both the current and previous FA have an implied connection with the SWORD. And the current leader of the SWORD unit is Drake.
The 2nd most prominent Youngin:
There are three crucial new gen marines who're rising among the ranks of the Marines:
1st. Smoker - The White Hunter - Leader of G5
2nd. Sentomaru - Captain of the Marine HQ Science Unit
.. last but not least...
3rd. X. Drake - Captain of the Marine HQ Special Forces Unit "SWORD"
Out of the 3 the one who holds the most prominent position is Drake. Not only as the leader of the SWORD which has the likes of Koby and such under him. But also as the member of the Worst Generation. His importance in parallels to Luffy and such is no less than Smoker's.
(Some might be wondering why Koby wasn't mentioned, because Koby is not in their generation, but the generation that will follow them. It's a relationship akin to Saka/Kuzan/etc had with Garp/Sengoku. Especially when you consider he's already Drake's direct underling. Koby is not in the parallel against Luffy;s pirate gen for the Marines. But more akin to the next gen. supernovas like Barto/Caven the generation after Luffy's and such.)
Age issue:
Smoker - 36
Drake - 33
Sentomaru - 34
They still have a few years before hitting their peak, and by the time the likes of Law/Kid/etc hit top tier ship, they will as well. Age is a weird thing in One Piece. Urouge's 44 year old is "younger" than Shanks' 39 year old. Why? Because Urouge started his pirate journey much later, meaning his growth rate at 44 will be much higher than Shanks' at 39, simply because Shanks' is already peaked while Urouge isn't.
In terms of the Marines, they're pretty much on mark if anything. Sakazuki & Borsalino didn't become admirals until their 40s. Garp didn't become big world renowned marine until he was 39/40 year old.
So Drake is at the correct age by Marine standards and still has years left before he peaks.
..............................................
..............................................
But yea this is the jest of why I believe Oda is creating X Drake to be the Fleet Admiral after Fujitora (or after Sakazuki if he isn't removed). Mans has all the qualities and all the story set up to follow Sengoku & Sakazuki.
Last edited: