Also just in a general sense, "let's not discuss sensitive off-topic discussion"
Yamatos' gender isn't off topic, and instead of just brushing it under the rug and all that and pretending Ravager isn't spewing hate speech, let's just ban the literal hate speech transphobe who said "Trannies are retarded anyways"
If people started to go off on neo-nazi propaganda anti jewish/black hate speech, they'd be banned, right? Might as well ban this hate speech, especially considering trans people are still in the middle of their civil rights movement, so it's honestly an even more dangerous degree of hate speech tbh.
I'm not into shit like that. I mean getting every topic into atoms.

She's a female who got inspired by a male and wants to be like him nothing more to it.

How the fuck her gender is male? Did Oda confirm this to you?
Everyone calls him Kaidou's son
Kaidou calls him his son
Yamato calls himself Kaidou's son even when regarding themselves as Yamato and not Oden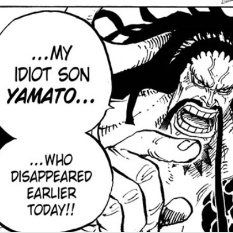 Gender is identity, sex is biological. When oda is saying daughter in the intro box, he's likely regarding sex, while everyone (tobi roppo, kaidou, and yamato) consider Yamato (not just Yamato claiming to be Oden) as a male. Yamato is gendered male, claiming to be another male.