WHAAAAT IS POPPIN BOIS! Let's gooo, we back at it with the giant Kingdom character threads. So this thread is about a character that grew on my slowly after rereading the Shukai plains a few times and after having discussions about him on here. A character who is sort of overlooked in the vast Kingdom community (though not much on this forum since we've had pretty big discussion about him on here). So I wanted to make this thread to highlight the threat and the greatness of this character and how even though we talk about him on this forum, there are still aspects to him that are overlooked (even by myself until now).
BACKGROUND:
Bananji descent to the plains of China happened only recently after the Coalition arc. Prior to that he was serving in a region called Ganmon. Ganmon isn't some ordinary region you see. It's a region located in the border of Zhao-Xiongnu, where the war against them is rumored to have surpassed the warfare struggles of the plains of China, as described by the LT. of Ouhon's unit.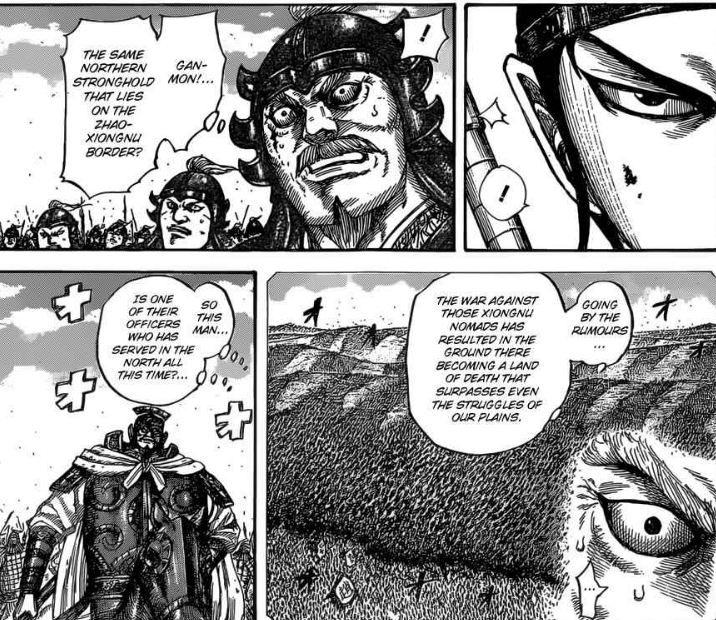 It was in this extreme warfare place that Riboku grew from being your normalish general to becoming a 3-great heaven & the prime minister of Zhao. The extreme nature of this location was greatly emphasized by Hara through Riboku in chapter 646 as well. During his conversation with Kaine Riboku asks her, how long it's been since they left Ganmon. Upon Kaine inquiring as to why he asked that, he tells her it's nothing but then goes on to highlight the sheer despair and hopelessness he's currently in, where he feels completely lost and just doesn't know what to do anymore. With the Qin at their doorsteps, with the Zhao monarchy hunting him down.. in such a despair situation.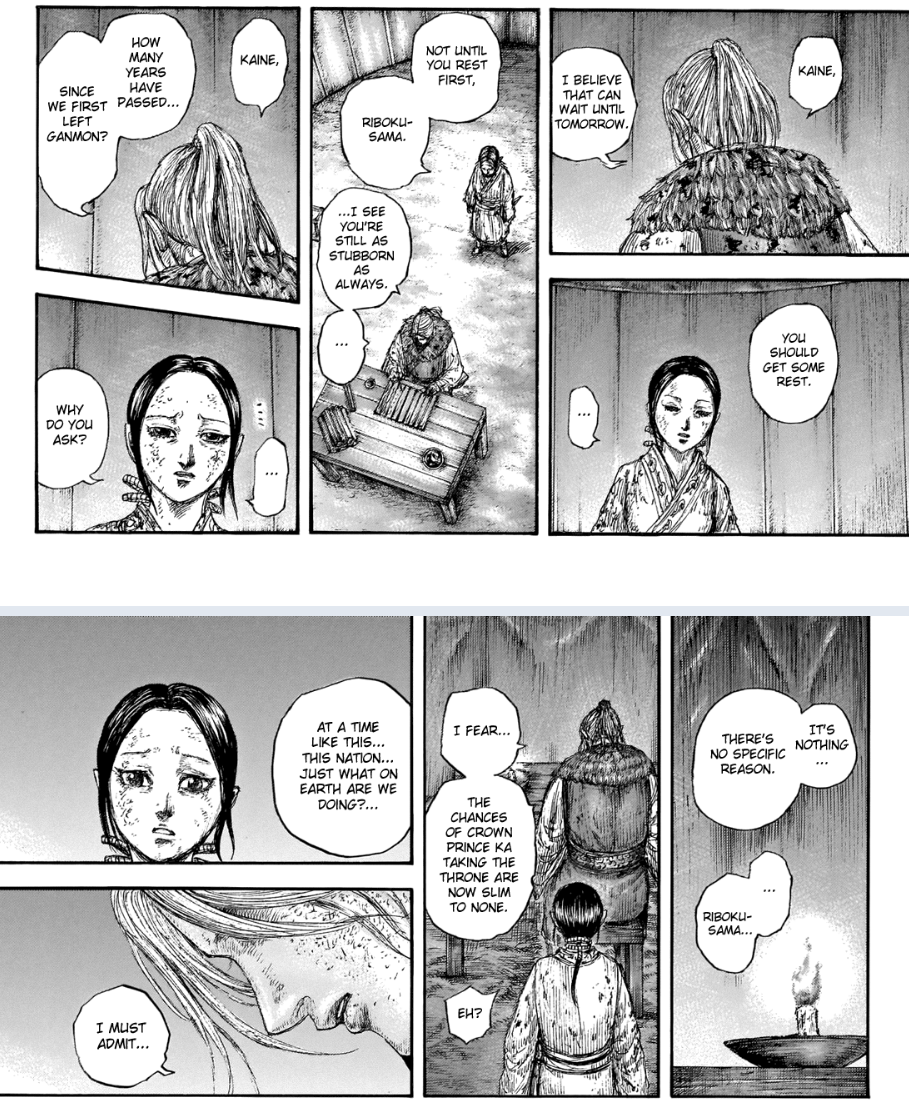 He ends this by saying, he now feels somewhat weary.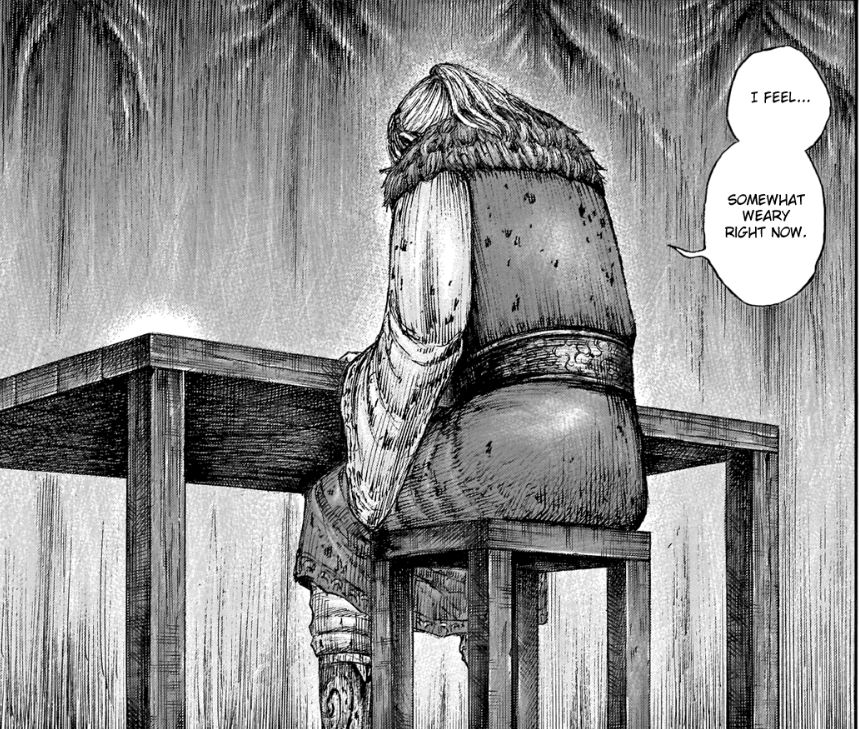 The last time he felt like this was at the place called Ganmon. Hence, chapter 646 was titled: "Not Since Ganmon"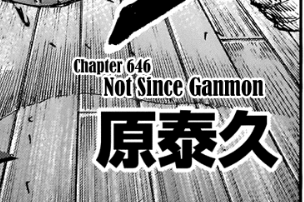 That's how extreme the conditions of that place were. And who out of all the generals in China was there this entire time other than the great Riboku? Bananji.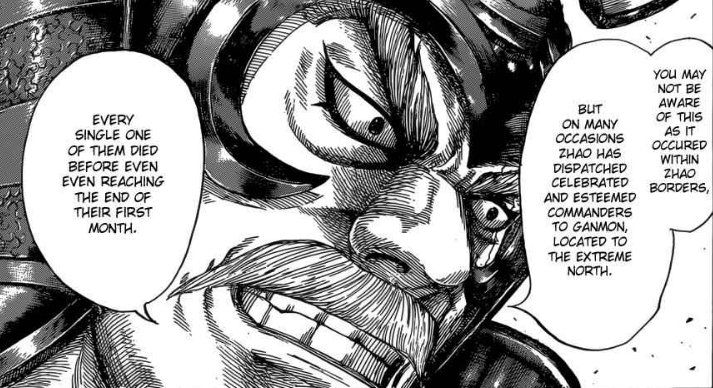 Not only did he survive for decades there and grew into becoming a general, but he became an entity that was feared even by the Xiongnu, just like Riboku was. This is one of the most fearsome backgrounds out of any character in the entire manga.
Now let's get into his prowess as a general in martial might & strategy.
MARTIAL MIGHT:
HYPE:
Bananji's first martial might hype is a comparison to the two figures who were considered the epitome of Zhao's martial might when they were active in Zhao, Renpa & Kashibou.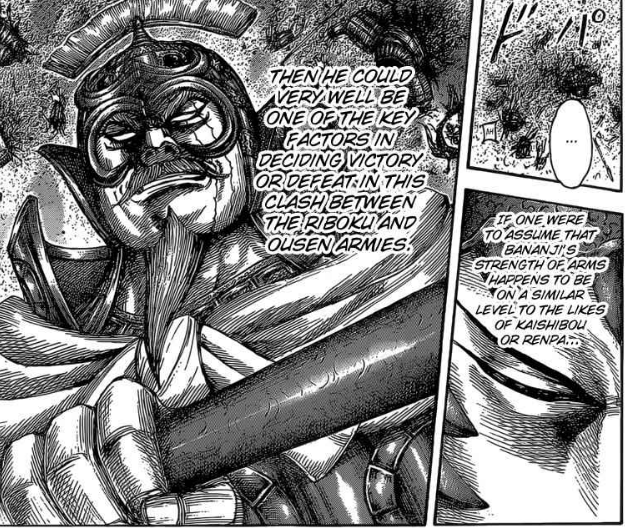 After that he gets hyped up for his insane hand to hand prowess of being able to take down Xiongnu leaders with just his fists. The only general in the series I can recall who had his hand to hand skills hyped up like that: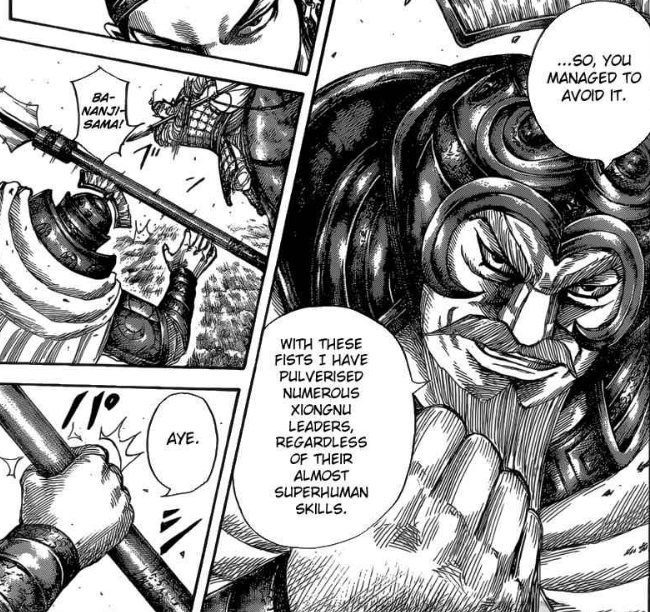 Bananji's martial might is to such an extent that even the Xiongnu started calling him a Demon.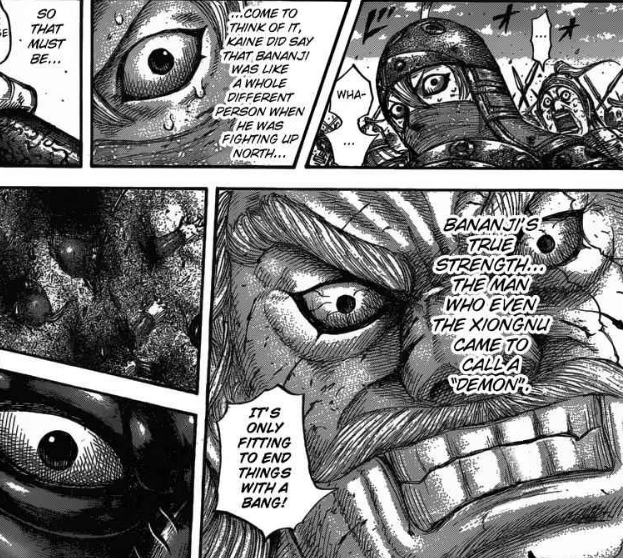 Not just that even Ousen, argued as the top Qin strategist, was used to hype up Bananji's martial prowess. Not just that it exceeded Ousen's predictions even after 10+ days of fighting, but that it could be described only as "OVERPOWERING". With Hara focusing even Ousen's awe/shock at Bananji's sight of martial prowess. The biggest hype on the Zhao side for martial prowess outside of Houken in this war.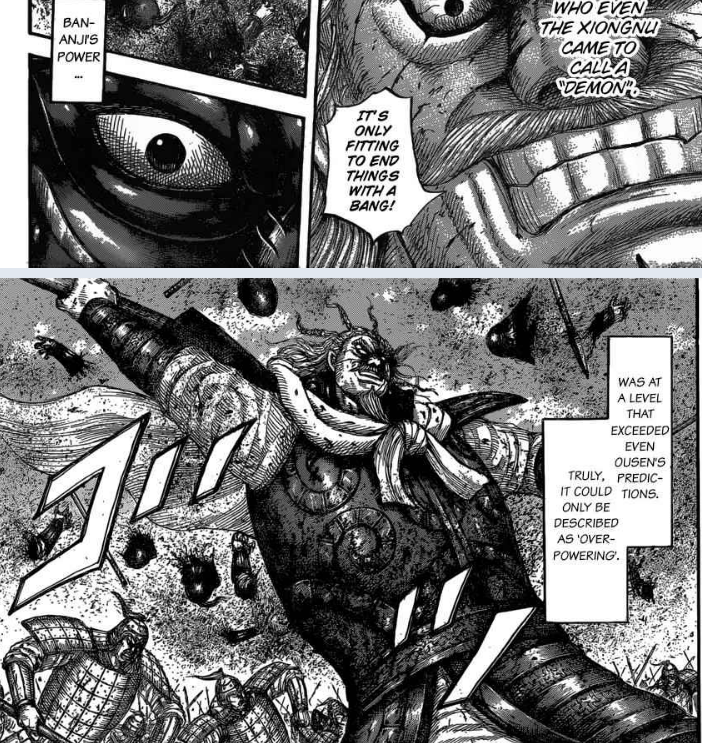 Feats:
Bananji vs Ouhon:
In Bananji vs Ouhon some end up viewing this as them being equals or w.e, but reality of the situation was completely different. Ouhon from the very start of the clash starts giving his all against Bananji. Which even makes his underlings comment on how the last time they saw him like that was against the Earl: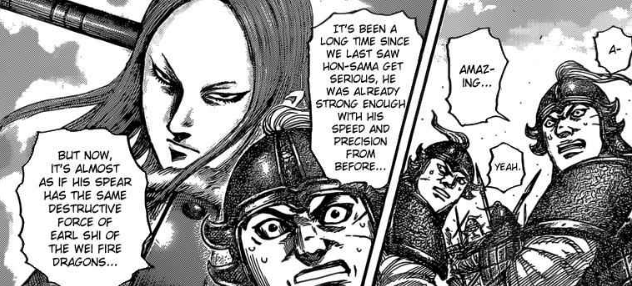 Now Bananji spent most of their time just on the defensive. But it wasn't because Ouhon was stronger or that Bananji was inferior to Ouhon overall in martial might. It was the simple fact Bananji was inexperienced against strong spearweilders, while Ouhon had experience against strong Glaive wielders.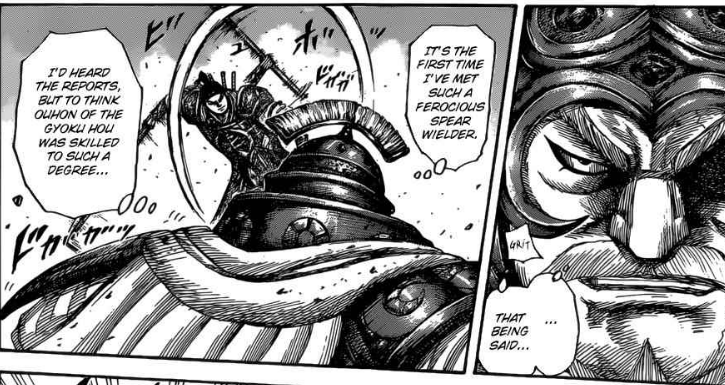 Bananji then continues to comment that after a few more exchanges he'd get the hang of it.
But his underling points out that they don't have as much time as they believed: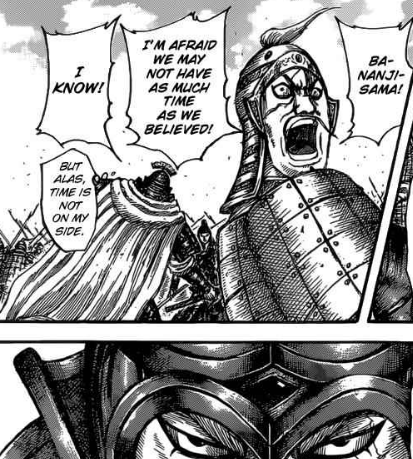 Which then forces Bananji to change the fight into a hand to hand combat. Where he without no issue at all demounts Ouhon from his horse. To Ouhon's credit he dodges Bananji's initial punch and makes some distant between them. Akou then makes it just in time to help out Ouhon.. But in this clash we had a fairly casual Bananji taking all of attacks from a very serious Ouhon, without getting a single scratch despite being inexperienced against strong spearweilders, then proceeding to change the clash to hand to hand when he felt like it.
Akou vs Bananji #1:
Right as Bananji was focused on Ouhon, Akou was coming at him on the horse. But Bananji's underling throws him the glaive just in time. Resulting in this clash here: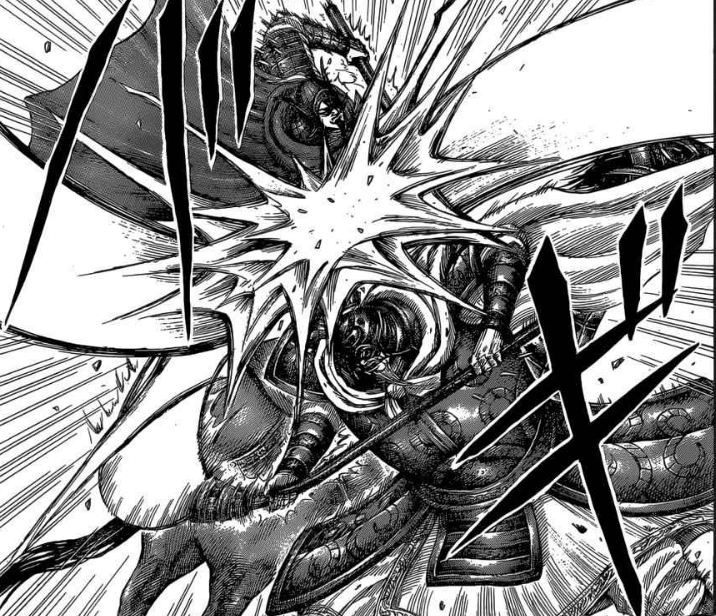 Leaving Ouhon , Ouhon's Lt, and Akou stunned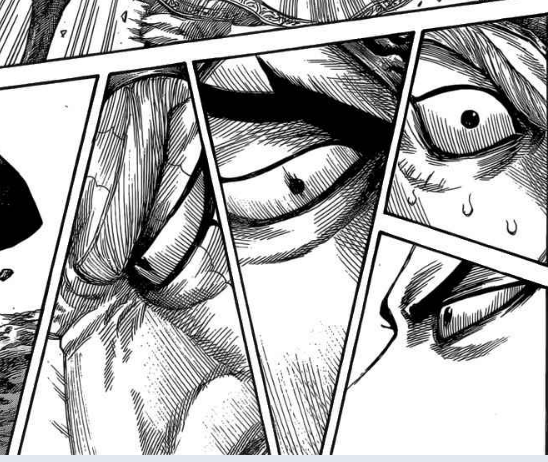 Why stunned? because Bananji not only reacted on time to Akou's attack and clashed on par. But despite being at a huge disadvantage in terms of Horseback vs On foot, Bananji was able to give Akou a similar scar on his cheek that Akou gave Bananji. Highlighting the gap between Bananji & Akou.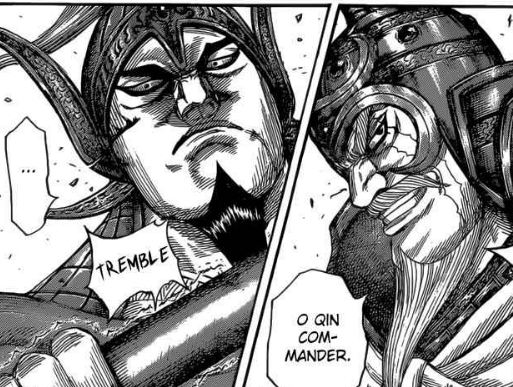 Gyou'un & Bananji vs Akou:
In this clash Bananji's "normal" mood prowess is established as being the same Gyou'un's. In their first attack together at Akou, both get deflected and result is the same for both of em. Absolutely no difference: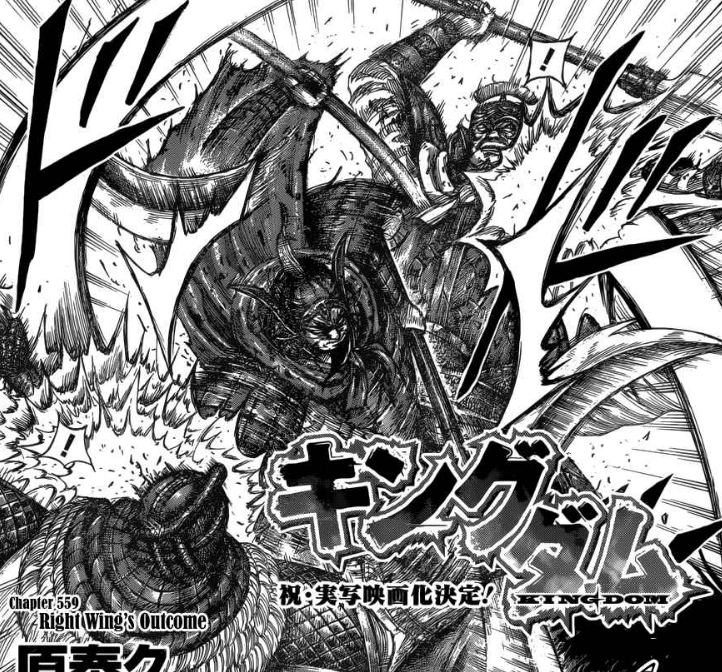 Then when they attack again, the results of how Akou received their blows is also the same: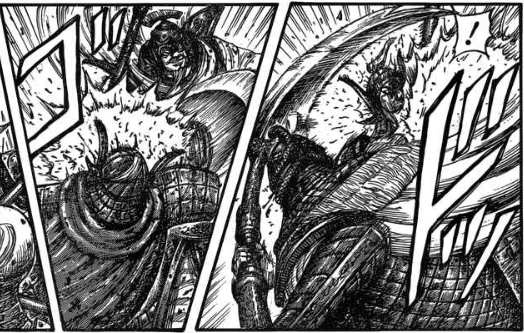 Here again, normal state Bananji & Gyou'un showcasing the same results against Akou. Both delivering the same amount of damage/impact on Akou. Gyou'un gets blocked, Bananji attacks torso. Bananji gets blocked Gyou'un attacks his back, repeat and rinse.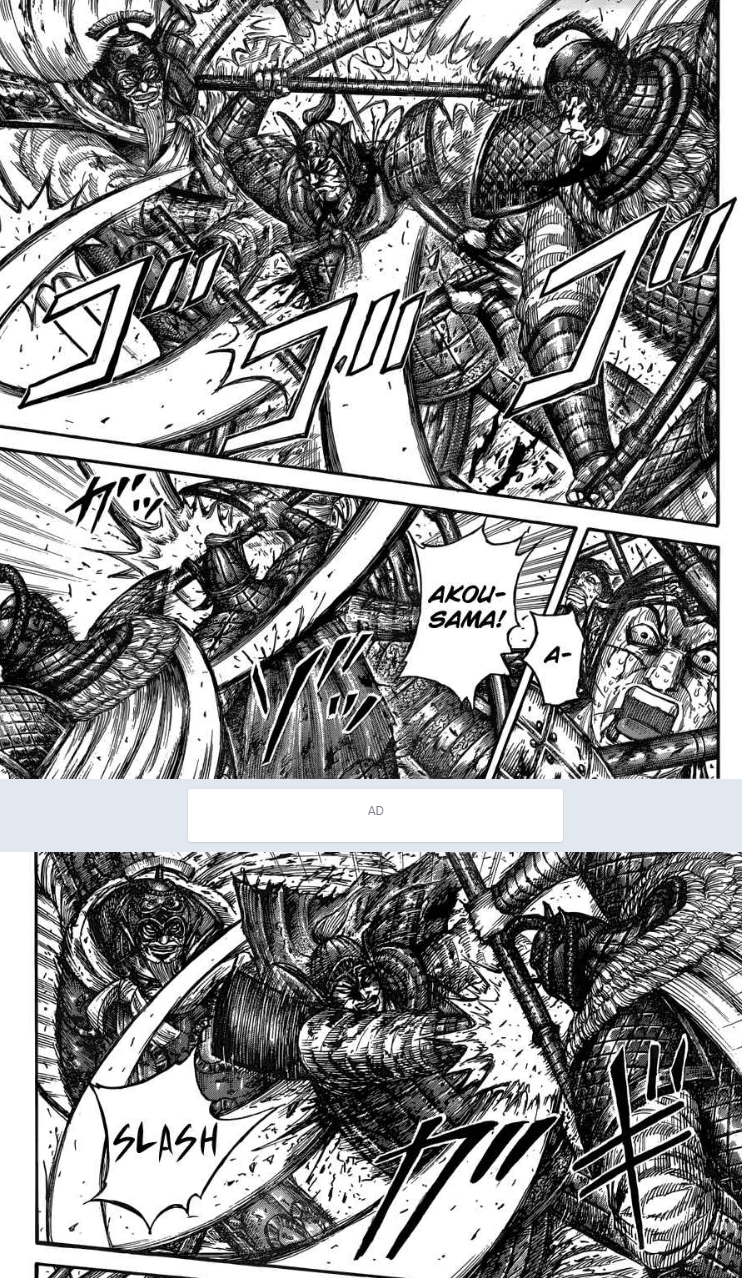 Then when both attack Akou who couldn't defend himself.. the results of their attacks is the same, absolutely no difference. Continuing to establish normal state Bananji ~ Gyou'un.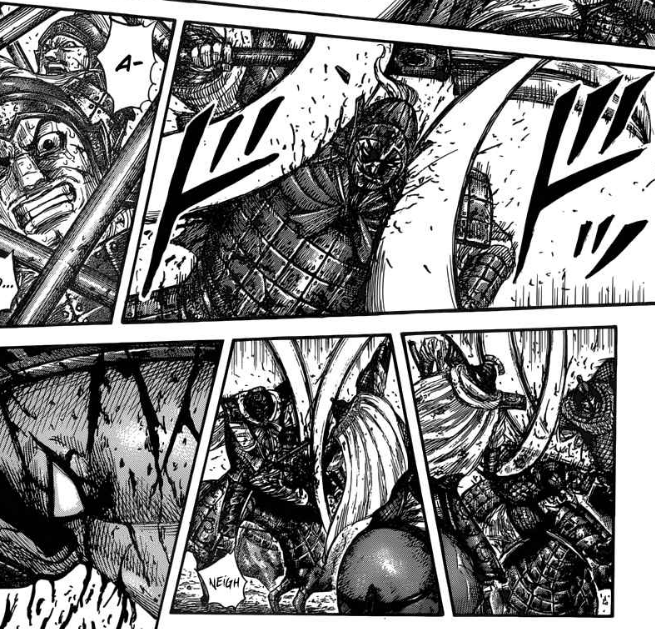 Akou throws one last desperate swing all he had remaining and ends up breaking Bananji's helmet.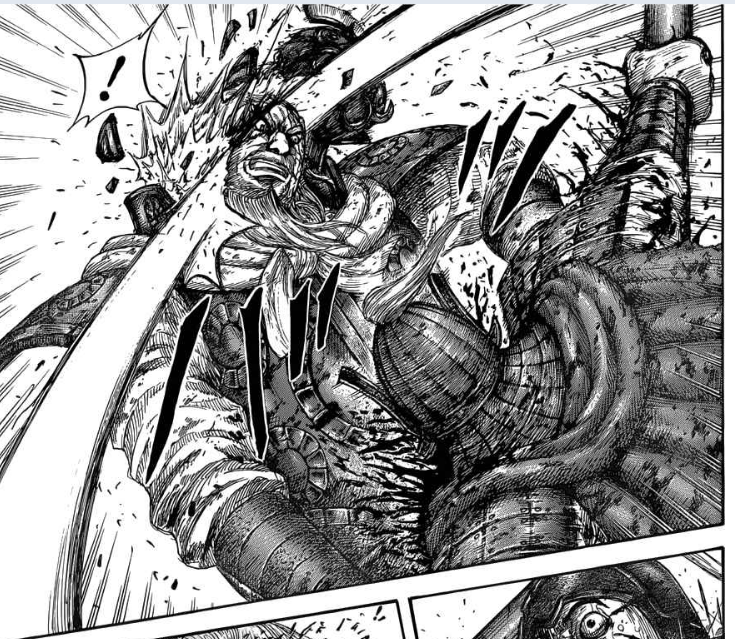 After getting that little wound Bananji smiles like crazy and essentially knocks out Akou for good.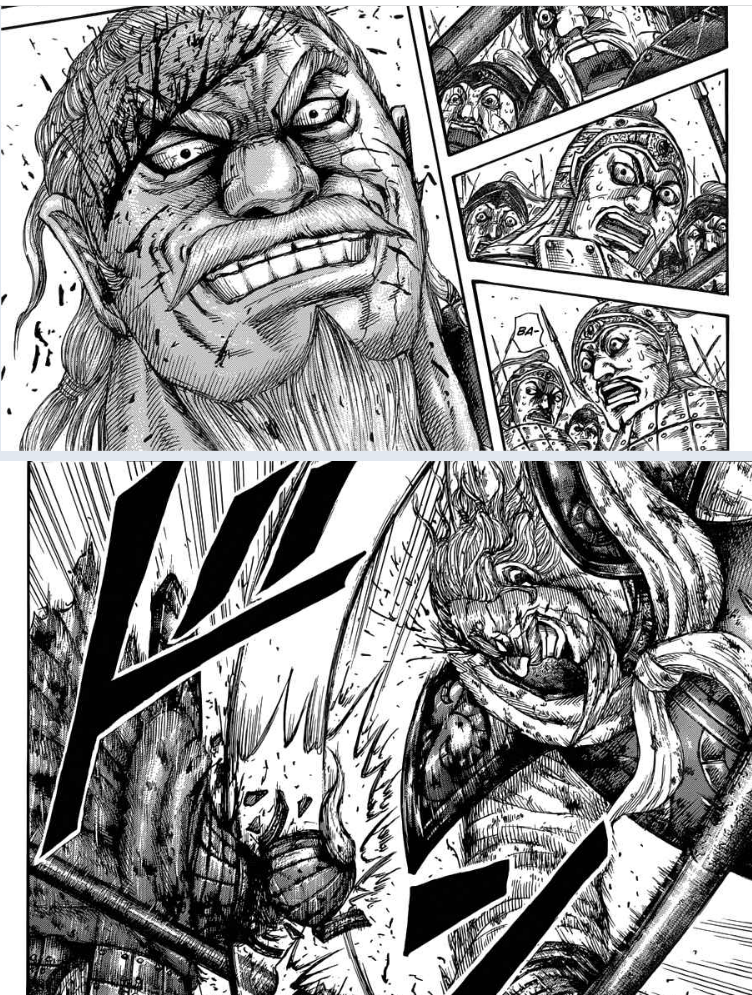 That swing from Bananji only being a reflex swing.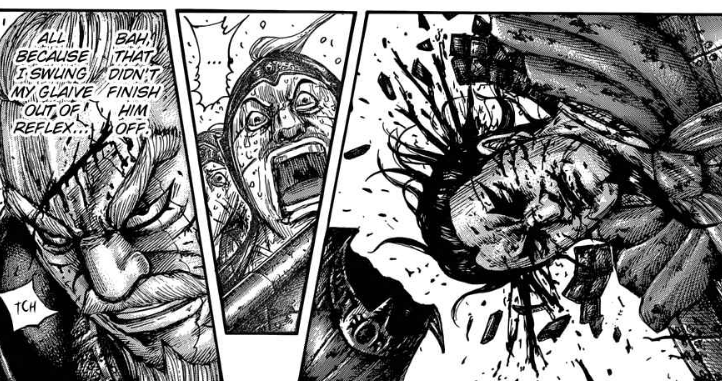 The only reason it was Bananji who got his helmet broken and not Gyou'un was simply due to where they were standing. Bananji was standing on the side which Akou used to wield his glaive. Gyou'un was on the opposite side. Since even after that both Bananji & Gyou'un miss Akaknin together, Hara continuing to establish normal Bananji & Gyou'un being on par with each other, with Gyou'un taking out 4 normal soldiers with 1 swing, and Bananji taking out 4 normal soldiers with 1 swing, right after that Akou incident: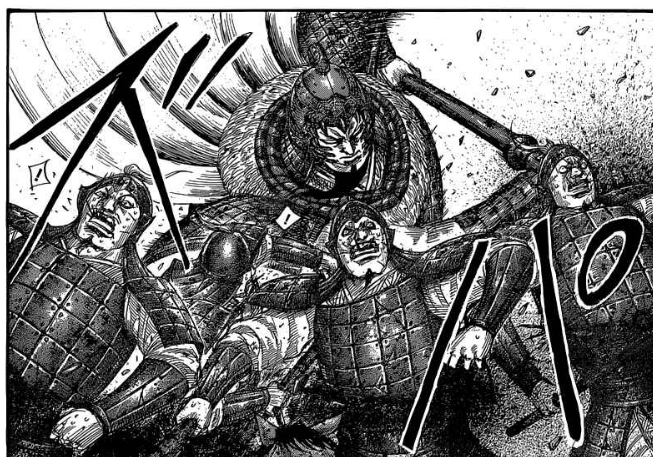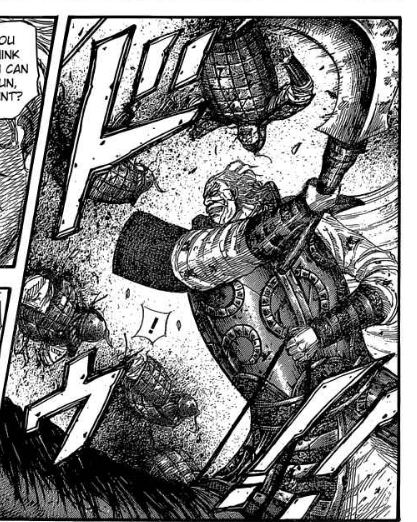 Something which only continues in the stats with normal state Bananji & Gyou'un both getting 94.
This fight established Bananji in his "normal state" to be of the level as somebody like Gyou'un. Reason why I state "normal state" is because Bananji is stated to grow in prowess dependent on the conditions. And throughout the entire Shukai plains he wasn't able to get out of his "normal state" because he didn't feel the exhiliration against the Qin that he felt against the Xiongnu. Which is also pointed out on his stat sheet with the comment: "couldn't get out of normal state". Something highlighted by Riboku himself and then criticized by Kaine.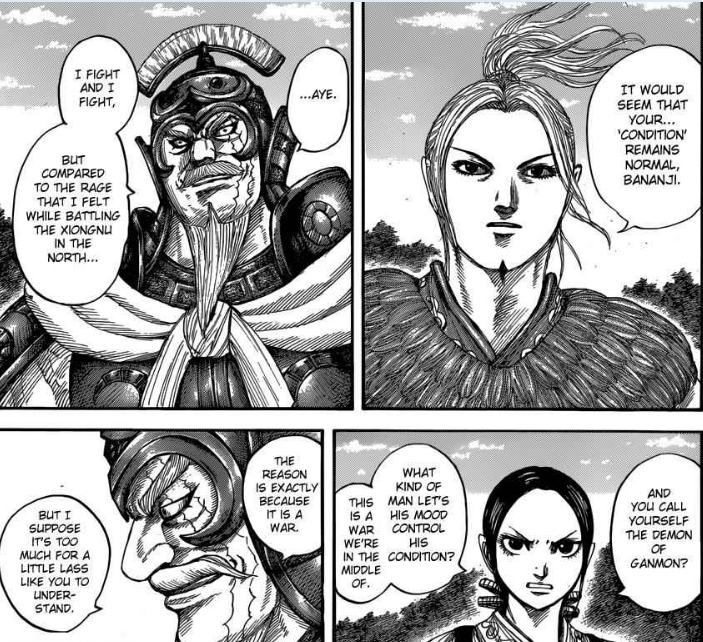 Against Ousen's HQ:
Now near the end of the war Bananji had started to get out of his normal state (started to, but didn't). Where he displayed such overwhelming might that it not only shook Ousen & his HQ, but also even somebody like Futei.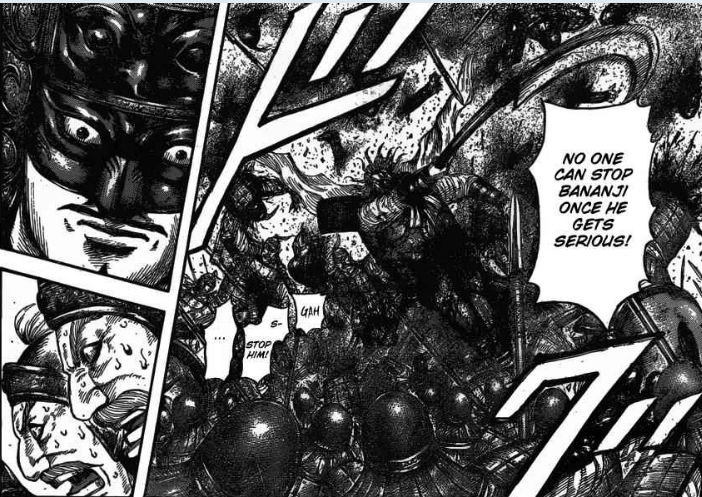 If you may remember how Gyou'un got his huge hype against Akou's underling who was utilizing various tactics and tricks to stop Gyou'un. Bananji did that same feat but against Ousen's HQ, filled with direct underlings of Ousen himself. They couldn't do shit about him.

IMO, Bananji at the Shukai Plains really established himself as the top combatant of Zhao after Houken in his normal state. With being the most hyped combatant of Zhao by end of the war against none other than the Qin Commander himself, Ousen. Yet despite that... we have yet to see his true martial prowess of why even the monsterious/wild/ferocious Xiongnu came to call him the Demon.
STRATEGY:
Now this is really the more overlooked side of Bananji. Him being somebody of great stratigical prowess. There is no division of hype/feats in this, but will be going through everything as it happened in chronological order.
Starting at the battle of that wing starts with Bananji & CHG both sharing similar gameplans for the battle.
But Bananji then proceeds to surprise even CHG with his timing into the battlefield: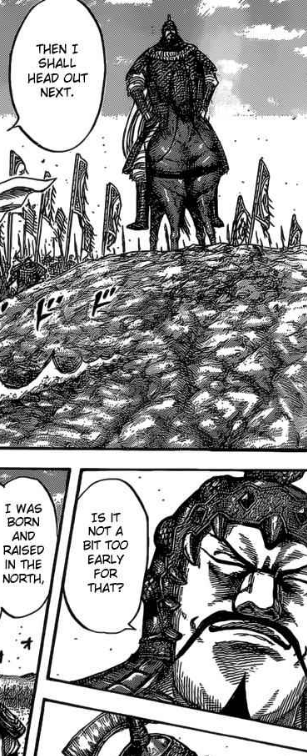 Bananji utilizes this strategy right off, which then leads CHG to comment on Bananji having a sharp eye for tactics: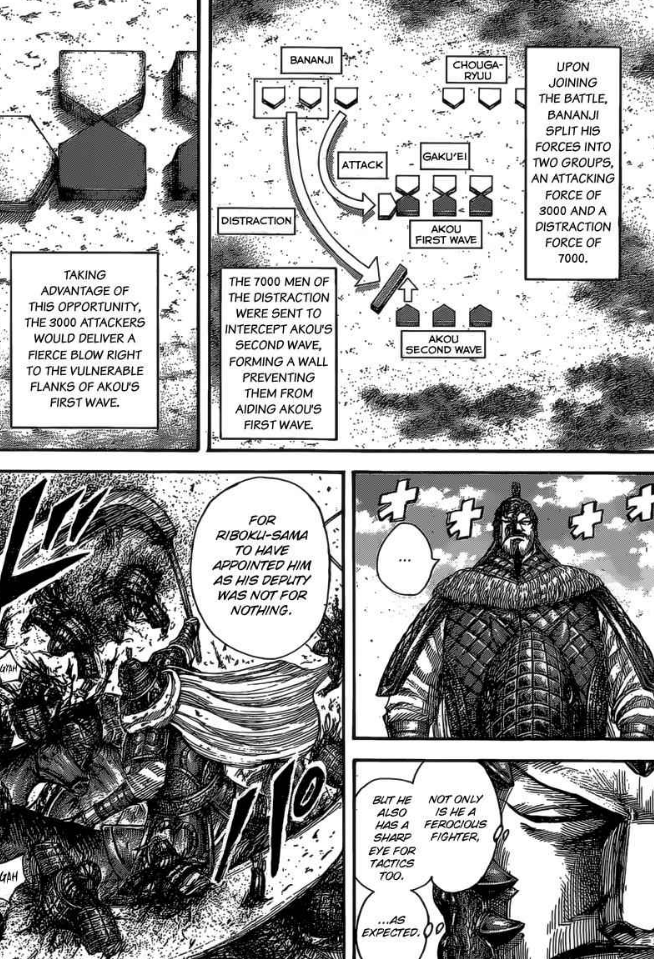 Ouhon then tries to counter this by coming in and isolating Bananji, which Akou follows up on by trying to pincer Bananji.
Bananji counters this by turning around and going after Ouhon, which ofc leads to the Akou/Ouhon/Bananji confrontation, which leads to Bananji's other force coming in to hit the Qin. It is then again when CHG comments on Bananji having a well understanding of warfare.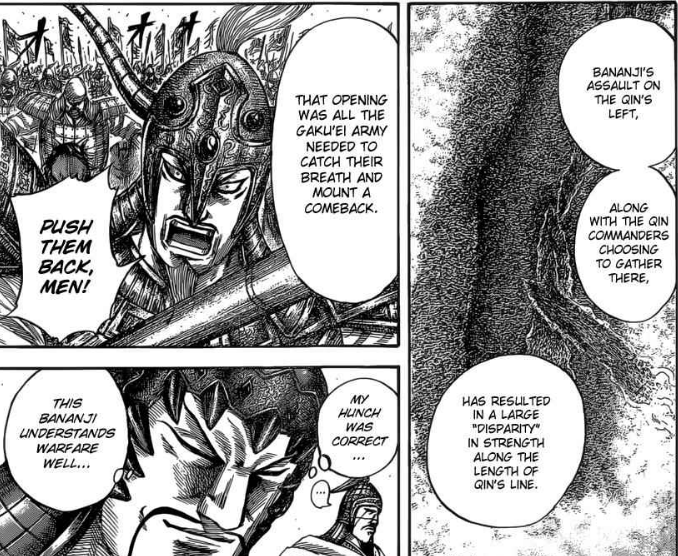 Keep in mind who CHG is here. He is the guy who Ousen considered to be more crucial than even somebody like Gyou'un when it came to generals for Zhao, and of course CHG being big strategist out of RSJ's 10 heroes. So somebody like CHG commenting on Bananji's strategical prowess is a huge testament.
After the hype train for Bananji by CHG himself. Riboku comes in to the fold for that wing in order to help them break Akou's formation that he got from Ousen. And the person who Riboku chooses to pick for this task is none other Bananji, finding him the most suitable to carry out in breaking Akou's formation. Akou had spent years in mastering that formation. Bananji on the other hand proceeded to destroy it the moment he found out about it's understanding and weakness. This again highlighted Bananji's ability to process information and implementing the said information onto the battlefield at very short time.
On the final day at Shukai Plains, Bananji saw that the Qin had the momentum going for them, and decided to pull back.
With a strategy in mind he had also ordered for the message to be passed down to Gyou'un.

Bananji here gets hype for being good with tactics from Karyo Ten. She thought his reasoning was to stay a threat so that when the Qin right wing goes for the pincer on Riboku, their forces would be cut in half.
However, Gyou'un still haunted/deluded by his master's words proceeded to ignore Bananji's borders and decided to go after Ouhon while being injured af. In which he not only utilized his own army but also the Chougaryuu army.. Something that would end in a massive failure.
Had Gyou'un fallen back like Bananji had ordered along with the rest of the army. The Qin Right wing would've been royally fucked up. Even when Bananji went on the pincer, Gyou'un would've been able to command Zhao's wing along with the remaining forces in making sure Qin can't commit their entire wing. Yet due to the decision of going after Ouhon, Zhao lost massive number of their forces in CHG & Gyou'un Armies + a commander Gyou'un. Meaning after Bananji left for his pincer, that wing had no commander and was essentially pointless. This was a massive reason behind that wing's loss, Qin sort of catching a lucky break. (Though some have also argued CHG could've escaped as well if he wasn't into the dreams non-sense, with getting into his emotions).
But after the battle at Shukai plains came to an end, you all may recall that Kouchou made the strategical decision to recall all the Zhao forces back once Riboku had been captured. You see Hara had subtly added in a small bubble to hype up Bananji here as well. Because Bananji sent a messenger to Kochou to ask the very samething that Kouchou came to.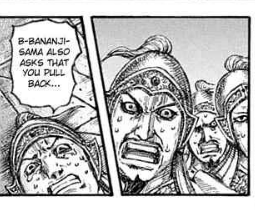 Not only that Bananji also had the foresight for how long Zhao could hold out without Riboku and them, despite knowing about Kouchou and armies of Kantan's prowess... and.. he was pretty close to being 100% on point lol.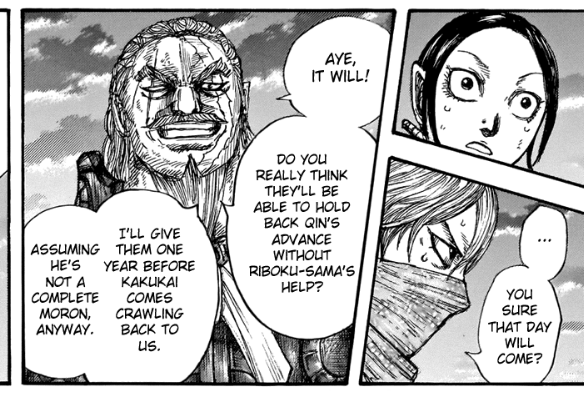 So IMO, as a strategist in Bananji you have somebody who is on the prowess of somebody like CHG and potentially even higher on par with the likes of Kouchou. And this is really the aspect I wanted to highlight. While I don't think Riboku made a mistake in not naming him the commander of that wing, since it was still his first big war in the plains. I do think that wing would've benefitted from having Bananji as the big commander rather than 4 equal commanders, which would've really allowed Bananji to shine as a strategist. But I expect that to be the case in the next Big Zhao all Qin vs Zhao campaign.
Sidenote:
It's not just Riboku who figured out Kanki's weakness. Keisha/SSJ/Bananji did as well.
Upgrade over Houken & Riboku's TRUE Right-hand man:
While I can't say that Martially Ba Nan Ji is a full upgrade over Houken. I do want to say that there is a possibility of that happening. That possibility comes from a statement made by Kaine. Kaine being somebody who knows how powerful Houken is very well, makes the statement that no one can stop Bananji once he gets serious. And this statement came at a time where Bananji was starting to get out of his "normal state":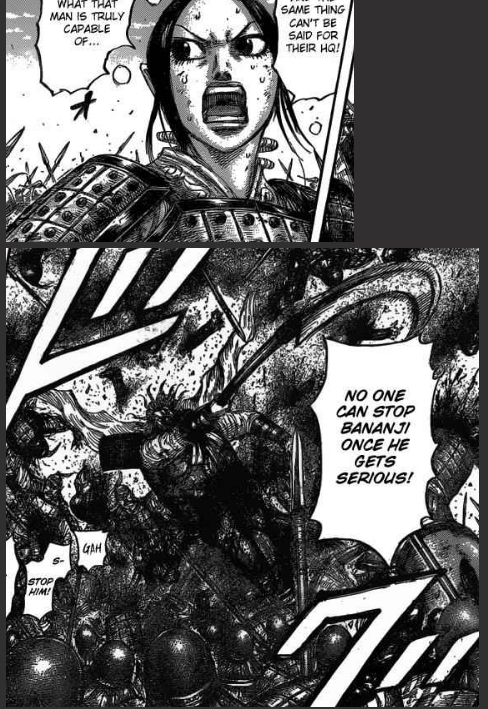 Kaine described Houken's strength as being overwhelming. Which is similar the description given to the strength of Bananji by the narrator.
So I won't say for now that Bananji at his peak is above Houken, but fairly close to Houken's level. But what really makes him an upgrade over Houken is the fact he has that overwhelming martial prowess + can lead armies effectively. Where as with Houken, Riboku was fairly limited in his utilization in only martially. With Bananji we saw it ourselves in the Shukai plains. Riboku had Bananji strategically break apart Akou's Ousen-based tactics. Then used Bananji again against Ousen in the pincer, similar to how he used Houken against the Duke & Gekishin. He's a MASSIVE upgrade over Houken.
The other important reason is because he is really Riboku's right hand man:
Where did Riboku earn his fame & grew into being somebody who could rival the likes of Ouki & Renpa? Ganmon.
Who was the prominent person outside of Riboku in Ganmon? Bananji, the Demon of Ganmon.
Bananji was the deputy that grew into great prowess alongside Riboku's stay at Ganmon. Bananji under Riboku went through those insane hardships against the Xiongnu. No other deputy/general under Riboku has such a bond with Riboku.
Hara makes sure to make Bananji stand out among his vassals, when Riboku comes to Qin: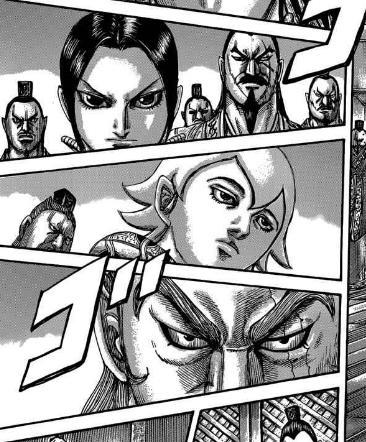 The two right behind Riboku are his newly introduced Vassals. But even out of SSJ & Bananji, the closest to Riboku is Bananji.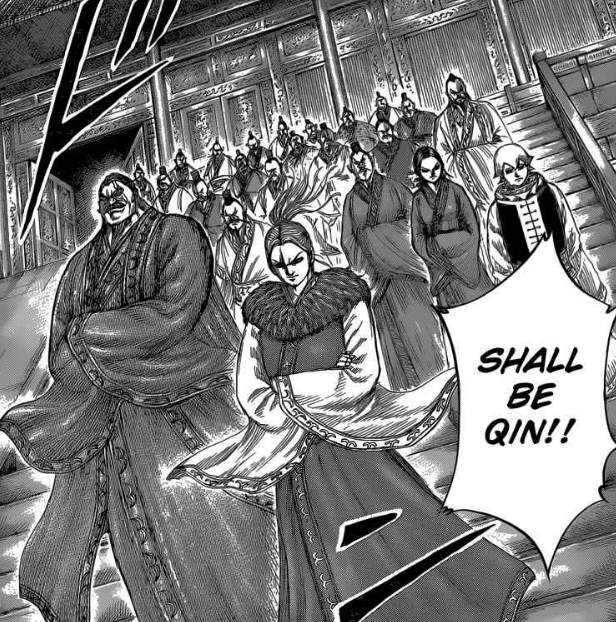 When Orodo going to Seika was revealed to Riboku in the meeting, the main reactions we see is Bananji & Riboku's: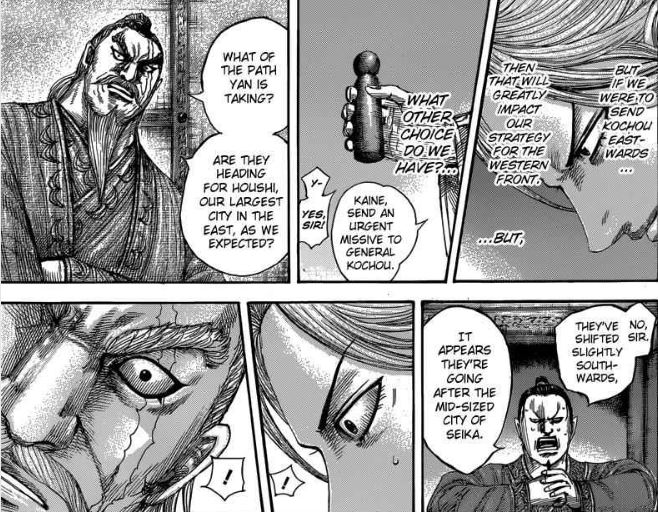 Then when the news about Qin forces changing targest is brought up the main reactions we see is again Riboku & Bananji (despite Kisui and etc still being there).
Bananji then during Riboku's escape even served the shield & sword to allow Riboku and co to escape safely, when he battled the armies of Kantan, despite being heavily outnumbered.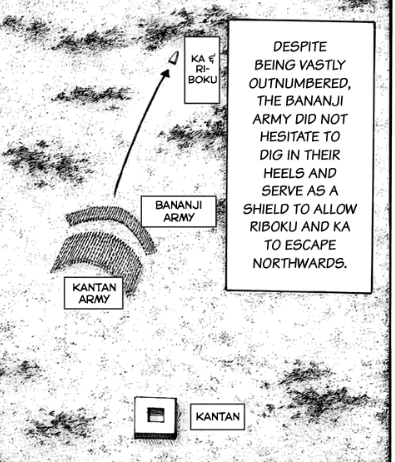 The close bond between the two is greatly highlighted in their interaction where Bananji teases Riboku about him losing his nerve, and both share a laugh with each other about it and Riboku jesting back himself.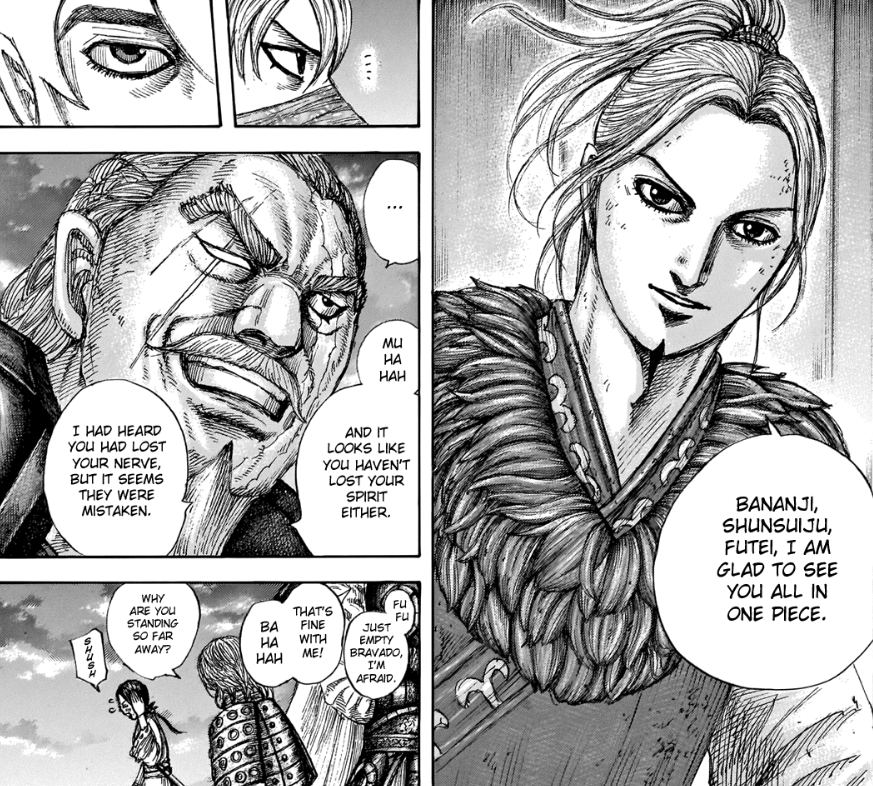 Then when SSJ puts out some potential plans, Bananji just stands with a smile on his face.
Only until after Riboku reveals the plan that Bananji comes in to reaffirm Futei about Riboku's plan. Implying that Bananji had already figured that Riboku would be choosing to stay low.
Then the end of that entire convo is Bananji hyping up Riboku's return, and Riboku basically restating what Bananji stated.
There is a unique bond that exists between Riboku & Bananji, that simply does not exist between the rest of his deputies. This bond that was forged in the region of Ganmon, where both individuals grew to their tremendous prowess.
This is why imo Bananji is an upgrade over Houken for the Riboku army and is Riboku's true right hand man.
ZHAO's FINAL BIG THREE PREDICTION:
This leads me to my last point regarding Bananji. I believe he will be 1 of the the 3 most important generals on the Zhao side in the final campaign. Bananji has a connection with Shibashou, being the one who explained how he turned down being a Zhao 3.
Then upon hearing about Riboku getting the OK from Shibashou, Bananji was grinning like all hell.
Riboku, Strongest Three Heaven in history
Shibashou, The Tiger of Seika
Bananji, The Demon of Ganmon
Now personally I hope the official "big 3" of Zhao is Shibashou/Bananji/Futei, with Riboku being the overseer of the big 3. Since I do want Futei to reach that Zhao 3 heaven level before the end of Zhao. However, if Futei fails, then the above will be the Final Zhao 3, imo.
PS: I apologize for some parts that might seem like cutoffs, had to remove pics from there since I had over 60+ pics in the thread x_x.
Last edited: