Chapter 1033. Yes. Zoro is a confirmed Conqueror Haki and Advanced Conqueror Haki user.
Which, for
Kaido's own very words
, it's something that
"only a handful of the very strongest"
can do.
And he is about to defeat a YC1 (who, by the way, is the strongest YC1 we've seen up to now: invulnerable, can't be wounded even from attacks that could wound Kaido, casually self kills him with a massive explosion as big as Onigashima's skull and comes back as if nothing happened, casually destroys pieces of Onigashima with his Zoan attacks, it's hyped even by his YC2 as the last member of lost a race of Gods).
And to defeat a YC1 in a clear way (especially someone who seems to be a class of his own even among YC1s), you need to be a Top Tier. Otherwise you draw or you just win only marginally. So yes: now Zoro is a Top Tier.
Most important thing: Zoro is confirmed to not be just a simple underling, but a king in his own way.
Unlike the other Strawhats, Zoro isn't a mere follower: he is a king who partners with another king.
That's why Zoro and Luffy are referred as
PARTNERS
.
This is a clear parallel to Dark King Rayleigh. Rember all those panels where Zoro is thought to be the real captain of the Strawhats? Or where people wonder
why he isn't the captain
, or
why he isn't the captain of his own crew
? Now everything makes sense.
That's because Zoro is a
CONQUEROR
. He is a KING in his own way (
King of Swordsmen
).
Just like Luffy is a
CONQUEROR
and a KING in his own way (
King of Pirates
).
Exactly like Rayleigh was a Conqueror and a King just like Roger was a Conqueror and a King.
We have now blatant confirmation that Zoro = Rayleigh and Luffy = Roger
It was obvious, but some people still doubted. Now it's clear as day. Luffy is the Future King of Pirates, the new Gol D Roger, while Zoro is the Future World Strongest Swordsman and the New Generation Dark King, the Right Hand of the King of Pirates, the new Silvers Rayleigh.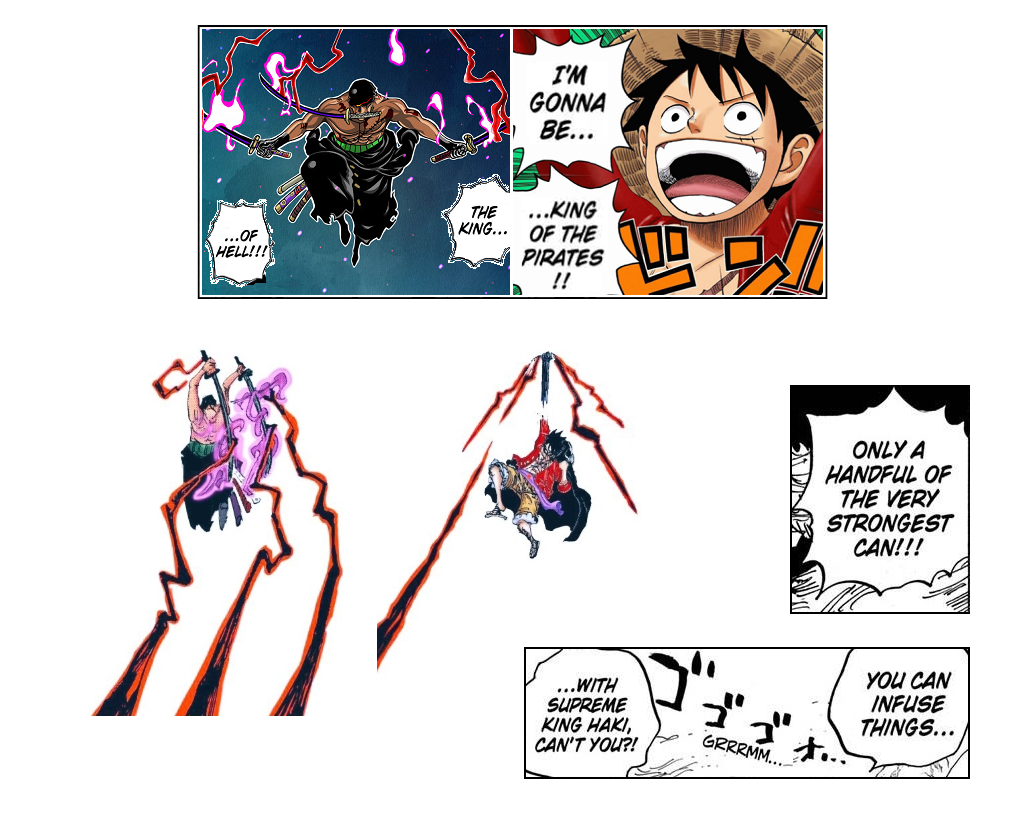 This is not casual: the flashback is a blatant reference from Oda to this, in the very beginning of the manga.
Captain and vice captain/first mate/right hand/second strongest/second in command.
But, nowadays, we can clearly say that it's also Future Pirate King and Future Dark King.
Now all of this makes sense. Because both of them are Conquerors.
Destined to excel to the top of the world, and strong willed enough to do so, unlike the other Strawhats.
Two Kings advancing for their future titles. Two Conquerors who will seat on the top of the world.
They march together in front of the Strawhat crew.
Tell me if doesn't strike as the same of this...
@Finalbeta
@Blother
@T.D.A
@Zowo
@yorosenpai
@ConquistadoR
@Fenaker
@The White Crane
@Blother
@kumae
@Geo
@Sentinel
@Orojackson Refugee
@Peroroncino
@Redboy776
@Rekien
@Sword God Ryuma
@nik87
Last edited: