With the final confirmation of Zoro's Conqueror's Haki, it's time to look back over what we know about this ability and how our heroes have unlocked it in the past. Going back over Ace and Luffy's experiences with CoC, it becomes painfully obvious that Zoro, even as a novice CoC user, unlocked it at a much higher level than they did. I'd even go so far as to argue that Zoro's will to become a king has been portrayed as stronger than Luffy's, even given Luffy's 2 years of CoC experience and his continuous declarations about becoming Pirate King. Controversial? Not really, once you look at the evidence.
Just like Ace and Luffy, Zoro's first proper manifestation of CoC was in defence of someone else. Zoro launched his final attack on Kaido just as Kaido was about to finish off a downed Luffy, saying that Kaido should take his head instead:
Now Kaido is no stranger to other Conquerors. In fact, he doesn't really care if the Supernovas are Conquerors or not. As Chinjao said, it's not all that uncommon the deeper you go into the New World, and Kaido's reaction to Luffy's CoC is merely to shrug and go back to drinking himself into a stupor:
But as soon as Zoro displays CoC, Kaido is shocked. Why the sudden interest, Kaido? Could it be that this is his first time seeing advanced CoC physically manifested as an extra set of human limbs? We've only seen CoC in the form of generic black lightning, but Zoro's fighting spirit is clearly on a different, much more tangible level.
Let's also look at how beginners make use of CoC. Observe how Ace and Luffy needed to issue a command in order to impose their will over fodders: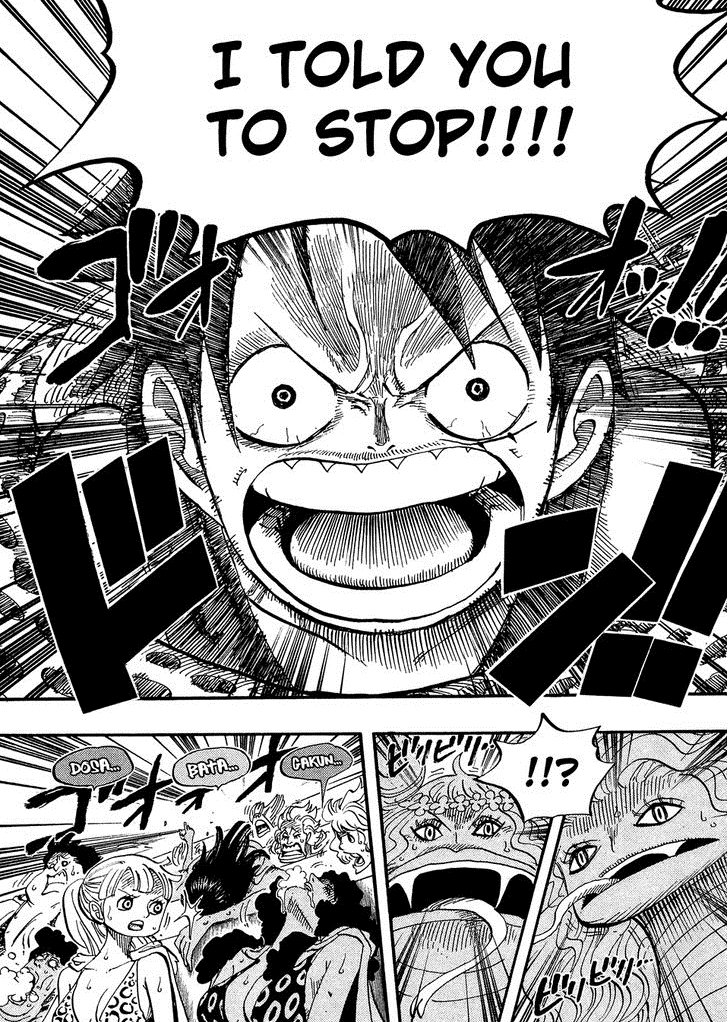 Zoro, on the other hand, doesn't need to issue a command. He doesn't even register the fodder, lost in thought about Enma and facing away from them, towards King.
Zoro's CoC is so strong that he can simply passively KO fodder. This is different to even Snitch, who was actively using his CoC to display dominance in front of Whitebeard and his crew. Let's not also forget that Zoro is a newbie. He shouldn't have that level of control over CoC, when only a short while ago, he didn't even realise he had it. Luffy had the basic form of CoC since Amazon Lily, but wasn't able to use it on command until after the timeskip.
Then again, it shouldn't be surprising that Zoro's CoC is stronger. This man suffered a crippling injury at the very beginning of the story, but proceeded to take on a Logia, an elite martial artist and assassin, absorbed all of Luffy's pain and tore through an entire island of humandrills
before
Posthawk even started training him. Zoro's fighting spirit is the strongest in the series bar none.
If Haki = willpower, it's no wonder that Zoro's is above all others. None can compare to his determination, and if black blades are related to CoC, it's even more evident that Zoro's CoC (and by extension, Posthawk's as well) would be the strongest in-series.
What do you guys think? Will Zoro and Posthawk end up having the strongest CoC? I legitimately don't see any way for Luffy's willpower to overcome Zoro's at this point.