As we know from the OP Instagram Zoro Is considered the no.2 of the strawhats, which Is something we knew, but I saw people still talking about captain and number 2 without considering number 3, which Is Sanji.
Number 2 and Number 3 are also portrayed similar and considered both two problems of the same level by Queen.
Queen knew about Luffy but never talked about "talking out Number 1 and Number 2" so he compared Zoro to Number 3, which Is Sanji, the calamity doesn't consider captain and Number 2 as threat of the same level.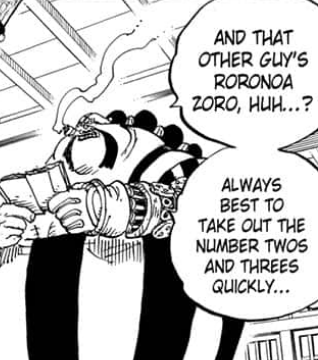 It's Always best to take out Number 2 and Number 3 quickly, since they're both troublesome in the same way.
In fact I'd say poor King and Queen who are dealing with Number 2 and 3 of the strawhats, the WINGS OF THE PIRATE KING.
So portray Is clear.
Captain >> Number 2 > Number 3 >> the others of the crew.