"Just Waiting"-Since Chapter 986
.
So let's talk about Hawks and his overall abilities as a hero.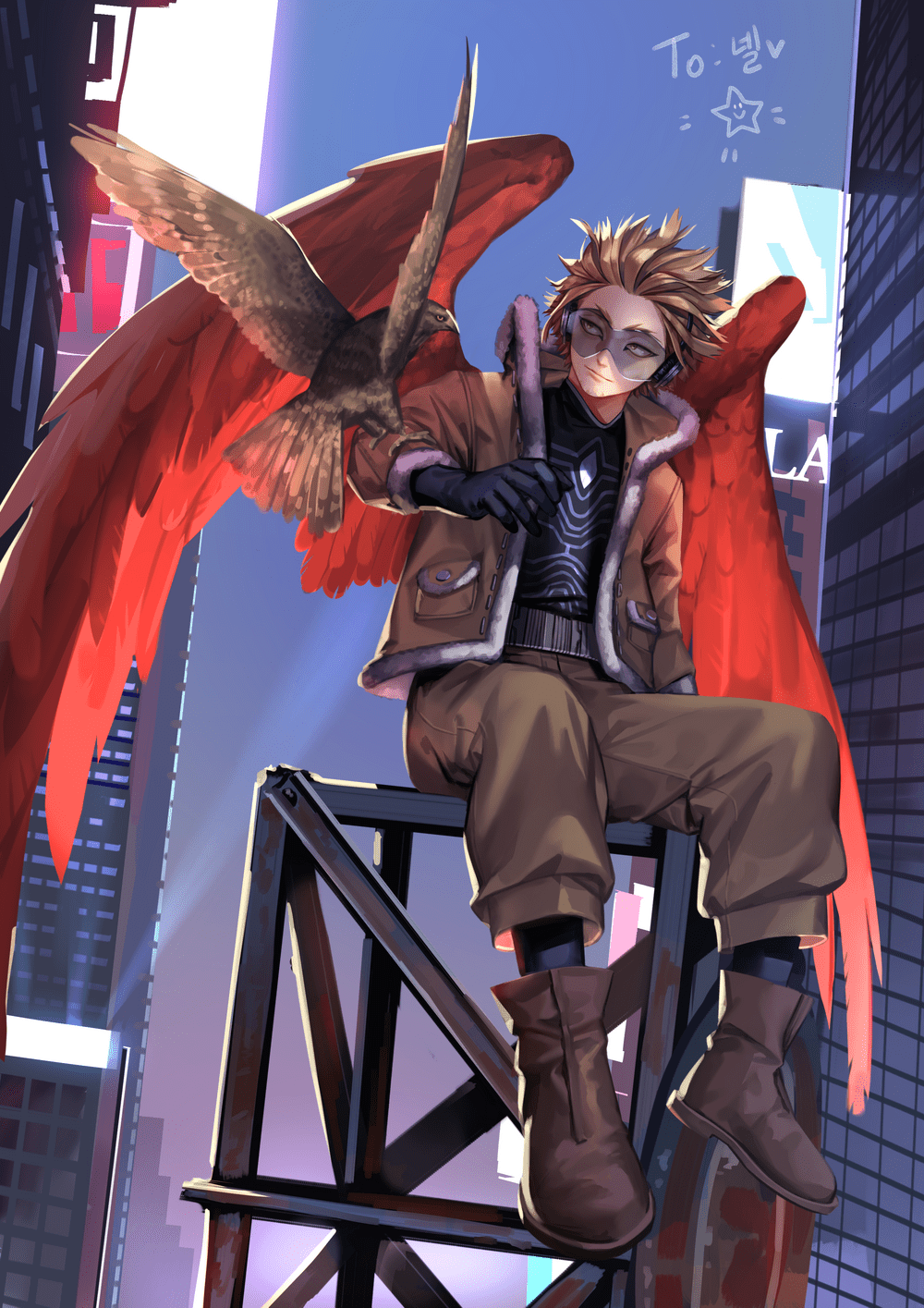 Hawks to me pretty much seems like the optimal hero in every single regard, probably the most capable hero we've ever seen even including All Might in terms of how versatile his skill set is.
Hawks' feathers seem like they can accomplish pretty much whatever he needs:
He is capable of saving large amounts of people quickly and efficiently:
And is actually extremely powerful in combat too, having destroyed Twice's "Sad Man's Parade" which is one of the craziest combat feats we've seen:
He also attacked lesser Nomu and saved civilians at the same time (he did state brute strength was not his specialty)
Hawks is also extremely strong at gathering intel, as he can use his feathers for surveillance and espionage
And Hawks almost flawlessly infiltrated Shigaraki's villain army with almost no one suspecting him of being a traitor.
Hawks is very intelligent, has a good eye for strengths and weaknesses, and is a good teacher if he wants to be:
A lot of people may dismiss Hawks and his abilities as a hero as he isn't as outright flashy as people like All Might or Endeavor, but imo Hawks is basically the ideal hero and can fulfill every aspect of Heroism at the highest level.
-Hawks was straight up the most popular hero and had the highest approval rating (iirc), above Endeavor but likely below All Might
-Hawks can rescue large amounts of people extremely rapidly, I think he's undeniably better at this than Endeavor and presumably could even be more skilled than All Might given that his quirk seems more suited towards something like this
-Hawks undeniably dwarfs Endeavor and All Might at espionage and intel gathering
-When Hawks and Endeavor had their meeting, Hawks was defeating villains, rescuing old ladies, taking selfies with fans all while talking to Endeavor, showing that even at only 22 years old, Hawks has already mastered the fundamentals of Heroism.
I think the only aspects of Heroism that Hawks is outright inferior to Endeavor and All Might in is combat ability, but he's still one of the strongest heroes there as well. Here's to hoping he recovers from his encounter with Dabi.
Overall I think Hawks is one of the most versatile and capable heroes in the manga. What do you guys think of Hawks and his strength? Who is the strongest character he can defeat? How does he compare to other heroes and villains? Share your thoughts :)
@playa4321
@Hiragaro
@TheAncientCenturion
@Admiral Lee Hung
@Albino 👑
@Redx
@Ravagerblade
@Zowo
@Ice devil slayer
@Monkey D Theories
@Dark Hound
@DarkWitch
@JioFreed
@Yo Tan Wa
@Fist_Of_Love
@Arara
@Akai2
@NeutralWatcher
@Zoro D Goat
@Hawks
@final beta
@Bullet
@Dragomir
@Guan Yu
@PirateKingDrew
@Queen
@Seth
@Marimo_420
@Ryuarashi
@Yere93
@Kucing Pencuri
@Yukihime
@Sentinel
@mugiwalaw
@BangMi
@Constantine
@HA001
@DruMzTV
@Sword God Ryuma
@Camie
@WesMidnight
@symbiote
@Gol D. Roger
@LANJI CUCKSMOKE
@Fujishiro
@Nibel
@Ali
@Yoru
@Kiwipom
Last edited: