𝕾𝖎𝖓 𝖆𝖓𝖉 𝕻𝖚𝖓𝖎𝖘𝖍𝖒𝖊𝖓𝖙 - 𝕭𝖞𝖊 𝕿𝕽
‎
This theory isn't mine, I added some parts and panels. Original credits go to a twitter account named
Kay's Animegane
.
First of all, I have to talk about the prequel to JJK. In the prequel in the 3rd chapter, the Ainu jujutsu society is brought up.
Ainu are an original tribe that resided in Hokkaido
Ainu, in the folklore and legends, have a vast amount of stories. The most well known of these stories is the story of the strongest sword named
Itadorimaru.
Itadori-
is of course Yuji's family name.
It is said that "Itadori-maru" has 4 spirits inside.
> Wolf
> Fox
> 2 dragons
All of which have something in common with Itadori Yuji's abilities.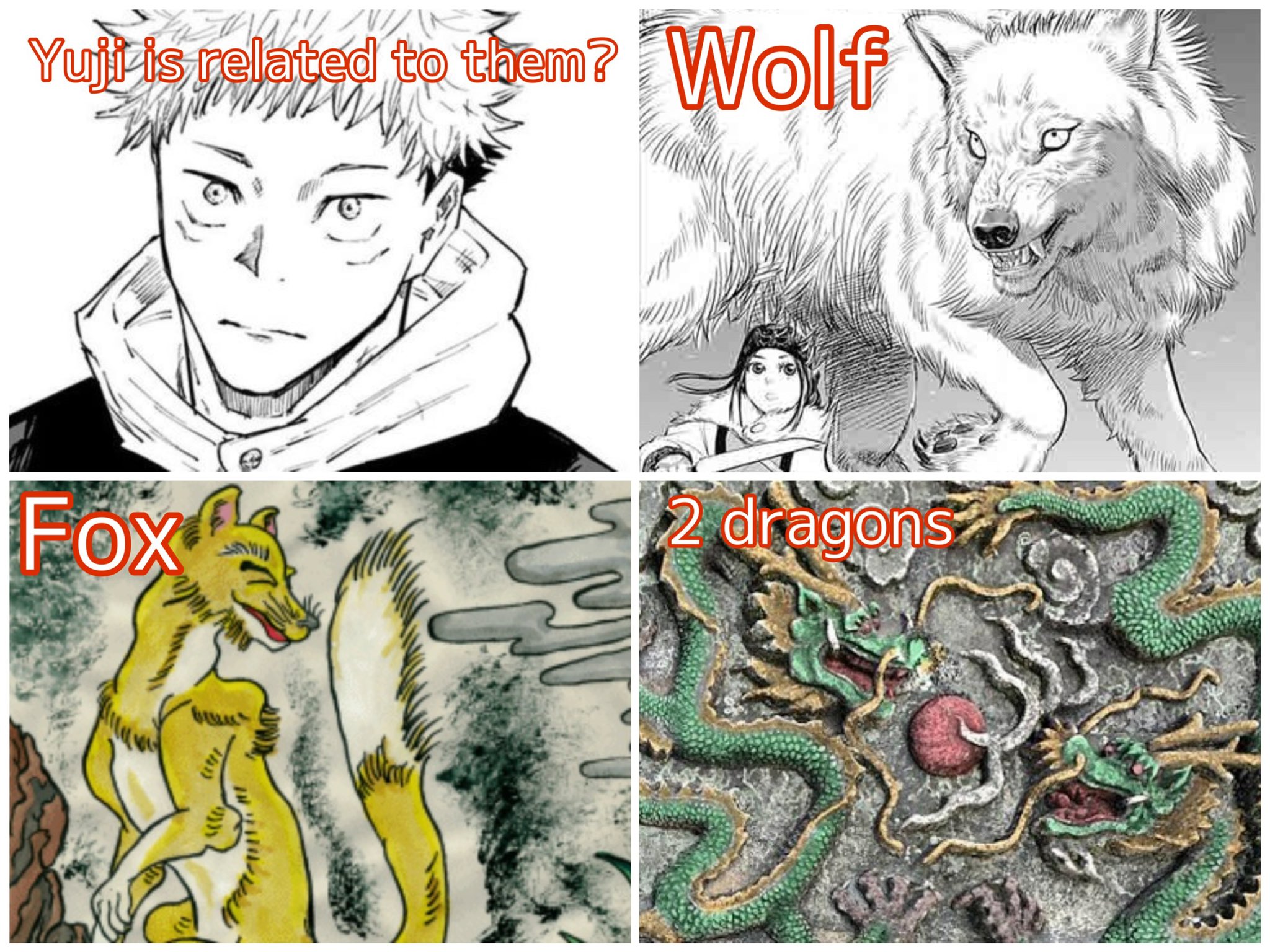 I'll start with the wolf. Yuji possesses extraordinary, bestial strength.
Wolves can run 50m in 3 seconds.
Here's a speedchart
A mile is 1609 meters. Let's take the average time here, so 96 seconds.
1609/96=16.7604166667
It takes a wolf a second to run 16.7604166667 meters.
16.7604166667 x 3= 50.28125. So 50 meters.
In chapter 1 Yuji is said to be able to run 50 meters in 3 seconds.
In addition, Yuji is described/portrayed as a wolf in Ch.132!!
Moving on to the fox.
Yuji's ability to show memories that don't exist is something present throughout the series.
> It started off with Todo, who was convinced Yuji was his best friend, and later on brother.
> Then the same thing with Choso. Choso is now convinced that Yuji is his brother, much like Todo is.
It is said that foxes bewitch people in Japan. Foxes are believed to deceive people.
These 2 dragons are incarnations of the Thunder God.
And one person is also believed to be Thunder God.
That person is Sugawara no Michizane!! Who is the ancestor of Gojo and Okkotsu...
It is very likely that Yuji has connections with the clan and Gojo and Yuta.
Coincidentaly, both Yuji and Yuta are from the same city, Sendai. Moreover, they are from the same prefecture as well.
Share your thoughts please.
Last edited: