I honestly don't know unfortunately, but I would love it to be so. We've waited too damn long for him to get a solo proper fight and he didn't even get one in his own dedicated arc post TS! He hasn't had a "true fight" post TS either, at least imo!
I'm confused also as Oda has shown Queen's hybrid before Jack's too. I thought Jack would be first, but now Oda is showing Sanji vs Queen and Queen's Hybrid, I'd hope he dedicate at least 1 chapter for the fight. We're definitely gonna have to rely on Toei to extend it for us regardless but as you said, we've known King and Queen for ages and they deserve multi chapter fights and to get proper screentime and go all out.
King is so neglected, it's not even funny anymore. It's truly a Smoothie 2.0 situation and that really worries me. His only saving graces right now are being Kaido's right hand and strongest commander as far as we know and his mysterious, seemingly important identity and especially unknown to us at least race.
If Oda just give 1 chapter for King and Queen each that would be disappointing, but Queen has done a lot lately too, King not as much. But it's still better than no panel/screentime and offscreening ofc. I just to be truly optimistic and wishful, Oda is saving the "best for last"?
Post automatically merged:
Oh god, imagine if Sasaki didn't get up from Franky's attack for some reason but Ulti got up from a triple homie attack from
Big Mom
? The slander of Big Momand and wanking of Franky would truly go astronomical!
Seriously though, there's no way Sasaki and even Who's Who can be done yet, surely? Unless Oda is really relying on Toei to extend the fights? But why give us so many pointless panels before, especially of the chases Ulti and Page One did? It felt like a repeat of Big Mom chasing the SHs at WCI ironically and trust Big Mom to be the one to end this chase too even further ironically!
Big Meme:
"ONLY I CAN CHASE THE STRAWHATS! I CHASED THEM FROM MY OWN TERRITORY AND ARC TO ANOTHER YONKO'S TERRITORY AND ARC! DO YOU UNDERSTANDO!? I WAS ALSO ALREADY TRYING TO HUNT THEM DOWN AND CHASE THEM BEFORE MY OWN ARC!"
But my god, if we have to deal with more Ulti and Page One in the manga, this will be genuinely be me: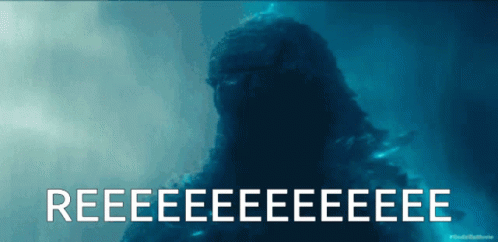 If Ulti survives from Maser Canon, there is 100% Sasaki will survive from Radical Beam too right?

this mean Round 2 of Tobi Roppo fight (except Lulti and P1) is happening.
Y'all are forgetting that Ulti only took a shitty thunder tempo and the mazer canon(wich we have no idea how powerful it js) before the Zeus thunder, meanwhile Sasaki got the Victory slash, the suplex, the mini Gaoh canon and a bunch of offscreened attacks before getting defeat by the radical beam