Disclaimer: This thread will contain historical spoilers without the spoiler tag at the end so you have been warned.
Shouheikun's Prowess:
Shouheikun right now when it comes to individual stats without a doubt the #1 dog in Qin (or tied with #1). Let's break this down one by one.
Leadership:
He currently stands at the leadership ranking of 97 on par with Kyou of the Qin 6. , which is inferior to only the likes of Riboku the present day GOAT, Gakuki the man considered god of military, Yotanwa the King of Kings, Ei Sei the present king of Qin, Renpa.
Intelligence:
He is on par with Ousen & Hakuki, and only inferior to Riboku. With the stat of 99
Strength:
Hara has yet to update his strength stat akin to Riboku & Kashibou's. I assume this is for his eventual reveal as a complete martial monster. But I give him the strength stat of 95 (keep in mind characters surpass these stats by motivational boosts of all sorts in the manga). Which gives him a strength stat on par with Yotanwa. Reason being is that the individual Shouheikun chopped up is ranked at the strength stat of 90 & the one Yotanwa chopped up is also ranked at the strength stat of 90.
Remove the arm holding the weapon: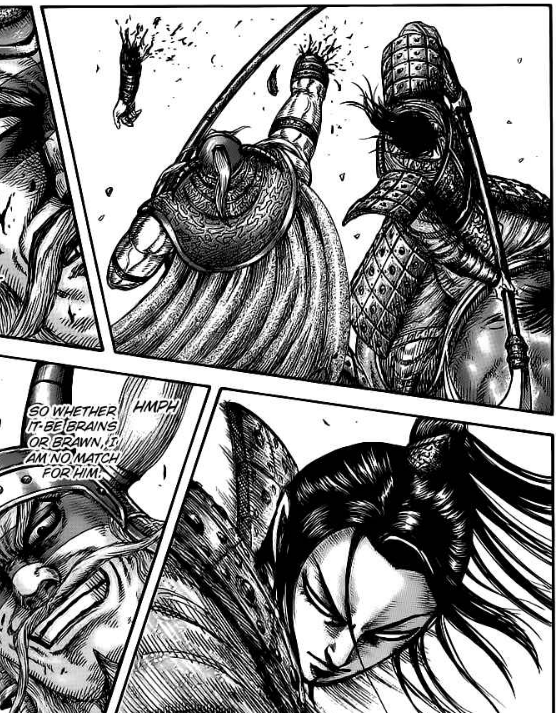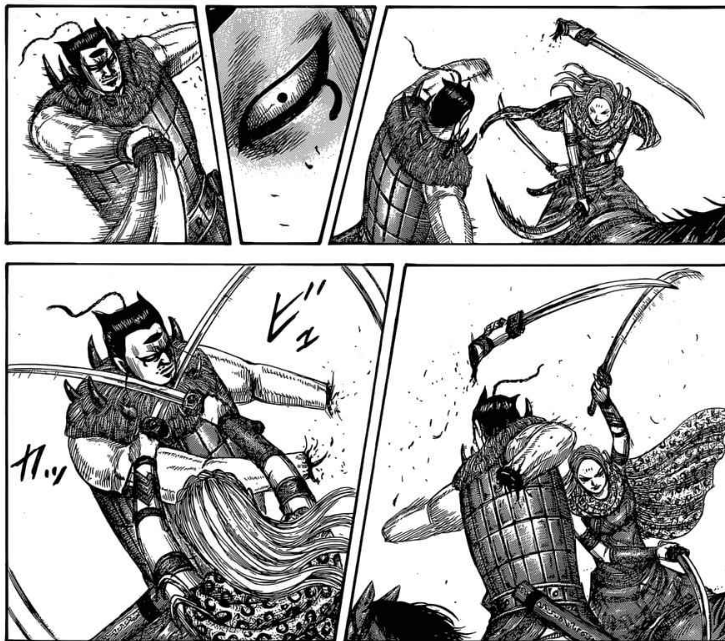 Slice off the head: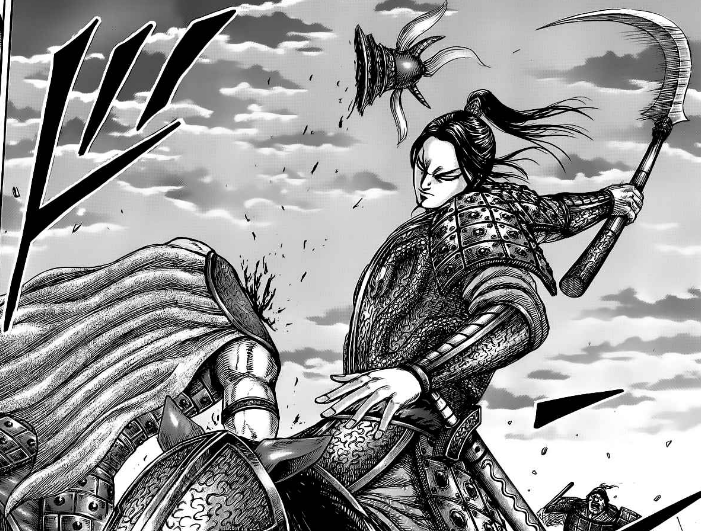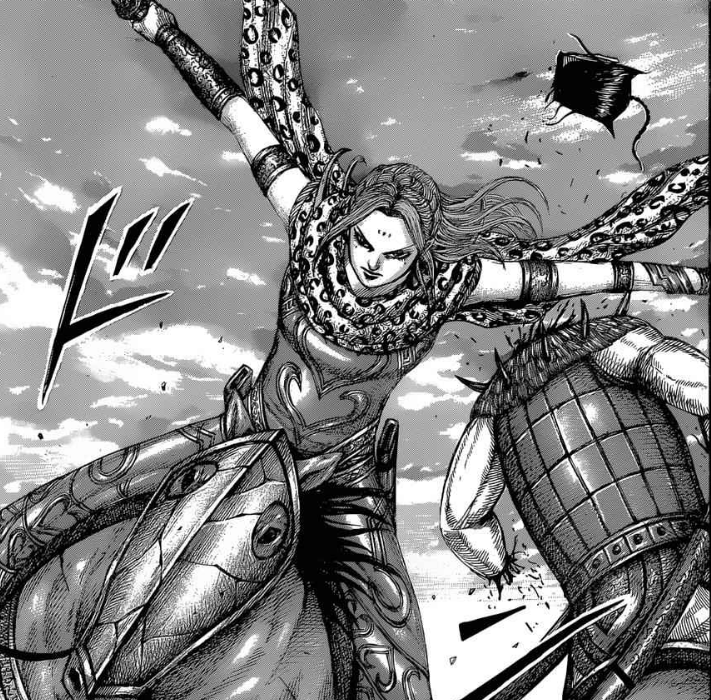 So overall we have:
Strength: 95+
Leadership: 97
Intelligence: 99
These are tied as the best stats out of any individual in the Qin right now. With Yotanwa coming in with:
Strength: 95
Leadership: 100
Intelligence: 96
Her being 3 stats inferior in intelligence to SHK, but 3 stats superior in leadership. And based on that portrayal above they're about near each other martially. However, Yotanwa has the S-rank experience that gives her the edge. So I would hold SHK as the #2 in Qin right now after Yotanwa. There's still an issue with Tou's experience, and him potentially being above him martially as well. But with SHK now having 99 in intelligence, I'm leaning towards giving SHK the edge over Tou now.
So regardless of that SHK now stands in top 3 of the Qin Military alongside Yotanwa & Tou (similar stats & superior stats, but inferior experience). With being superior to the likes of Ousen/Moubu/Kanki, same experience but superior stats.
Why am I using stats??
Simply because it's the best tool we have to judge where these dudes stands. None of these 3 have had a campaign that full allowed them to showcase their might. Tou & Yotanwa despite having campaigns have been subjected to plot of taking a backseat for other younger/less experienced generals to shine. I'm not blindly using stats, I'm using them with in conjunction with the manga. Hence the updating of SHK's strength stat with using the manga.
Story progression & the final game with Shouheikun:
Now you might be like bruh if this mf ain't even #1 in Qin right now, how he an unparalleled beast? Well simply because I'm not talking about right now, but what he will become.
Now from this part on history spoilers will be used so PLEASE READ AT YOUR OWN RISK.
Shin's antagonist:
-> Shouheikun wanted Shin the most out of all the youngins.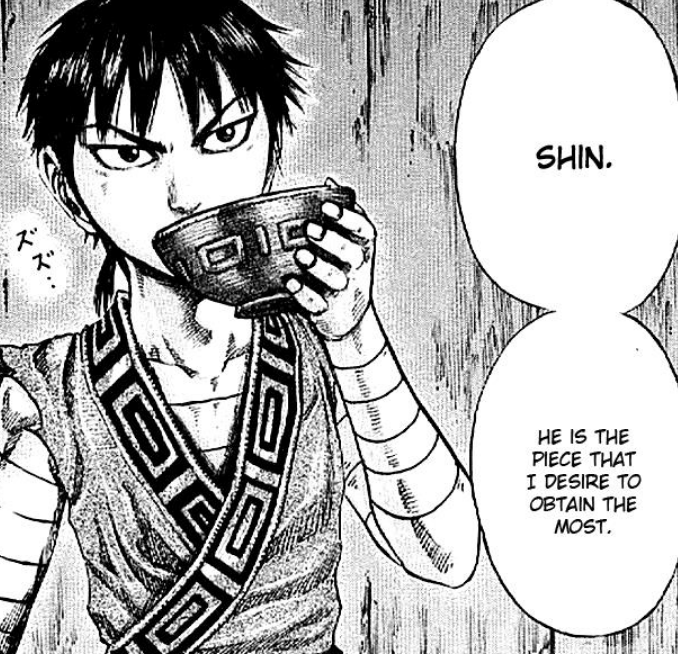 -> Shouheikun even wanted to give Shin the opportunity for Riboku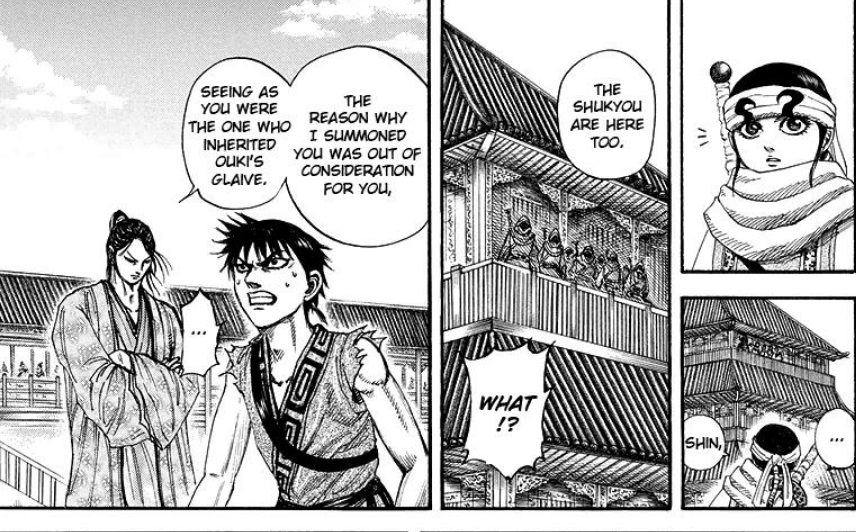 -> Shouheikun has consistantly kept a close eye on Shin's progression (literally and figuratively)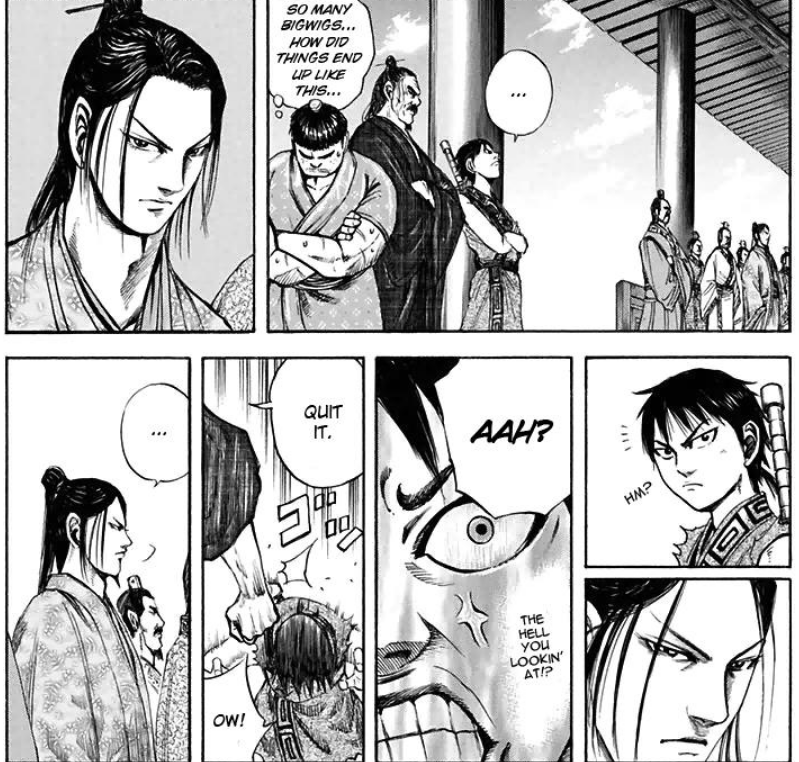 -> Shouheikun even provided HSU with the funds to boost their prowess.

-> He allowed Kyoukai to continue to stay with the HSU as Shin's Lt. something that was a complete anomaly.
... however what happens later down the line?
Since Hara is going with the SHK betrayal story of the history based on his SHK vs Moubu one-shot. SHK is the very reason the HSU is decimated. SHK comes in to pincer the HSU while HSU is fighting Kouen. In this battle Shin loses several of his top commanders, who are essentially shins closest friends too. So the very man who played a crucial part in helping build up the HSU to what it was by showing Shin a good favoritism in regards to looking out for him and what have you... that very man will be the one who will be responsible for the darkest moment of the HSU.
Now Shin is then meant to comeback under Ousen. Will he not seek revenge? Will he not aim to take out the man who fucked him over and fucked over the Qin? I believe he will. Thus Hara building up the story between Shin & SHK since the early stages of the manga. SHK will be Shin's main Chu opponent during the 600k campaign. And by this time he will be the top dog in China, surpassing Kouen.
Having an Ei Sei at Sai moment:
You see a crucial part of Shouheikun's history in his betrayal of the Qin is that he then goes and starts rebellions in the cities Shin has conquered. He rallies the people across multiple cities into joining him, where he eventually goes and pincers the HSU. He at this point is the last big royal bloodline of Chu. Meaning he will be fullfilling the very role that Ei Sei fullfilled.
What does this mean? It means that eventually that leadership stat of 97, is bound to hit 100 as the series goes on... as there are still 10+ years left before the Chu campaign. But not only that, his intelligence is already at 99, hell just within a few arcs that bitch is gone hit 100 bruh. Then when it comes to martial might, he can still very well be growing in prowess just like Moubu and co are. Since training is something that exists. That experience rank is also gonna be S-ranked.
So you have a guy who will be at his peak:
Leadership: 100
Intelligence: 100
Martial Might: 95-98
Experience rank: S
That's literally the perfect fucking general. Hell for all we know this mf might even end up with 100 strength stat.
So this is primarily why I disagreed with the homie
@Fleet Admiral Lee Hung
on SHK's prime.. cause this man has yet to hit his prime.. and when this mf does dude is gone be virtually unrivaled. Serving as the perfect opponent for the man aiming to be the greatest general. I'm telling y'all man Hara is cooking up some wild ass stuff with this dude for when it comes to his peak.
Leave your opinions down below!
Last edited: