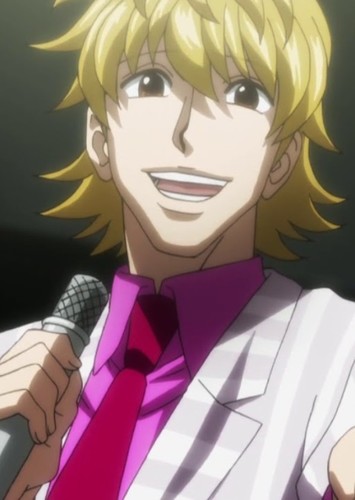 Unlicensed Plague Physician
.
No
@Cinera
thread this time. This one is courtesy of me, although Cinera did inspire the question.
If Zoro vs King happens, how and why do you think it happens?
I think any answer needs to consider the following factors:
Marco and Zoro's motivations so far.
Marco's role if he leaves King to Zoro.
Zoro's recovery timeline (and the potential for a simultaneous return to action with Luffy for Zoro.
Since this raid began, Zoro has been single mindedly focused on Kaido: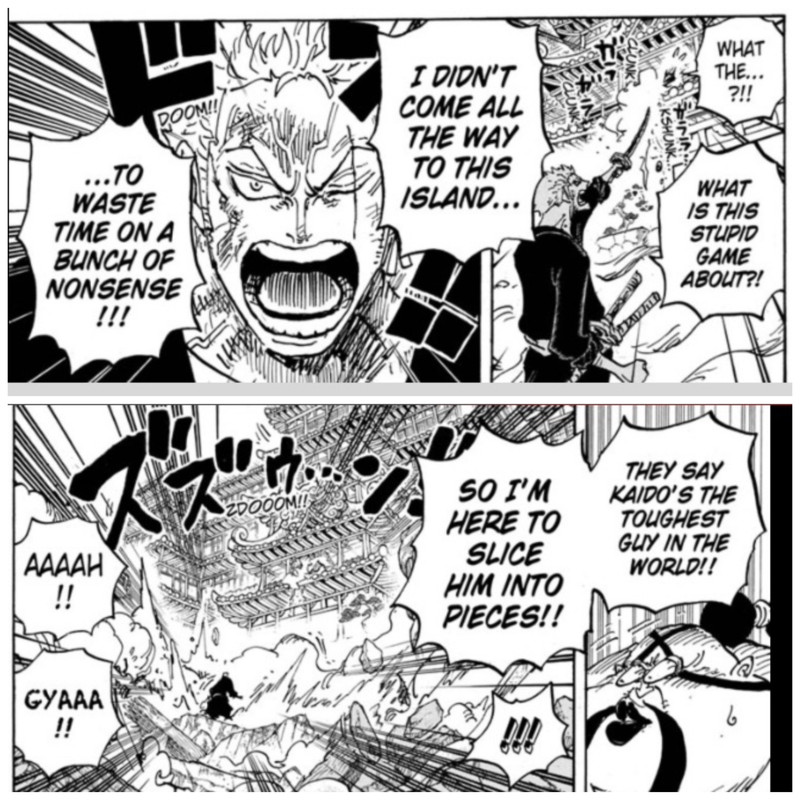 Even when Luffy told everyone else to just watch his back so he could go take out Kaido, Zoro was focused on getting to Kaido too: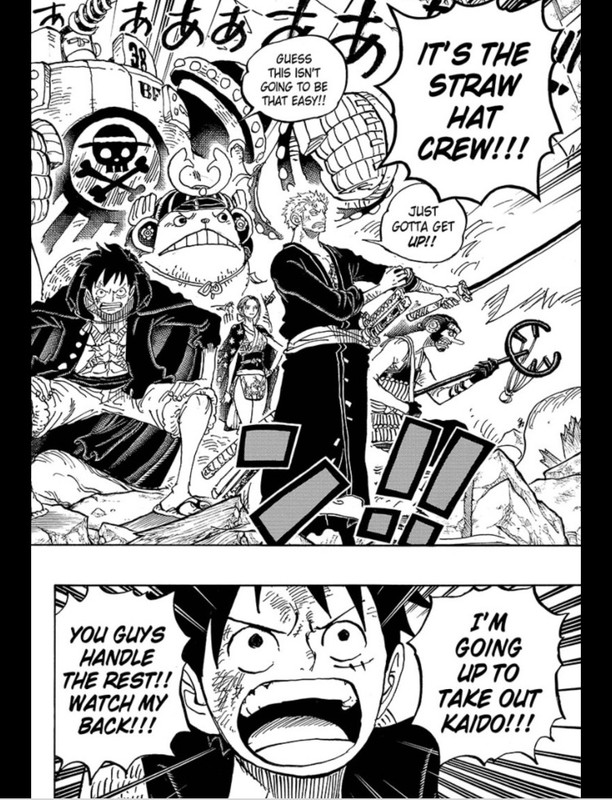 He has shown no interest in the calamities, other than seeing them as obstacles in the way of Kaido. At the same time Marco wanted to know what Zoro was doing on the live floor with the calamities, because Marco thought Zoro belonged fighting Kaido: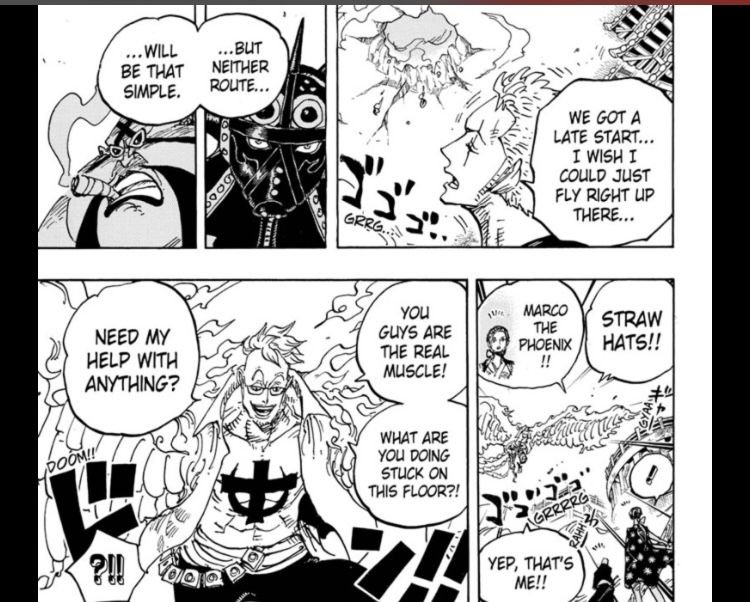 Marco's quote was actually directed at all of the Strawhats, but that statement makes it seem unlikely he'd dump a calamity on Zoro to run off somewhere else.
Marco doesn't believe the SHs should be wasting time with Kaido's executives, he went so far as to call them "no names":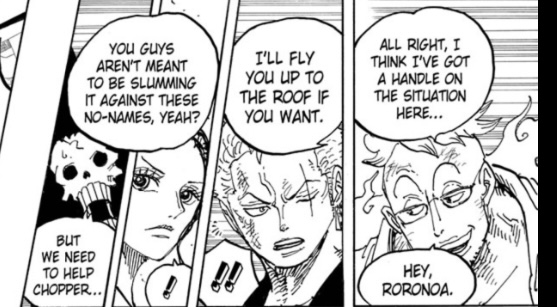 Now, most of the SHs are fighting Kaido's executives, but the point is that Marco apparently would prefer they didn't have to. So to hand an executive off to someone (especially someone who has been relentless in their pursuit of Kaido) would be a 180 from his established motivations.
Right after this, Marco did say he wasn't going after Kaido "at this point", so he did leave it on the table for himself: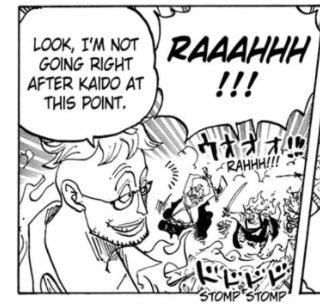 But considering he said that after what he said earlier, it wouldn't be in line with his previous motivations to do so at the expense of a SH doing so.
Marco said the SHs/New Generation are the muscle. But it appears that
he thinks
the main muscle shouldn't be fighting the executives.
One argument for why
Zoro
would give up his pursuit of Kaido is his declaration that Luffy is going to win:
But we have past evidence that Zoro can trust Luffy to win at the end of the day, yet still know Luffy can't get there alone: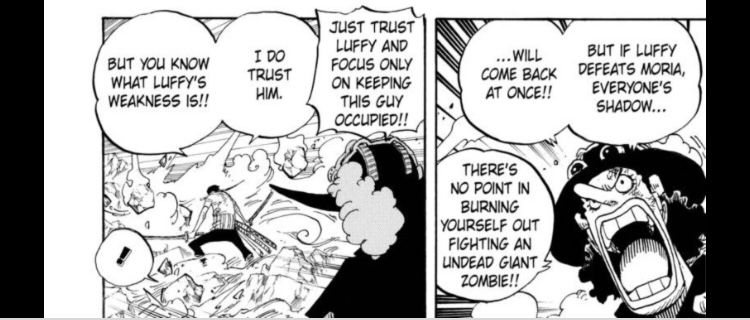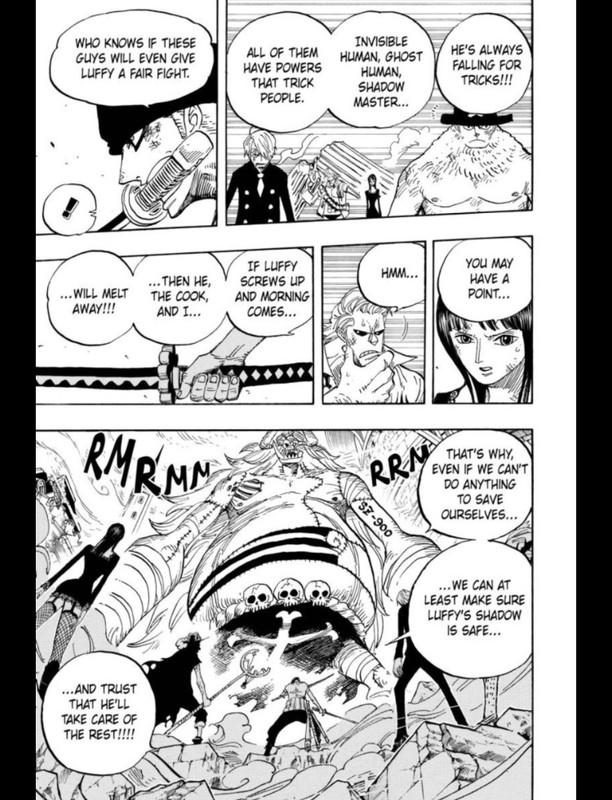 And later in that same arc we get this: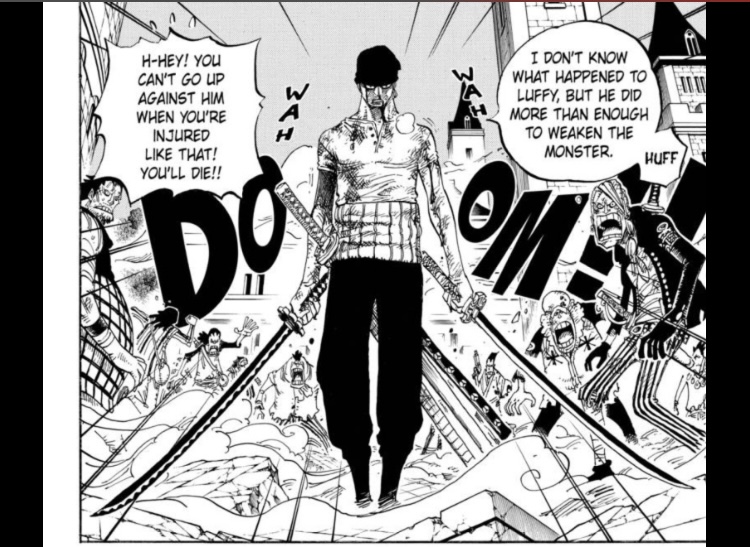 The context between this moment in Thriller Bark and current Wano is similar. Luffy had just given everything against Oars before passing out, and so Zoro rose to the occasion to fight Oars in his captain's stead. Luffy still made it back up to land the final attack, but Zoro didn't sit on his hands and let Oars run wild before Luffy was ready.
Zoro doesn't know about Yamato's existence. As far as he knows Kaido is running wild while Luffy is incapacitated. It's completely within Zoro's character to pick up his captain's slack when he needs to, and it doesn't mean he trust in Luffy any less.
Marco's Role Beyond King
​
If Marco does decide to leave King to someone else, I think there are only a few logical possibilities right now:
Help fight Kaido
Help fight Big Mom
Fly Luffy back to Onigashima
(If you know of another one, please comment on what it would be).
Marco said that he didn't know what his role in this war would ultimately be, but if it isn't beating King, or jobbing to King, then it's most likely to involve one of the Yonko.
The best arguments for why Marco may help with Kaido:
He said that he wasn't going after Kaido as of now.
The Momotaro reference.
The first simply means that a confrontation with Kaido isn't completely off the table. The second is something a few people have predicted based on the Momotaro myth.
In the myth, a young boy named Momotaro (Momonosuke) is aided by a monkey (Luffy), pheasant (Marco), and a dog (Yamato?? Depending on her fruit) in defeating an Oni (Kaido) on an island called Onigashima. The animals agreed to help Momotaro for millit dumplings, otherwise known as kibi dango.
It's blatantly obvious that Oda has been pulling from this story for Wano, and it's lead to a theory that Luffy, Yamato, and Marco will fight Kaido together to further reference the story.
This is possible, but Oda has already deviated by separating the Kibi Dango aspect into Tama's character with the gifters. So he hasn't been going perfectly 1 to 1 with his references. Oda has shown that he'll spread the references throughout Wano, but that's about it so far. He hasn't yet "bent" his story to fit the references more accurately. There is also a chance that Inu is the dog and not Yamato if she doesn't have a mythical inu inu model devil fruit. If Yamato doesn't have that particular fruit then I think that particular 3v1 is dead.
The second scenario, the BM one, really only boils down to Marco's interaction with BM outside of Onigashima. He said no one knows how dangerous she is more than him, after clarifying that he didn't know his exact role in this war. Which could be argued as possible foreshadowing that his ultimate role has something to do with Big Mom.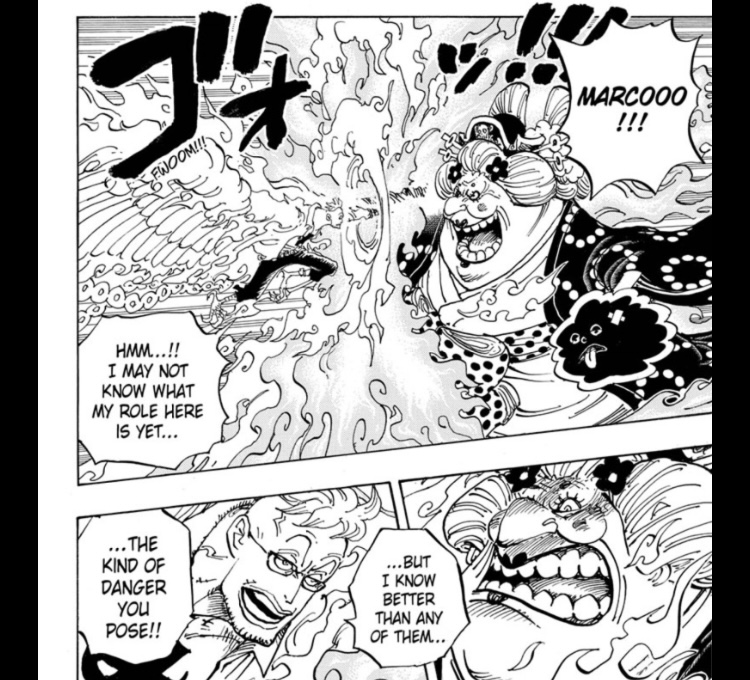 Big Mom also told him that he'd have to find her later if he wanted to kill her. Perhaps suggesting Marco could find her again for a round 2: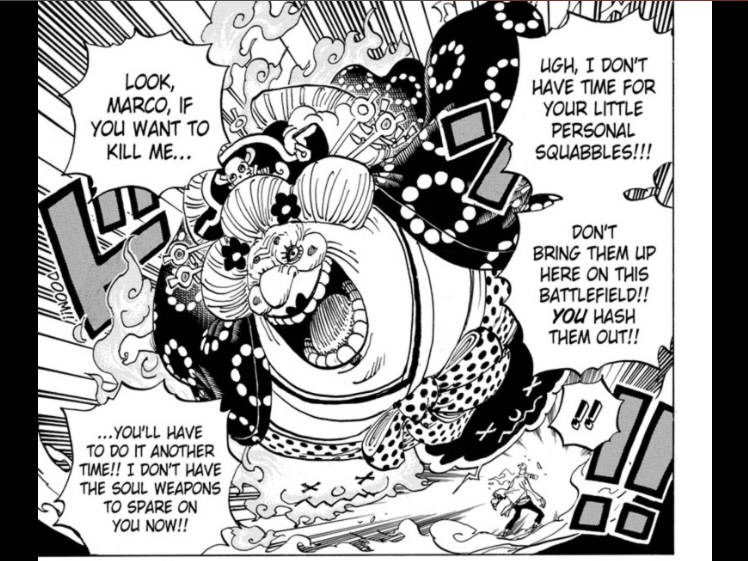 It's not obvious set up that we absolutely need to get more for imo, but it is
something
to go on maybe.
With either option. You still have to explain why Marco would change his motivations and decide to leave King to Zoro. Especially Big Mom, as she seems pretty well covered for now even if you think Kidd and Law can't defeat her.
The third scenario, Marco flies Luffy back to Onigashima, is very unlikely because I think as there is a
much
better option on hand in a better position to do so.
The person who flies Luffy back to Onigashima is going to be Momo and I'll bet you guys just about anything on it. Oda set it up all the way back in chapter 702: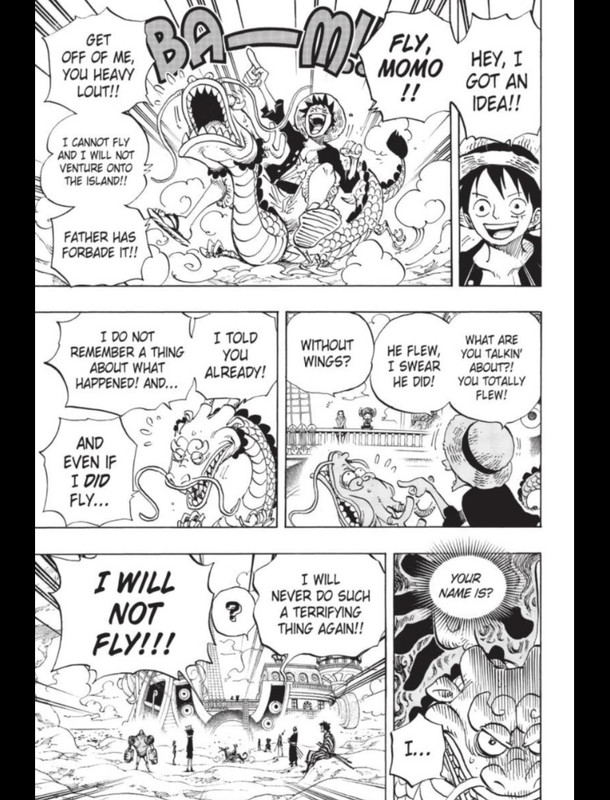 The climax of Momo's narrative around his fear of flying will be flying Luffy on his back to go face Kaido, the man who caused Momo's fear of heights in the first place when he dangled Momo off a ledge.
Momo is already conveniently not on Onigashima anymore thanks to Shinobu:
This time Momo really did fall off a ledge because of Kaido, but this time he's flying back up and he's bringing a certain rubber man on his back. Out of all the reasons for Marco to leave King to Zoro, I think flying Luffy back up is one we can put to rest.
Personally, I think the most likely situation based on character motivation consistency that leaves King in the hands of Zoro is Marco's defeat. But then you have to believe that Oda set up Marco place in Wano
all the way back in Zou
just to handle miscellaneous plot conveniences (stalling BM Pirates, stalling Calamities, stalling Ice Oni Virus, and flying Zoro to the roof) and to become King's hype tool (with an asterisks because of the way Marco has been exerting himself).
It doesn't make sense to me that hundreds of chapters ago Oda planed Marco's inclusion, hyped it up, all the while always planning for Marco to be a hype tool and a miscellaneous plot device.
And if people are right that maybe Perospero's plot thread with Marco isn't over yet and he'll be the one to cause Marco to lose to King, then Marco won't even serve as a good hype tool for King as it'll have a
giant
asterisk. At that point he's solely a miscellaneous plot device.
The last point that I think needs to be answered for Zoro vs King, is how to reconcile Zoro's recovery pacing.
So far Oda is taking his sweet time with Zoro's recovery.
He was handed off to Chopper in 1015, they decided to give him the mink serum in 1017, and it seems they decided to inject him without taking off his bandages in 1019. So far every other chapter his recovery is moving forward by one small plot beat. At this rate it'll be 2021 by the time the bandages are off.
Since Chopper got a hold of Zoro, three of the four remaining enemy F6 have fallen. As is, Zoro will be very lucky to be up by the time Sanji vs Queen officially kicks off, partially depending on how many chapters Jack gets (I assume he only gets 1 if the SHs are only getting one, though 2 is possible since he's a calamity), and partly depending on Zoro's recovery being hastened.
The latest a SH fight has ever started to my knowledge is Sanji vs Jabra. Which started after every CP9 agent was down except for Jabra, Kaku, and Lucci.
If Oda continues at this current pace, I think a best case prediction to have Zoro up would be:
2020 - Black Maria fight begins and ends
2021 - Zoro's bandages are removed & Jack fight begins
2022 - Jack fight ends
2023 - Zoro gets up? & Queen fight begins
2024 - Queen fight ends
2025 - King fight begins
2026 - King fight ends
Oda doesn't have to continue at his current pace. He can speed up or slow down as he pleases. But if he maintains it this would put Zoro vs King on pace to tie for the latest SH fight set up ever. And that's being generous by giving Jack 2 chapters for his fight, and assuming that there would be no recovery stage between Zoro's injection and him getting onto his feet.
Relying on Oda giving a side character a fight twice as long as the ones the Strawhats have been getting isn't ideal, but it's one of the few ways to actually have Zoro up in time with this current progression.
The last thing to mention also revolves around Luffy's recovery. Or more specifically, that in chapter 1019 Luffy and Zoro's recoveries were shown side by side: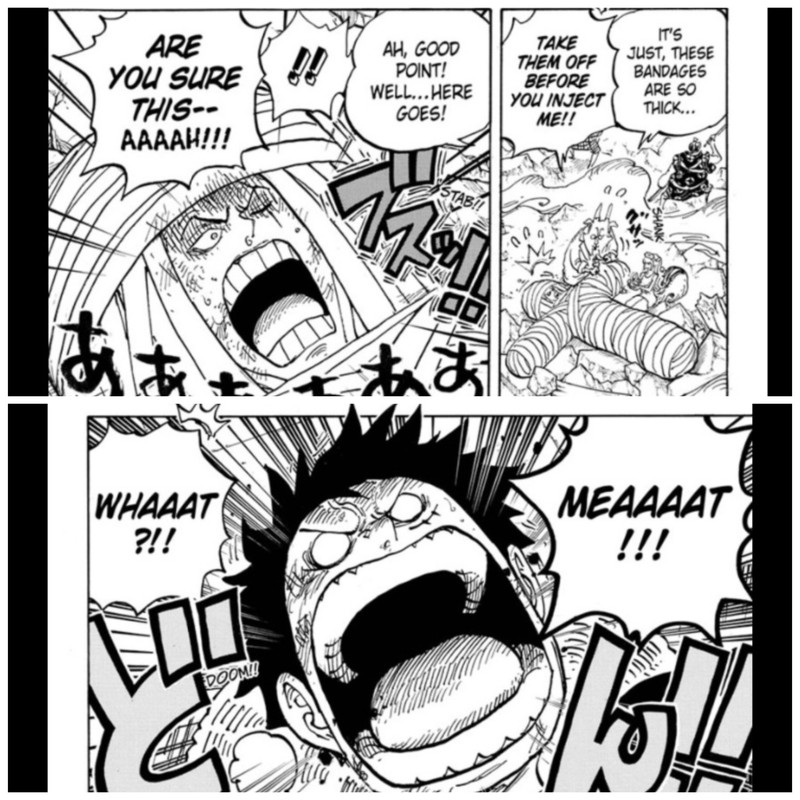 I think it's a reasonable inference that Oda may be setting up Luffy and Zoro to return to action simultaneously by showing them side by side like this. If that's true, there's a real possibility that neither return to action before the executives have all fallen as I think that's the most functional time for Luffy to get back up.
So, how do you see Zoro vs King happening with all this in mind?
How do you justify it with Zoro & Marco's previous motivations?
What is Marco's role for the rest of the raid?
How do you see the pace of Zoro's recovery affecting this and what does it mean if Luffy and Zoro come back to action together?
The easiest answer is that Marco is defeated imo, but that would mean that Oda planned him out as a hype tool/miscellaneous plot device hundreds of chapters ago, which to me seems unlikely, although not impossible.
Last edited: