(Updated edit)
I had this idea upon the introduction of Weevil in ch.802 and Jack's first full appearance in ch.810, but it was further bolstered with the introduction of Yamato. That's because the idea of another emperor, who isn't Big Mom, having a child came up once again. So did my speculation. What sparked this idea initially was the introduction of Weevil and the idea of Whitebeard having a biological son. Which I think is to good of a concept for it to just be a throwaway idea. I think Oda seeded that idea and completely destroyed our expectations because of how ridiculous both Weevil and his claim are. But Oda covertly introduced Whitebeard's "real" son one chapter before, burying the lead until his eventual reveal in chapter 810. (That's not to say that Weevil isn't any less of a character and I'm certain Oda has plans for him in the future.) Although, I think Oda left us a clue in Weevil's appearance. Weevil, Whitebeard's supposed son, has the same type of long twin braids as Jack. I find it unusual that Oda would use a very similar design aspect in two completely unrelated characters that appeared only 8 chapters apart.(You can go extra tinfoil about it and count the number of segmented hair balls per braid.)
Now, as to Jack's appearance, he doesn't really look like Whitebeard. However, it can't be expected of him to look like a mirror image of Whitebeard. Much like how Ace doesn't look exactly like Roger, Yamato Kaido or Big Mom and any of her children. But there can be some similarities found between them. Just like Yamato and Kaido's horns and part of their hair. Katakuri and Big Mom's pink hair, albeit different shades. We can compare Whitebeard and Jack's heights and blonde hair. Although, Jack is taller and his hair is a different shade of blonde. I also think his metallic jaw mask is meant to hide more than just his jagged teeth but also any white facial hair. Jack's mammoth powers also serve as an homage to Whitebeard's famous stache because both a mammoth and elephants tusk don't actually grow from the mouth, but rather the upper lip. And Oda stays true to that fact.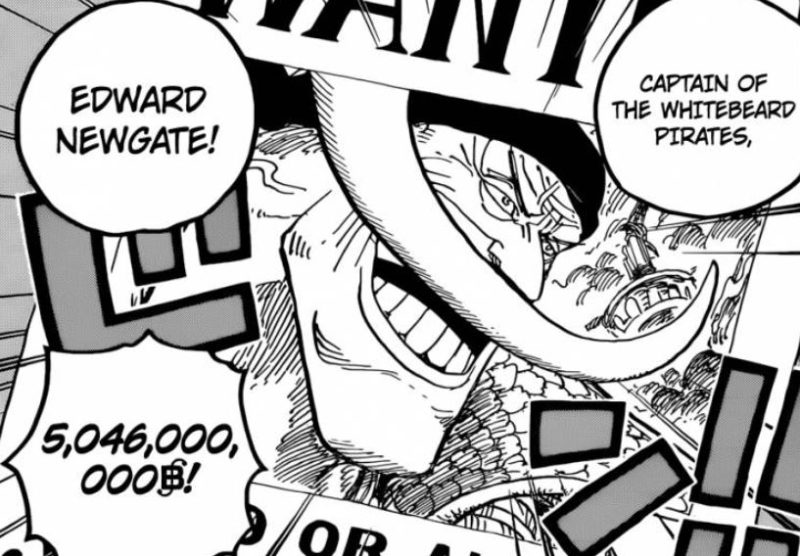 Another factor that would affect his appearance would be his fish-man heritage. Now, I believe Jack is a fish-man hybrid, although Jack's vivre card from the data book categorizes Jack as a full fish-man. I really doubt this because of Jacks lack of notable fish-man features (ie. fins, gills, webbed hands, abnormal skin color). Jack looks like a normal human, by One Piece standards. His one notable fish-man feature is his jagged teeth a feature shared between two other fish-man hybrids Dellinger(half human/half fish-man) from the Donquixote family and Big Pan(half giant/half fish-man) from the Foxy pirates.

That being said, that statement in the Vivre card data book could've been a mistake and we can see a correction further down the line, or it could've been left there intentionally, until Oda further expands on it within the story.
But that's not it, he's not just any old fish-man hybrid he's Whitebeard's son and the math adds up. Currently Jack is 28, which would have made him 26 pre time-skip and Whitebeard 72 when he was still alive. Making Whitebeard 46yo when Jack was born and around 45yo when he Jack would've been conceived. Now originally, my main claim as to Jack's fish-man heritage was the fact that Fish-man Island was once Whitebeard's territory. But, Jack would've already been alive at the time( at about 4 years old) because Fish-man Island didn't become Whitebeard's territory until after the Great age of Pirates began 24 years ago, after Roger's execution. But recently, more evidence was presented to us in Oden's flash back when Oden reveals on Rogers ship that he had been to Fish-man island once before with Whitebeard, when he was still on Whitebeard's ship.

Now Oden first joined Whitebeard 30 years ago in the story at which time Whitebeard would've been 44 and Oden didn't join Gold Roger until 26 years ago making Whitebeard 48. Leaving Whitebeard and Odens adventure at 4 years between the ages of 44 and 48 with them having visited Fish-man Island at some point between those 4 years, allowing for Jack's conception and birth at around ages 45-46. Now, I don't know what happened but from what we know about Whitebeard and how important family was to him.

I don't believe he was the type to abandon his son. I believe that Whitebeard met and fell in love with a mermaid/fish-woman and then just continued on with his adventure, expecting to see her again. But something must of happened to her between the last time she would've seen Whitebeard and after Jack's birth, and I expect she met with an early demise. That would leave Jack an orphan with nowhere to go, with Kaido coming across him eventually. We can infer from chapter 920 and the vivre card that Jack was present in Wano and at the siege of Oden castle 20 years ago when he was only 8 years old. Which means that Jack was affiliated with the Beast pirates since at least 8 years of age.

No one in the story imagined the possibility of Gold Roger having a son, as we know Ace, much less expect him to be raised by one of Roger's enemies. But what a perfect way to conceal the truth. Now I think Kaido raised Jack with similar intentions as Garp did when taking in Ace, to fashion him into a warrior willing to fight for his cause. But, what Kaido cares about most of all is strength and power, and that's what he saw in the little mammoth boy. Perhaps Kaido is creating a Rocks 2.0 with the beast pirates, because his MO seems to be to assimilate the strong into his crew and break their wills until they declare servitude.
A common trend that is shown throughout the series is the idea of notorious and powerful people having children. Roger, Dragon, Kaido, and Big Mom sired Ace, Luffy, Yamato, and the Charlotte siblings respectably. As such, these people seem to pass on a

nother notable trait down to their children besides notoriety and that is strength. As Whitebeard's son Jack would be considered one of the mightiest pirates out there. He has quite some feats under his belt. He was able to sink 2 marine battleships and then clash with two Navy legends such as a former fleet admiral Sengoku and vice admiral Tsuru, let alone admiral Fujitora and come out relatively unscathed. He took Zunesha's trunk head on and survived. He single handily took on an army of Sulong minks and beat them(Nekomamushi and Inuarashi notwithstanding). The world government and the marines find him a big enough threat to warrant him a 1 billion berry bounty at only 28 years of age! Which is commendable amongst his contemporaries. His fellow All stars with higher bounties both appear to be middle aged. We know Big Mom's Sweet commanders are all older with lower bounties the sole exception being Katakuri but he himself is 48yo. We can assume that the remnants of the Whitebeard pirates, Blackbeard's and Shanks' commanders average between 30-50 years old. Luffy doesn't count because although commendable with a bounty of 1.5 billion berries, he is a contender for King of the pirates and as such it is to be expected of him.
I believe that this doesn't take away from Whitebeard or his message of family not being limited by blood relation. Even if he is Whitebeard's biological son he would not be anymore a son to him then the Whitebeard pirates were. Much like how Ace condemned Gold Roger as a terrible father and preferred Whitebeard. Much of Jack's personality can be summed as being raised by Kaido, and his two sadistic "older brothers."
Yamato is the same age as Jack, meaning that they grew up together under Kaido, since 8 years of age. I think we are bound to get more information once we get to Kaido's flashback. There's no way that Jack is already out of the picture. I believe that he will play a dramatic role in the story with a potential confrontation with Marco.
I can see Luffy befriending Jack and as such Luffy having befriended the children of 3 out of the original 4 emperors, in Katakuri, Yamato and Jack.(Shanks not included. Unless he turns out to be the father of Makino's son, in which case only time will tell.) But I think this has relevance for the story because then the children of the four emperors(Katakuri, Yamato, and Jack) along with Luffy and the rest of the supernovas will bring about the new era, and end their parents era.
But I can also see Jack turning against the Beast pirates down the line because of constant abuse, as made evident from Artur's translation of Jack's vivre card.
If Jack does turn out to be Whitebeard's son Oda will have to do some work to rectify his character and justify his actions. But I think this is easily done and as we can see, again, from the fifth bullet point in the vivre card. Jack seems to only bring down settlements and terrorize citizens when the crew "requires it." There are some grey areas in the story that can be expanded on. I assume that Jack attacked Zou on captains orders and that he didn't go full power against the minks. He left Neko and Inu for dead, but if he really wanted to kill them he could've gone with a more direct approach. He did seem surprised to see them in Onigashima however.
In the end, I believe Whitebeard having a biological son is too good to be a throwaway idea, and if any character would fit the bill I think it's Jack. A theory fueled on speculation and conjecture. I would hope it to be true, but wouldn't be upset if it wasn't. But seriously there's no way Whitebeard didn't smash.
Last edited: