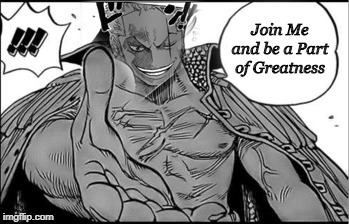 Welcome to the Fan Club of one of the most badass characters of One Piece
RORONOA ZORO
​
Biography
Non SBS Information by @Nidai_Kitetsu

A few non-SBS quotes from Oda related to Zoro:


1.

"

Those who participated in the 'Character Popularity Vote', thank you very much. I'm really happy that Luffy came in first. I was worried that Zoro or Shanks might overtake him.

" - Oda's weekly comments (1998)

http://www.thegrandline.com/odatocLIVE.htm 2.

"

Luffy, Zoro, Nami.
With them, the triggers are assembled for now.
...that's how it's said. And I have this kind of image in my mind

." - Color Walk 1 (2001)

Thanks to @Vivaldi-kun and @Micchan212for the info and translation.
P.S. - The popular translation for this part was provided by Sandman from Arlong park forum. The translation was "
Luffy, Zoro and Nami are the trigger/core of ONE PIECE.
" @Vivaldicontacted him and Sandman agreed that this translation was misleading. Sandman edited it afterwards.
http://www.arlongpark.net/showthread.php?t=42229
3.
Ashley Rochefort:
"Why does Tashigi look like Zoro's old friend Kuina?"
Oda:
"Its just a coincidence. There's no backstory like Tashigi turns out to be Kuina's sister or something....[laughs]"
- Jump Festa (2008)
4.
Vicky Hutchinson: "
Zoro's my favorite character. I would like to have permission to be his #1 fan
"
Oda: "
Well, Vicky, all the Zoro fans think like you do. So please do as you wish. I'd like you to think that you are the #1 Zoro fan
"
- Jump Festa (2008)
5.
"
I messed up Zoro's eye on the cover page of the very first chapter. The scar is supposed to be on his left eye. Ahahaha
" - Oda's weekly comments (2010)
http://www.thegrandline.com/odatocLIVE.htm
6.
"
Don't speak ill of Zoro.
" -
Niconico Live Broadcast
(28 December 2011)
(If you guys know any non-SBS quotes from Oda related to Zoro, kindly let me know. I will update this part)
SBS information by @Nidai_Kitetsu
List of SBS Q&A related to Zoro
​
This is an updated version of all the SBS question and answers related to Zoro. I tried to find the best translation possible, I used ViZ, Stephen's scripts and also Micchan's translation.
​
Q: Doesn't Zoro's name come from the famous pirate, "Francois l'Ollonais"?
A: You got it. I took the name from Francois l'Ollonais, said to be the cruelest of all the "Pirates of the Caribbean." That, along with Morgan and Alvida, are names derived from actual pirates.
Q: Why does Zoro always wear that old fogey stomach band (haramaki)?
A: How rude!! Just sit down right there!! Okay! Remember this!! The haramaki is the high-fashion-nice-fit battle garb of the proudest of Nippon's warriors!! Contemplate that! You may leave!
Q: Why don't Luffy and Zoro go by the names "Monkey" or "Roronoa"? Or are those their family names, the Japanese way?
A: Yes. That's it. First surname. Then given name.
Q: When I went to the barber a little while ago and asked for a Zoro haircut, he shaved my head. What should I say to get a haircut like Zoro's?
A: Ask for the cut of a "Man's Heart and Spirit."
Q: I wanna say something to the guy who said Zoro's stomach band was for "old fogies" in the SBS on p.130 of Volume 4!! You, yes, you!! First, I too wondered, why does cool guy Zoro have a stomach band? But then, once I realized that it's a part of Zoro, it became okay! I, yes I shall allow it! So you should too! Now we're friends!
A: ...oh! A friendship between readers has bloomed... Wonderful.
[Stephen Paul's translation]
Q: Oda-sensei, this is the spirit of the heart (what Zoro uses to "speak" with the sword in his mouth), isn't it? (Pen Name Arunya)
A: Yes. This is a good spirit of the heart.
Q: I went to the barber and told him "A Spirit-of-the-Man's-Heart cut!!" Then he said, "Okay!!" and he shaved my head bald. Entirely the wrong look. Sensei, are there any requirements to become a Zoro?! Tell me!! *sob, sob*
A: Don't cry!! Stand up!! There are battles that a man cannot run from!! So what if you got shaved bald once?! When your hair grows out again, go back to that barber and challenge him!! A return match!! Well, if I were you, I wouldn't (ROFL).
Q: Oda-sensei! Those birthdays (in Volume 15) were way too easy to come up with! I want to have a word with their parents!! How-EVER!! Who are Luffy, Zoro, and Sanji's parents?!
A: Ahhhh... Did I really take the easy way out? I guess you're right... I just made them up as jokes, based on their personalities. You really can't choose a birthday over such trivial reasoning... I'll reflect on my thoughtlessness...
Q: HEY, ODACCHI. WHEN YOU GET DOWN TO IT, JUST HOW LITTLE SENSE OF DIRECTION DOES Zoro HAVE? I want an equation with x and y, dammit!!
A: Ummm... lesseee... x... plus... y. Okay, next. (Perfect)
Q
: Wassssup, Oda-sensei?! I have a question about Vivi and Zoro (doooon)!! Why does Vivi call Zoro Mr. Bushido?! (dogooon) I'm super super superrrr!! Interested. Please teeeelllll me. Bye!! See you in a million years!!
A: You know, if you start calling a friend by a funny nickname, you can't really go back. You know how that works. If she were to suddenly start calling him Zoro-san, it would be too odd. I think Vivi will call him Mr. Bushido for the rest of her life.
Q: If Zoro and Sanji had a big fight, who would emerge victorious? Zoro beat Mr. 1, so I guess...Zoro would be the winner, right...?
A: Whoa! You scared me... for a second it looked like "If Zoro and Sanji had a dick fight" (Note in Japanese, at least). Hey man, learn to punctuate better or something. You know what I mean....okay, see you next time!
Q: Hello, Oda-sensei. On the right side of the first panel on Volume 26 page 54, is that Zoro trying to jump into the sea of clouds real casual-like? He must have really wanted to dive in there!!
​
O: Yeah. What a retard.
[Stephen Paul's translation, I liked ViZ's translation more in this case]
​
Zoro-related Info by Sandman:
​
​
​
Members:
@Den_Den_Mushi
@Garp the Fist
@Gol D. Roger
@Haoshoku
@Nidai_Kitetsu
@ShishioIsBack
@Cinera
@BossYimz
@Rivaille
@Reborn
@Geo
@Buggy D Clown @TheAncientCenturion
@Mikail
@Admiral Lee Hung
@Thabeast
@stormylife
@nik87
@MasterD
@Camie
@Monet
@Sade
@playa4321
@Enma
@Finalbeta
@Light D Lamperouge
@Cyrus the Cactus
@Reddot4
@HA001
@MD Zolo
@Grumpy Zoro
@Aknolagon
@Ice devil slayer
@Zoro
@zorojurou
@Foxy Bunny
@K!NG HARA$H!MA
@KiriNigiri
@RZ.119
@Greenbeard
@Shakky
@ShadyOjiro
@Guymieux
@IceWitch
@Dark Hound
@Gon's Missing Arm
@RyumaZoro
@Himura
@Fenaker
@yorosenpai
@bblue
@Tamerani
@Zowo
@Sword God Ryuma
@Yo Tan Wa
Last edited: