Oooooo baby a good Kingdom debate!! And about Gyou'Un Sama himself??? Let's do this this lol.
So I did read your entire comment, but I'm going to respond to some points in order, don't think I'm not acknowledging some of your later points lol.
Gyou'un was never shown superior to Akou at all.
Okay right off the bat, I contest this.
Gyou'Un was explicitly shown overpowering Akou by himself, and look at the words of Akou's men:
"Even Gyou'Un by himself is..."
This is a level of distinction that Bananji never received against Akou. Hara went out of his way showing Gyou'Un being distinguished against Akou while Bananji was not. Granted your "Bananji's true strength" stuff may hold true but I'll address that later.
The comparison for Bananji was with Renpa himself, at the starting of the war:
Two things about Gyou'Un which arguably put him even above Renpa in martial strength.
1.
If we're going just purely by hype, this is above Renpa martially. Gyou'Un's fighting strength was said to be an embodiment of Zhao's martial strength even in the days of "prime" Renpa. This is Hara straight up hyping Gyou'Un > Renpa as a warrior (there are other reasons to believe this but let's leave here for now).
And it makes sense as Gyou'Un was purely an offensive commander while Renpa was great at all aspects of Warfare. Gyou'Un's sole roll under Rinshoujou was to be an overpowering offensive force, while Renpa specializes in every aspect of Warfare, not just offense. So it makes sense for Gyou'Un to be above him martially.
2.
And as you pointed out yourself: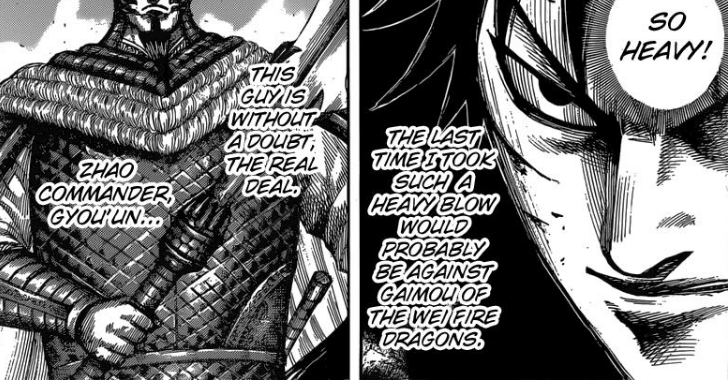 (Renpa and Gaimou also have equal strength stats and I know you are a stats fan lol)
This isn't the most ironclad argument ever (as you will undoubtedly bring up the Ouki stuff) but kinda similar to the above, it makes sense for Gaimou to be a stronger warrior than Renpa and Ouki, as his sole claim to reaching the Fire Dragon rank was his martial strength while Ouki and Renpa also had great tactical acumen.
In my humble opinion, Moubu >= Gaimou >= Renpa makes the most sense. Minuscule gaps of course, but Bananji would fall comparable to Renpa while Gyou'Un would be comparable to Gaimou.
You see it's not until the very end of the Shukai plains that Bananji reveals his might. That's why Hara put so much stress into through multiple characters
Yeah I'm fine with this, the issue is that Gyou'Un was portrayed above him for the entire war anyway. Greater hype, greater feats, greater role in the plot, etc. So even if Bananji didn't show his full strength yet, he'd still only be bridging the gap and never looked outright superior to Gyou'Un.
And ultimately, this panel cannot be ignored:
Yes it can lol. This is the one point where I'll hard disagree with you, the order with which hara decided to draw some panels (or how his editor decided to post them) is completely irrelevant. They probably just wanted to stick Gyou'Un and Garyuu next to each other for their relationship or something. Maybe it was arbitrary, who cares lol.
- You're making this assumption based off of Gyou'un's belief of what his master could've done. In Kingdom every underling overhypes their master, it's simply how it works.
You misunderstand,
I'm not saying Rinshoujou could've done something that Riboku couldn't, I'm saying it's unfair to say Rinshoujou couldn't have surpassed Riboku because Rinshoujou never got a chance to even attempt what his plans were. And more on that:
- Every general has the confident that he or she could beat the other.
Wrong, on 2 accounts:
1. Not every general overestimates themselves. Riboku straight up said he could not defeat Renpa in open warfare. And it was that same Renpa who later called Riboku the most dangerous man in China. Not every general overestimates the others.
2. Gyou'Un straight up called Riboku "the strongest member of Zhao's Three Great Heavens in all of history." Straight up ranking Riboku > his former master.
It's clear Gyou'Un was not blinded by some foolish sense of biased pride for his master, he knew Rinshoujou was great but ultimately inferior to Riboku. And yet he still though Rinshoujou could've defeated the Qin 6. Was Gyou'Un overestimating RSJ? Maybe, but clearly not by much as he seemed to rank RSJ < Riboku like the rest of us.
Next, you misunderstand what I was saying about Gyou'Un, or maybe I just didn't make it clear lol.
So:
I think you're underestimating Bananji's role with Riboku though, it's much more than just a mere vassal general.
I never said Bananji was a "mere" vassal General, this isn't One Piece lol. But Gyou'Un's role is much larger than what a vassal General typically is. This'll stray a bit away from the Martial Might convo but Let me explain.
We all know Gyou'Un was dubbed as Rinshoujou's Sword, but what exactly does that mean? Well, a few things. First:
Gyou'Un is one of the most unique tacticians in the series: an Instinctual General who can read Strategic Types. And what's crazy is that the better the strategist, the harder Gyou'Un is going to read them:
And of course second is his martial strength which I've discussed previously.
Gyou'Un fills an entirely different role for Rinshoujou than what Bananji fills for Riboku. Gyou'Un is Rinshoujou's Sword. Take whatever meaning you want from this but the meaning I take is that Gyou'Un is Rinshoujou's offense. Like, all of Rinshoujou's offensive formations/tactics revolves around Gyou'Un as there center. The best example of this I can see is the Raigoku:
And this revolves around Gyou'Un and his men.
Bananji on the other hand, while useful, doesn't really seem to fill any specific role for Riboku. Bananji's main strength seems to be that he is primarily an offensive General, but Riboku never utilized him in the main story until Shukai Plains.
Against Duke Hyou, Riboku used the Ryuudou, against Ousen, Riboku used the Great Crane, and against Gekishin, Ouki, Yo Tan Wa, and Shin, Riboku's "Sword" was definitely Houken and not Bananji.
So to Riboku, Bananji is a powerful vassal General that he can use when he feels he needs him. To Rinshoujou, the cream of the crop techniques and formations he was creating revolves around Gyou'Un as the center of everything.
Gyou'Un is, literally, the offensive power of a great General. Bananji is a powerful vassal General. His role in Riboku's Army is inferior to Gyou'Un's role in Rinshoujou's Army, on top of everything else.
So yeah, I could go into more depth but this is already an enormous post lol.
Last edited: