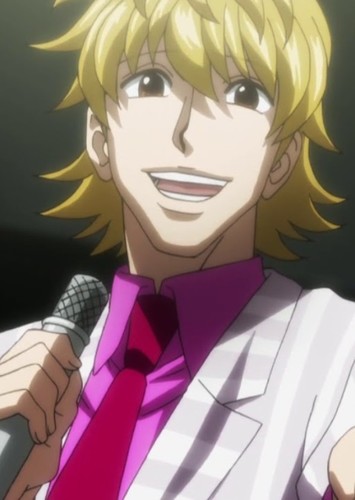 Unlicensed Plague Physician
.
Okay so there's obviously been plenty of talk about King & Queen lately. I'm going to try to lay out why I think they've clearly been shown as pair and what I think it ultimately means (spoiler Zoro v King). I know some Zoro fans have been resistant but I'm starting to see many of them come around.
Before I get into it I want to say that King is obviously stronger than Queen. Anyone saying Queen > King is trolling. I don't think the gap is a substantially large one but that's not really relevant to where I'm going.
So here's why I think King & Queen are clearly meant to be portrayed as a duo with Jack as the distant odd man out and why that matters for Zoro v King.
First in how they were introduced. Together, talking down to Jack, bantering among themselves. This just one instance that doesn't mean anything by itself.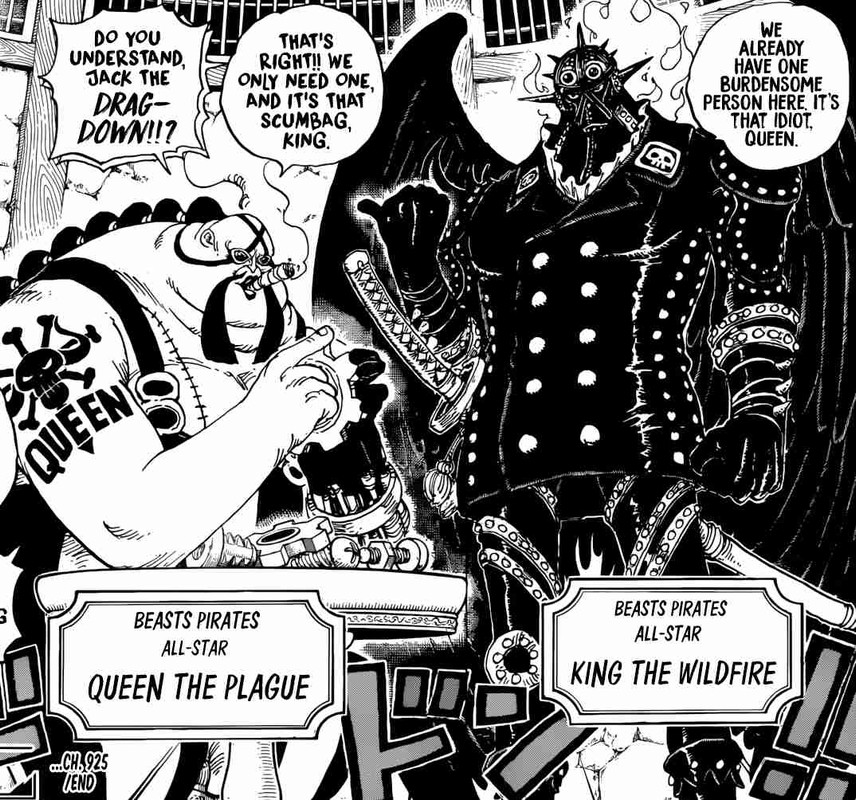 Then we see them together guarding Momo. It's King on one side Queen on the other. Jack is the odd man out once again. So this is twice now that King & Queen are portrayed as a pair, separated from Jack.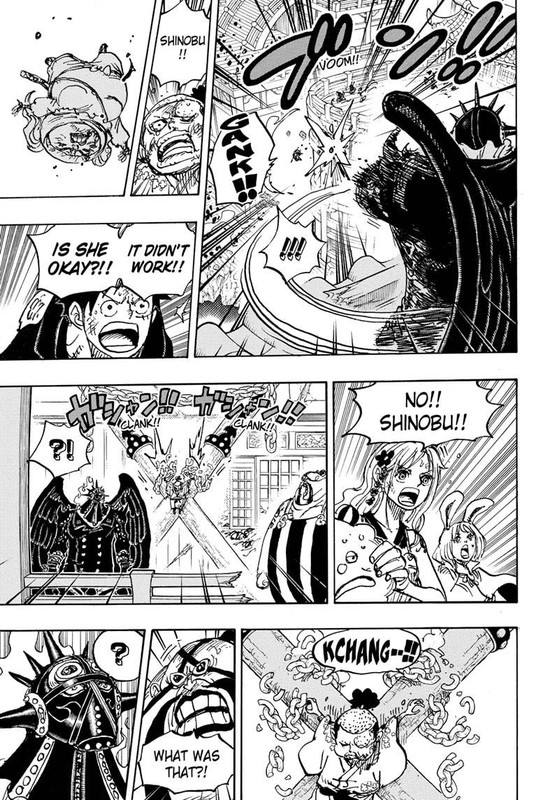 Then when the raid commenced they were shown together again. Just the two of them as a duo, again.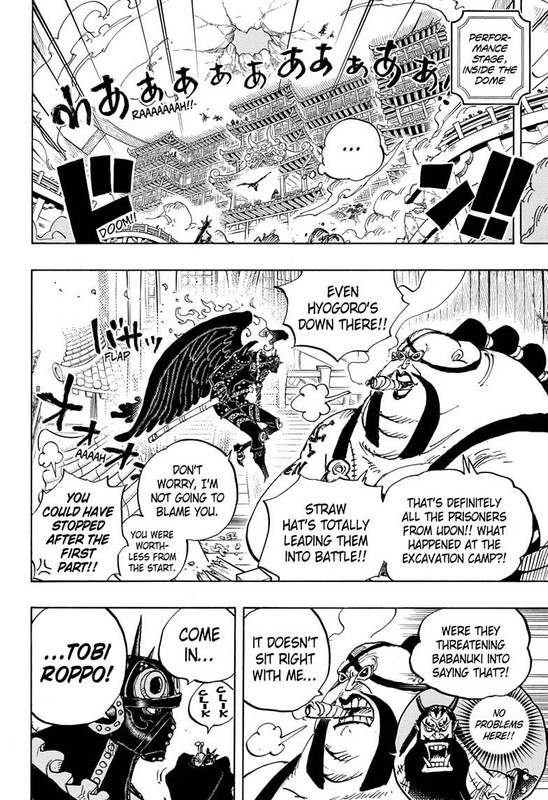 And later their zoan forms were shown together. We're beginning to get into a serious pattern of King & Queen being right there with each other as a duo. It's King & Queen. Never Queen & Jack or Jack & King.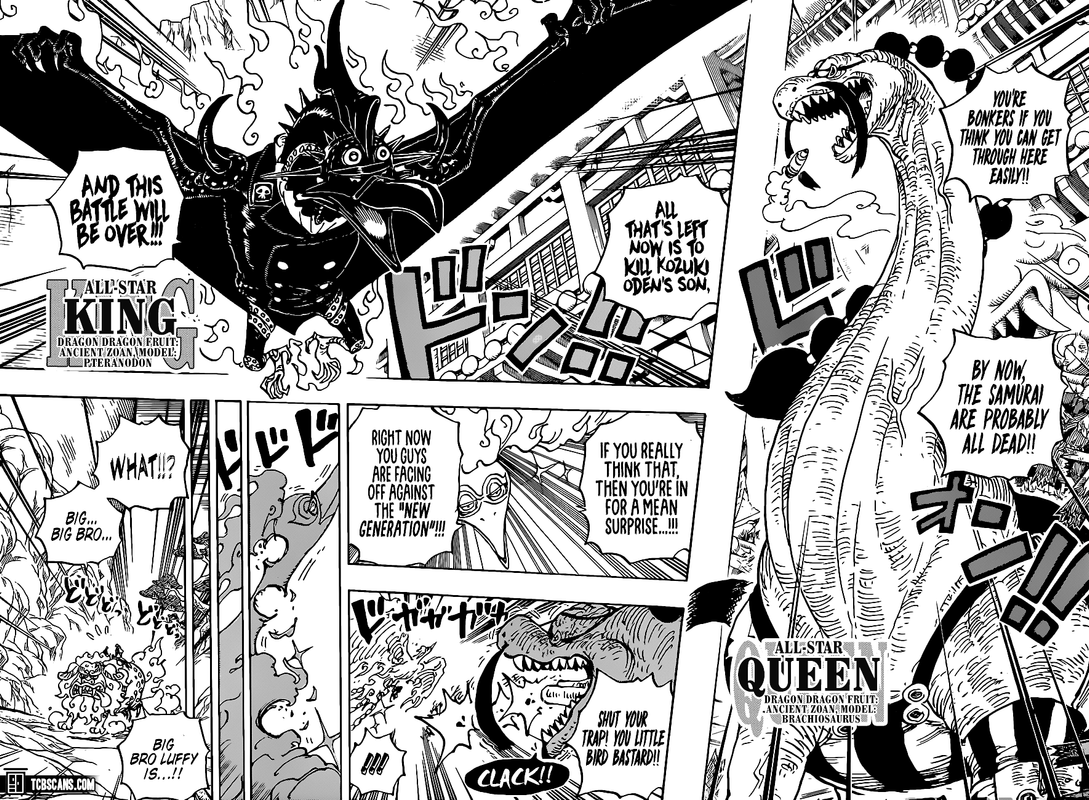 Then Marco entered the picture and they got choked by Marco together. Oda is continuing to put these two in the same panels in similar positions to each other.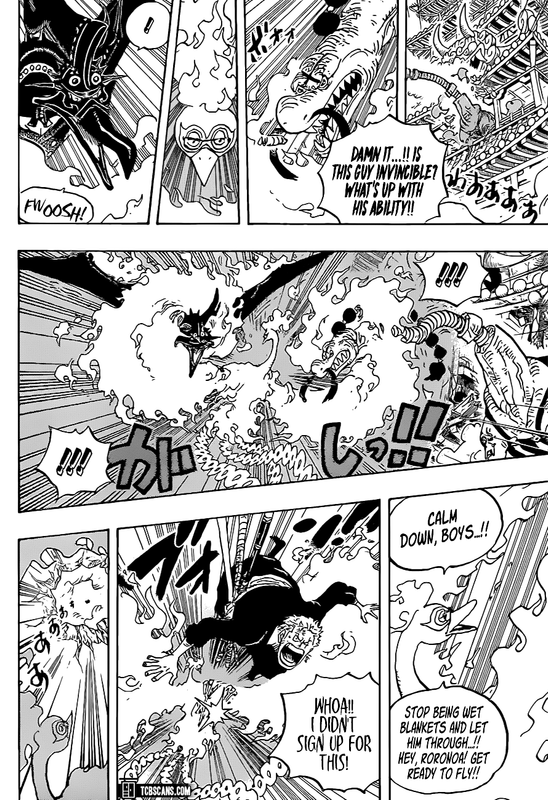 And we all know they proceeded to fight Marco together with Marco kicking them both around for a bit. Neither substantially separated themselves from the other against him which is a point toward the gap not being massive, but still we haven't seen either go all out enough to say for sure and it really doesn't matter.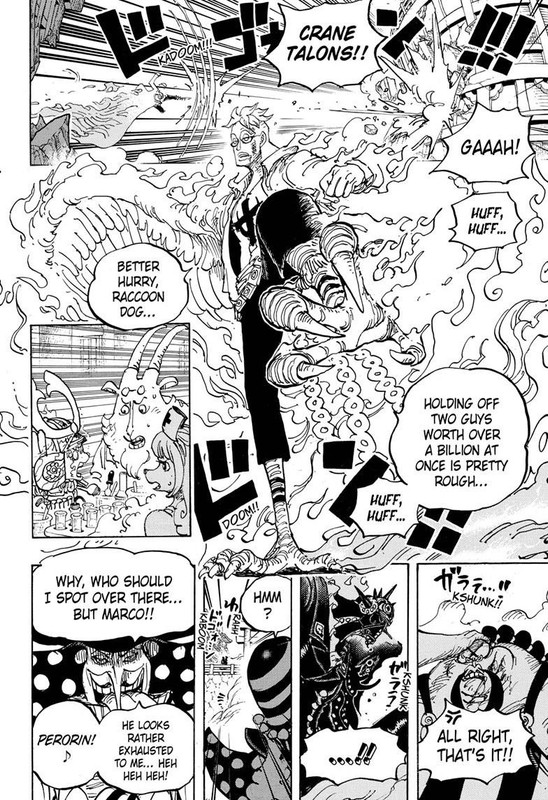 With all of these laid out, I think it's reasonable to conclude Oda wants us to associate King & Queen together with how frequently and how numerously he's paired them together on a page. No other two YC have been paired like this in either Yonko crew we've seen so far.
With Queen set to fight Sanji as of the most recent chapter, that leaves Marco fighting King. Now I'll admit King & Marco shared a strong parallel when it came to kicking Big Mom's ship down the waterfall but that's one moment vs a whole bunch of moments of Queen & King hanging together. But maybe it is going to be Sanji v Queen & Marco v King. After all King & Marco are both fire birds so they do have some stuff going for them.
But isn't it convenient that Zoro just got brought down from the rooftop to be treated for his wounds? When Sanji & Zoro make for a much better duo than Sanji & Marco? It doesn't matter where you power scale Zoro & Sanji, they've always been a pair.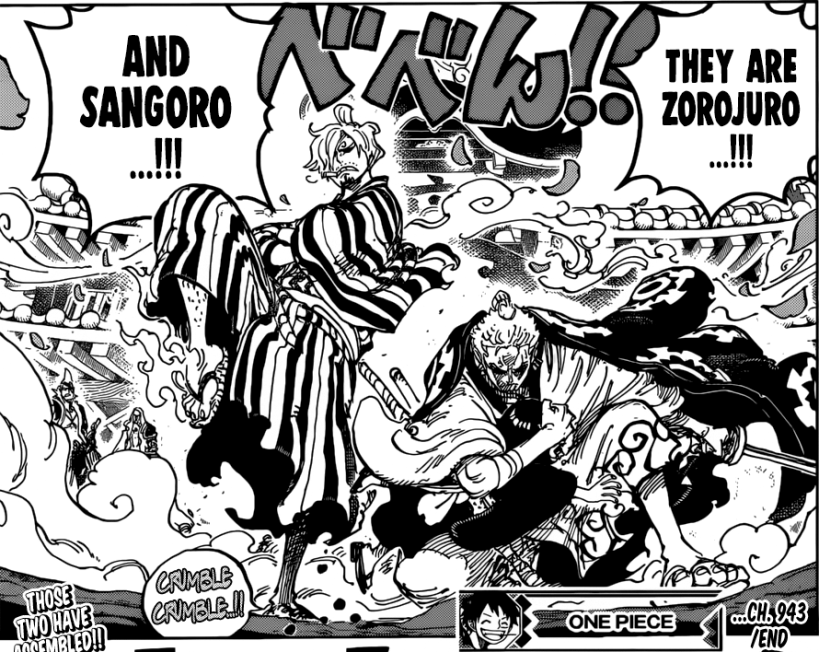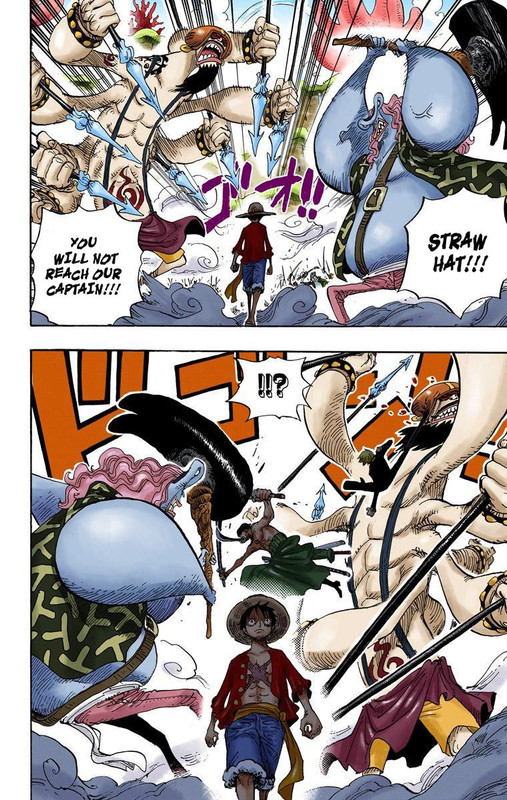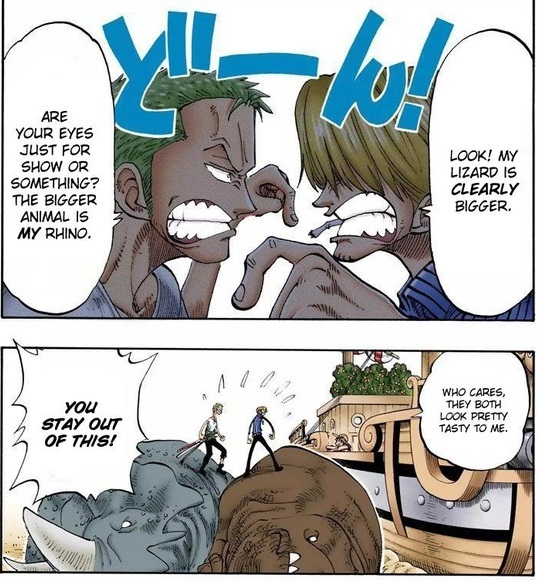 King and Queen's scaling doesn't matter. Zoro and Sanji's scaling doesn't matter. They are a more compelling duo to fight a duo than Sanji & Marco because Sanji & Marco have never been portrayed that way. A pair vs a pair is simply more compelling than a pair vs two disconnected individuals and it fits past arc matchups.
King & Queen follow previous patterns for Zoro/Sanji opponents. They're a straight man-gag man duo. The straight man has a sword. They bicker.
Kaku & Jabra were a straight man-gag man duo. Kaku had swords. They bickered.
Mr 1. & Mr. 2 were a straight man-gag man duo. One of them WAS a sword. They bickered.
King & Queen fit the pattern too much for me to think that King is going to fight Marco when Oda just brought Zoro down to the roof onto the live floor where King is. The coincidence is just far to great for me. If Marco is really Kings fight I'll eat my crow when the time comes.
And for one last bit as a bonus, there's been an interesting theory on King's bounty. It's unsubstantiated and it really doesn't change anything in my eyes even if it's debunked but I found it to be an interesting idea so I'll mention it. We know Queen's bounty is 1.32 Bil and we know Sanji's is 330 Mil. IF King's were to be 1.33 Bil then it would set up Zoro's 320 Mil to create an inverse of each other. I'm not sure King and Queen are that close but if that were to be King's bounty it would explain why Oda doesn't want us to see it yet. Because it would certainly spoil Zoro v King. But then again Oda could just as easily be saving it for King & Marco.
Last edited: